SEO is one of the most important customer acquisition channels for B2B companies. Having strong organic visibility across all stages of the buying cycle is a proven way to accelerate growth.
But when it comes to putting together a B2B SEO strategy, where do you start?
Driving organic growth for a B2B company comes with its own unique challenges. There are differences for launching a B2B vs. a B2C business SEO strategy. It's vital to understand how to approach the channel with these differences in mind, as it is the key to driving success.
In this guide, we're going to break down the essential parts of a complete B2B SEO strategy and look at the key differences with B2C SEO. Specifically, we'll look at:
What Is B2B SEO?
Business-to-Business (B2B)  SEO is a strategy that's goal is to increase organic search engine traffic and rankings. A successful B2B SEO strategy places a business' website in front of people who are actively looking to engage the services they offer or buy the products they sell.
While B2B marketing is all about one business buying from another, unlike B2C (business-to-consumer, where it is consumers buying from a business), the SEO basics remain. Those basics are the four main pillars of SEO success:
Technical SEO
Content
On-page SEO
Off-page SEO
B2B SEO brings with it unique challenges that need to be considered when putting together a strategy, and these relate to the audience you're marketing to.
Whether B2B or B2C, people buy from people. However, people buying on behalf of a business have different purchasing habits than those buying for themselves. So, let's explore these differences and dive into the things you need to consider.
The Differences Between B2C and B2B SEO
When you're comparing B2B vs. B2C, the big difference is that the audience. It's important to recognize that the way professional services and products are bought is, in most cases, very different to consumers.
This means the way you approach B2B SEO is going to differ from a B2C strategy. There are several unique challenges that B2B SEOs face that helps to summarize the key differences:
Complex Sales Funnels
In most instances, the sales funnel for a B2B company is far more complex than for B2C companies. There is a whole set of circumstances that need to be taken into account when looking at the B2B sales funnel.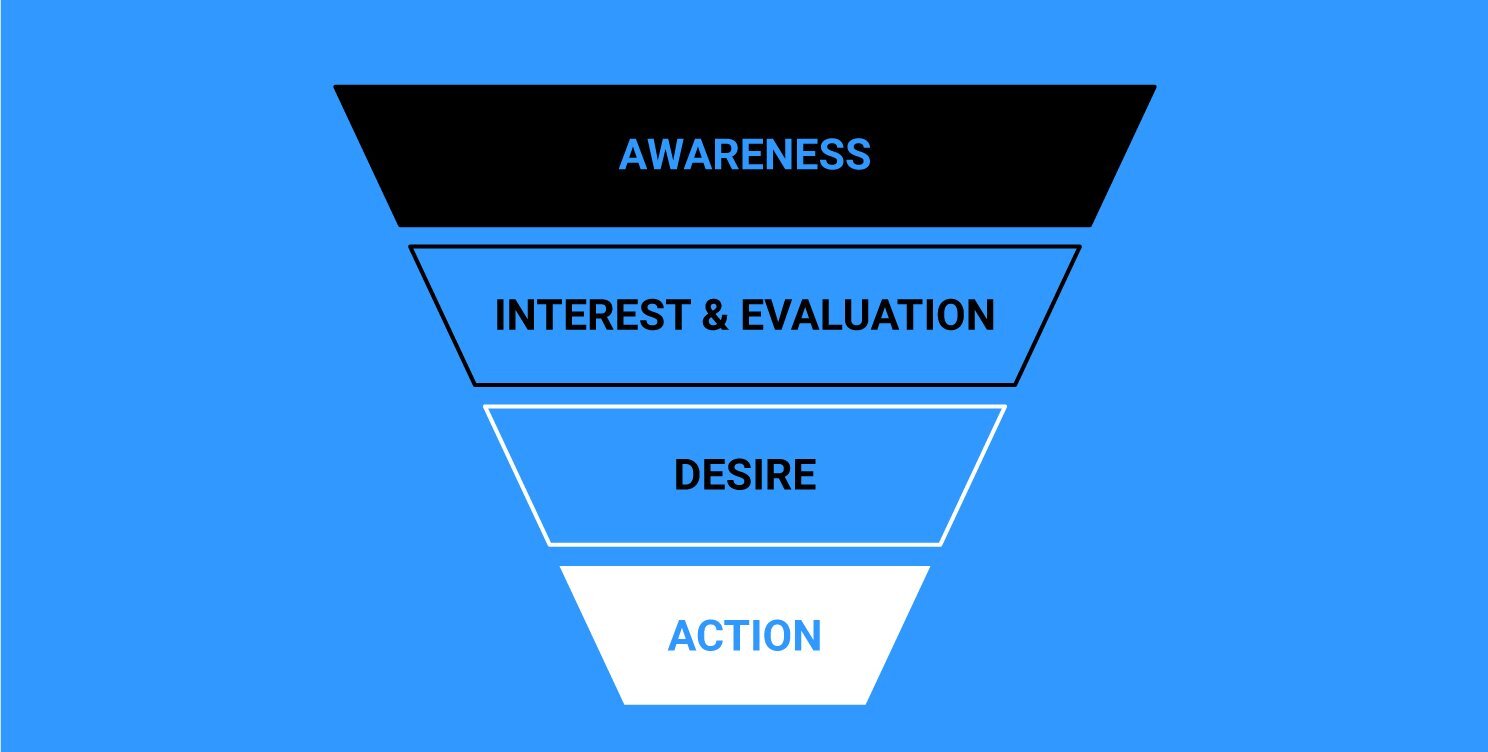 Just think of it this way…
Compare the consideration, research, and thought that goes into buying a pair of sneakers as a consumer versus a professional investing in a new CRM system for a large company.
Pretty easy to spot which one is going to be more complex, right?
There's a distinct requirement for a B2B company to be visible on the SERPs for each step of the sales funnel. From the awareness phase, when prospects interact with you for the first time, to the action phase, when a sale is closed.
A B2B marketer needs to know their audience inside out, which means going to a greater depth than B2C marketers will often need to do.
However, you don't need to think of this as a negative. A complex sales funnels mean, at least from an SEO perspective, more opportunities to earn targeted traffic by appearing at each stage.
Low Volume Keywords
A more complex sales funnel means that there are many different search terms that prospects search to find suppliers. In many cases, this means lower volume keywords than what a B2C marketer would expect.

B2B SEOs need to really nail their keyword research skills. They need to adapt to the audience that they're serving and dig deep to find search queries that align with their audience's intent and stack across the sales funnel.
It's all about finding specific keywords that allow you to target a specific audience with content that pushes them through to the next stage of the funnel.
Low Conversion Rates
The other unique challenge of B2B SEO is low conversion rates, at least in comparison to B2C.
Note: Here, we're talking click-to-sale conversion rates, not click-to-inquiry.
But those sales that do close are typically of far higher value than what B2C marketers are used to. A successful B2B strategy focuses on attracting the right site traffic that is specifically looking for the products or services on offer. Go niche, know your audience, and demonstrate why your offering is the solution to their problem, and you'll enjoy success.
A Need to Demonstrate Your Expertise via Thought Leadership
While there's no denying that consumers pay attention to who they're buying from (don't ever underestimate the power of building a brand), B2B buyers shop differently.
B2B buyers want the confidence, even before inquiring with a company, that they're buying from the one that is the best fit for their needs. They want to be sure that whoever they speak with can offer the right solution to their problems before picking up the phone or filling out a form.
Part of that complex sales funnel that we mentioned happens in the evaluation phase: where a prospect is considering their options. Hopefully, one of these options will be your company.
But you need to be in a position to demonstrate your expertise; you need to show that you're an industry leader and that you're the right company. You can do this with thought leadership.
This is, according to Marketing Insider Group:
Thought leadership is a type of content marketing where you tap into the talent, experience, and passion inside your business, or from your community, to consistently answer the biggest questions on the minds of your target audience on a particular topic.
While there are many ways you can position your people (don't forget, people buy from people, and personal branding is essential in B2B) as experts in their field, common tactics include:
Blogging
PR
Guest posting
LinkedIn marketing
Podcast appearances
Video marketing
Speaking at conferences (or webinars)
Make your people the ones who are associated with your industry and integrate thought leadership into your SEO strategy.
B2B SEO Success Stories
If you want to learn what's working (and what's not), one of the best things you can do is spend time digging deep into the strategy of websites performing well on the SERPs.
Taking the time to analyze what's working for sites that have grown at a phenomenal rate can help you understand the tactics you should be paying attention to. And you can do this using tools including Traffic Analytics, Organic Research, and  Backlink Analytics from SEMrush. 
When it comes to B2B SEO success stories, two sites stand out from the crowd; HubSpot and Canva. Two very different B2B companies, yet ones that have used super-smart strategies to grow.
HubSpot
HubSpot receives more than 15.9 million organic hits every single month, and this figure continues to grow. 
It's safe to say that this is one of the best examples of B2B SEO success, especially within the SaaS, sales, and marketing space.
The site ranks in no. 1 spots on the SERPs for search queries such as "branding," "market research," "webinars," and more.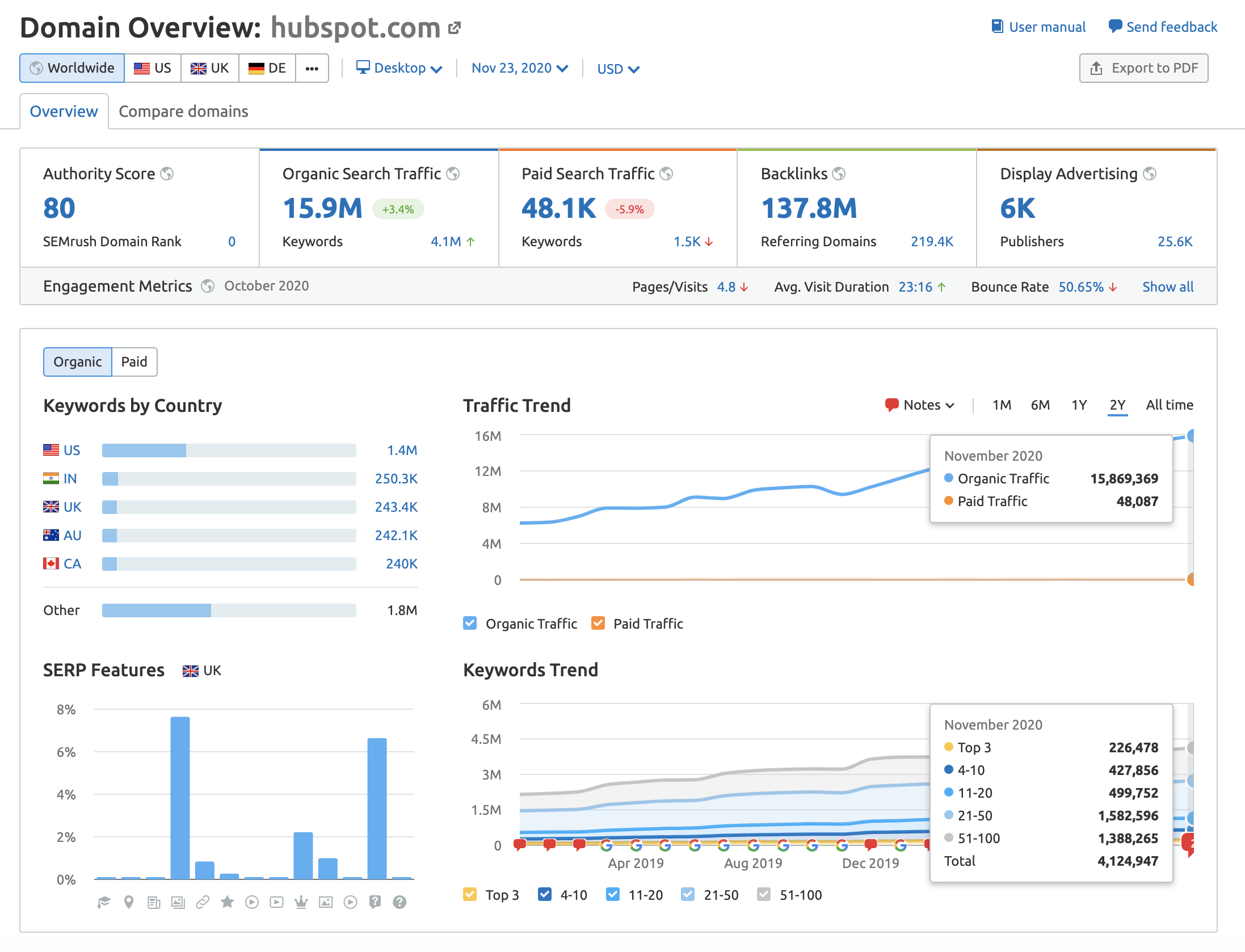 Canva
If you're a marketer, there's a very good chance you're more than familiar with the design platform  Canva. In fact, you've probably used it many times before.
What you probably didn't realize is that they enjoy 38.7 million organic hits from SEO every single month.
How do they do it?
By ranking in no. 1 positions for terms such as "brochure," 'template," and "YouTube banner." Besides ranking well for these keywords, they offer a solution to their audience's problem. That's why they've got top positions for these high-volume keywords.
Take someone searching for a "YouTube banner." There's a really good chance that they're looking to create one. Canva can help them to do that (for free).
If you know your audience and create the content that deserves to rank, whether that's tools, written content, video content, or even commercial pages, you'll find excellent SEO success.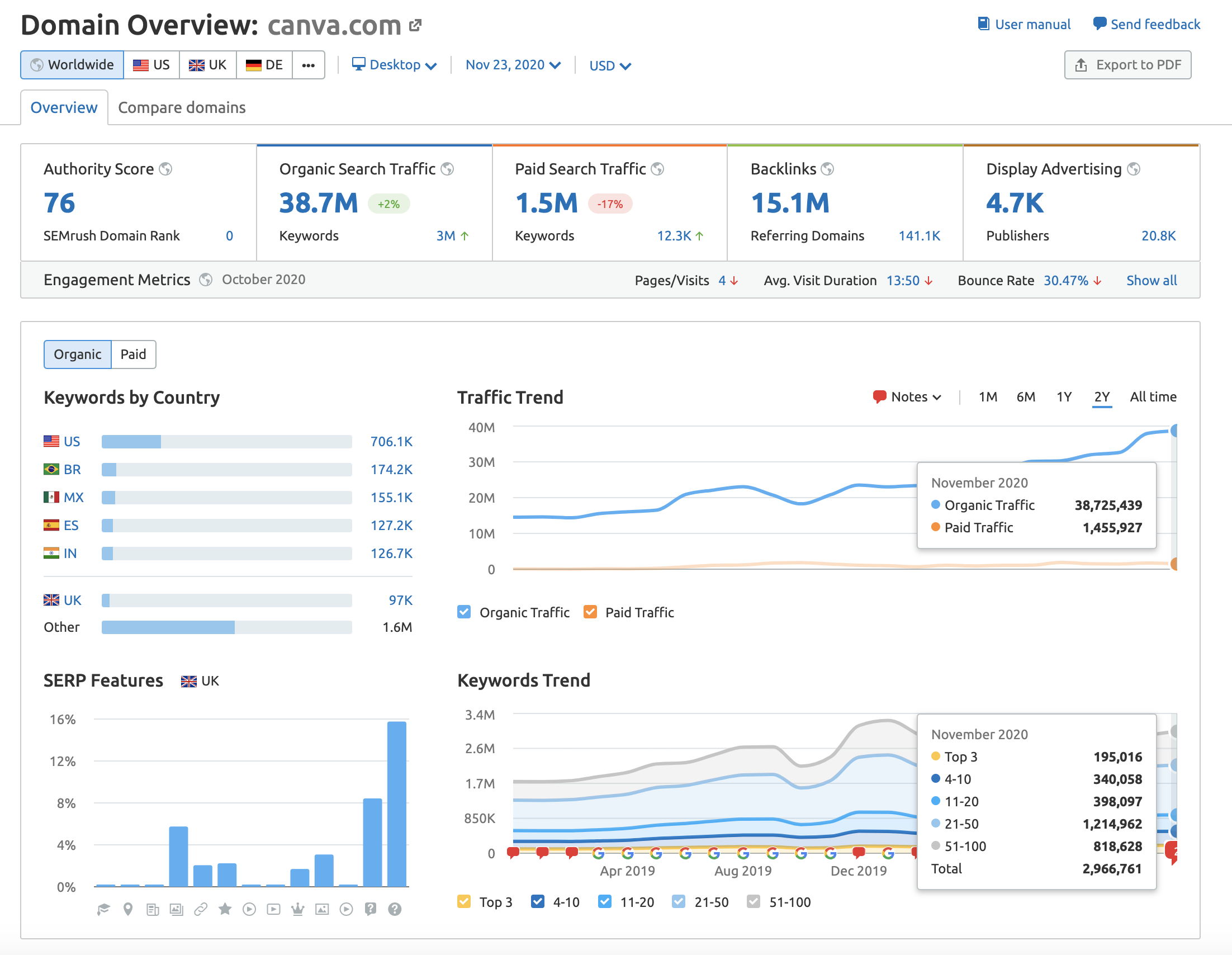 A 7-Step B2B SEO Strategy
To help you put together a solid strategy for your business, here's a 7-step B2B SEO strategy process that you can follow (adapting as necessary) to blow away the competition:
1. Create Buyer Personas
You can't ignore the importance of creating detailed buyer personas in B2B SEO, and the fact is that this should be the first step in putting together a successful strategy.
After all, the more you know about your audience and their requirements, the better you can target these people.
If you're not familiar with the concept:
A buyer persona is an abstract depiction of your ideal customer, founded upon both qualitative and quantitative data from market/competitor research and existing customer profiles.
It's not about describing the business's potential purchasing audience, but about generating a set of insights that can be used by marketing, sales, and product departments to make informed decisions and smarter investments.
Most businesses will have several different buyer personas. It's critical to know who these people are, their problems, where they hang out online, and more. The more you know, the better.
This can help you to break your strategy down into specific phases that target each of these effectively, rather than taking a one-size-fits-all approach, which typically doesn't work in B2B.
Check out our guide on  how to create a buyer persona to learn more about producing this for your audience and the insights you'll want to gather.
2. Understand Your Sales Funnel
Before you can go ahead and find the keywords that your buyer personas are using and what you need to be ranking for, you need to understand how your business' unique sales funnel works.
While the lines between sales and marketing have been blurred for some time, knowing how to analyze your funnel might not be something you're familiar with.
So, where do you start?
Spend time talking to your sales team. Ask them to explain the funnel to you, how they believe it works, the most successful touchpoints, and more.
Dig deep into your own sales and analytics data to determine how customers are finding your business.
Grab key stats such as the lifetime value of a customer, the average customer retention period, the average time to purchase, and the reasons why customers leave.
3. Conduct Keyword Research Around Your Personas
Detailed keyword research forms the backbone of any successful B2B SEO strategy, and those marketers who can drill down and find opportunities to target their personas are the ones who will ultimately be in a position to supercharge organic growth.
You need to find the search queries that people are using to find businesses like yours at every stage of the sales funnel.
Whereas many B2C marketers focus their keyword research efforts primarily on commercial search terms, any successful B2B strategy must also address informational queries.
Use the SEMrush Keyword Magic Tool to find the keywords that your different buying personas are using to find answers to their questions, to learn more, or to find a supplier.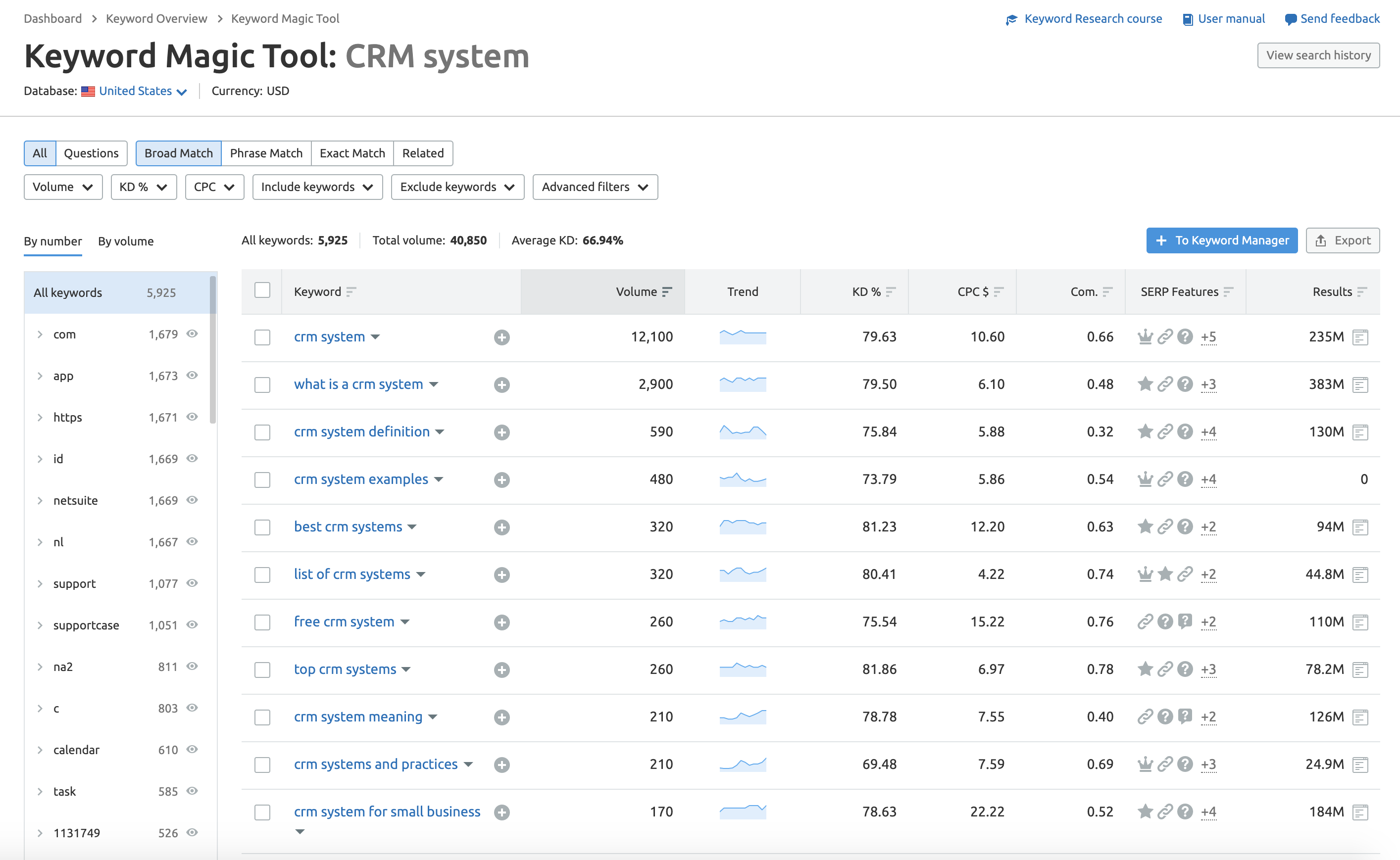 Understand the importance of finding keywords that align with each phase of the sales funnel and group these by intent.
If you're struggling to find the best starting point for B2B keyword research, ask yourself things like:
What are the problems that your personas face?
How could they be searching for ways to overcome these pain-points?
How are you the solution?
What are the main features of your product or service?
What are the keywords driving the highest amount of organic traffic for your competitors? (You can use the Organic Research Tool for this)
4. Map Out A Keyword Strategy To Target Buyers At Different Stages Of Your Funnel
One of the most effective ways to succeed at B2B SEO is by using topic clusters to demonstrate your expertise and own the SERPs for topics, not just keywords.
But what are topic clusters, and why are they so key to B2B SEO success?
Topic clusters are a group of content that revolves around a central topic and use a pillar page to link to and from.
A topic cluster should start with a robust pillar page (the hub for a specific topic) and then include links to all-related topic cluster pages (a more in-depth page that answers a specific question about your broad topic and links back to the main pillar page).
Developing a keyword strategy based on the production of topic clusters helps you target prospects at every stage of the buying cycle. It helps you develop a scalable content strategy that you can build on month after month.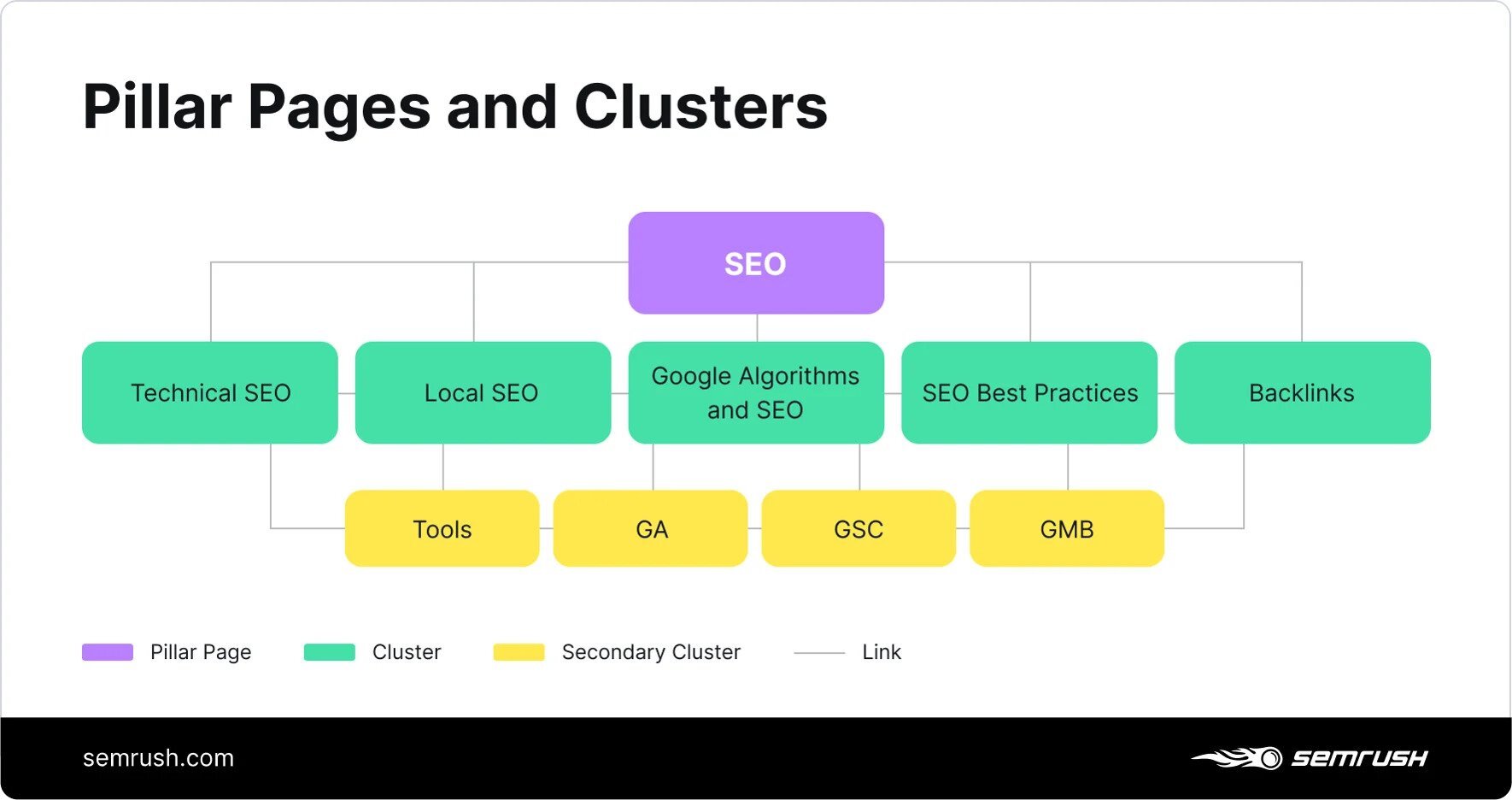 It helps to keep content organized, makes it easier to demonstrate your expertise and depth-of-knowledge on a topic, and allows you to avoid keyword cannibalization.
And at this stage in creating your strategy, you need to map out a keyword strategy that aligns with your buyer personas and your keyword research around each of these.
5. Create and Optimize Product or Service Landing Pages
Don't lose sight of your main goals and KPIs.
While there's no denying the importance of earning rankings and creating content to drive traffic from prospects at every stage of the sales funnel, your end goal is to drive a sale.
This means ensuring that you've built solid sales pages or service landing pages.
For B2B companies, sales landing pages often form your topic clusters' pillar pages. You can build out cluster content around these to add depth, earn traffic across the funnel, and answer the questions that your prospects have.
Looking for examples for inspiration?
We love Zoho's CRM landing page…
Create landing page experiences that truly sell your product or service whilst offering an overview into the topic cluster (when used as a pillar page) and the opportunity to link out to cluster content.
6. Build A Scalable Content Strategy
Sales landing pages typically sit at the very bottom of a B2B sales funnel, at the action stage.
For this reason, having a scalable content strategy that drives visibility higher up the funnel is important for B2B SEO.
In most cases, this content strategy involves your blog or content hub.
You need to build out your topic clusters with rank-ready content that answers your prospect's questions, gets you on their radar, and introduces them to your business.
Don't focus your efforts too low down the funnel; otherwise, you'll find that your competitors are building awareness at a much earlier stage than you are.
B2B SEO is about acknowledging that B2B sales is often about playing the long-game and a persona searching "what is [topic]," today may well be your new client in 12 months.
That said, B2B content marketing involves using a whole host of different content formats and tactics to get you in front of your target audience, including:
Blog posts
Research studies
White papers and eBooks
Videos
Webinars
Podcasts
Case studies
Templates and checklists
Tools
Newsletters
It's all about putting together a scalable content strategy that sees you creating content not only to rank but also to help you earn links, drive engagement, and push organic visitors further through your funnel.
7. Promote Your Content To Earn Backlinks
Backlinks remain a key part of any successful SEO strategy, as it's one of Google's top 3 ranking factors.
When it comes to earning links as a B2B brand, content marketing is the most effective tactic you have available.
Once you've created a piece of content, you need to put in the time and effort to promote it, and that doesn't just mean trying to encourage social shares.
For your content to rank, it needs to be linked to other websites, and part of your distribution strategy should be to use email outreach to encourage others to do this.
That could be:
Getting your content linked to from resource pages.
Getting it referenced as a recommended guide in an existing piece of content
Encouraging a journalist to write an article about your latest study
Using broken link building to find opportunities to earn links to your content
and more
---
The reality is that once your strategy is underway, you need to enter a phase of continual optimization and ongoing link building.
Keep looking for ways to improve your site's content and opportunities to earn authority links, and you can expect to see your site's organic visibility and traffic increase.
Remember to focus on your audience, their needs, and the problems they're looking to solve and position your business as a solution!