If you look at the growth of some of the most successful SaaS companies, it's clear that their SEO strategy is the key driver behind their success.
However, it's vital to understand how to put together the perfect SaaS SEO strategy, the key areas you'll need to focus on, and how to find opportunities to get in front of your target audience.
In this guide, we're going to go over what SaaS SEO is, its importance, and how to optimize your own Saas strategy:
What Is SaaS SEO?
SaaS SEO is the process of increasing the organic traffic for a SaaS (Software as a Service) company's website by earning top rankings on the SERPs for a list of relevant keywords.
It's worth mentioning here that many SaaS companies turn to performance marketing (PPC, social ads, affiliate marketing, etc.) to rapidly scale new customer acquisition. However, many are quickly realizing that the costs in doing so are increasing and that relying solely on the paid acquisition can come at a disadvantage.
When you turn off or reduce paid advertising, the traffic stops.
That's why it's important to have a strong SaaS SEO strategy. SEO can drive consistent traffic and exponential organic growth. Many SaaS businesses are increasing their investment into the channel to diversify traffic sources and keep the cost of acquisition sustainable.
Typically, SaaS SEO involves increasing a platform's organic search visibility to put them in front of customers who are:
Searching for your software. The searcher knows who you are and wants to learn more.
Searching for information about software like yours. The searcher knows that software like yours exists, and they want to learn more to see whether it fits their needs. They might not be ready to buy just yet.
Ready to purchase software like yours. The searcher is researching pricing and/or deals.
Looking to consume content that's related to your software. They're not looking for software like yours right now, but your target audience is searching for content that aligns with what you do. They could need your software in the future.
While there are differences between SaaS SEO and other SEO for other businesses or verticals, it's important to remember that Google's main ranking factors remain the same for all different types of business. As a reminder, these top ranking factors are:
Content
Backlinks
RankBrain
When applied to SaaS businesses, it's crucial to know that you need to develop an SEO strategy based on creating great content that answers a user's search query and naturally earns backlinks.
The Importance of SEO for SaaS: The Reasons Why You Need to Invest in a Solid Strategy
We've already mentioned that many SaaS companies are quick to turn to performance marketing and paid media to drive growth. However, there has been a quick pivot to focus on organic growth.
But why is SEO so important for SaaS businesses, and why should you invest in a solid strategy?
SEO Can Help to Scale Your Growth Exponentially
Get content-led SEO (which is what SaaS SEO is, in most cases) right, and this can drive exponential growth.
Just take a look at the visual below that shows the compounding effect that evergreen content can have on growth. 
Source: tomtogunz.com
Then imagine this at scale.
The more content you create, the more traffic that you'll drive (assuming that this is best-in-class content that ranks). And this is exactly the route that SaaS giants like HubSpot and Pipedrive have utilized for growth.
Put the right strategy in place, and you can expect to see month-to-month traffic growth. It's a pretty predictable growth path.
And that strategy usually looks something like:
Create valuable content that targets a group of topically connected keywords.
Promote this content to earn links.
See an increase in rankings and organic traffic.
Utilize the data you collect from the content's first launch to improve and better optimize this to drive further growth.
Achieve top rankings and drive a consistent level of traffic.
Repeat this to target different keyword groups.
We'll dive deeper into this strategy below.
SEO Can Help to Reduce Your Cost-Per-Acquisition
When you acquire new customers via paid media (typically PPC or paid social), you pay for every single click to your website. Drive more clicks via the channel, and you'll pay for all of these. That's just how the channel works.
What usually ends up happening is that your cost-per-acquisition through paid channels actually goes up over time as you exhaust those audiences that are the most likely to convert. If you're lucky, you'll maintain a consistent cost-per-acquisition, but once you're running an optimized campaign, you'll reach a point at which you can't reduce this cost any further.
SEO, on the other hand, usually does the exact opposite. It can help you reduce your cost-per-acquisition over time.
The cost-per-acquisition is typically high, to begin with, but as growth compounds, this can quickly reduce. While SEO requires ongoing investment, these costs don't increase with every click as paid media does.
The cross-channel result when accepting that paid acquisition channels often increase over time is that your cost-per-acquisition remains flat, given that SEO traffic balances this out. Ideally, the overall result will be a lower cost-per-acquisition.
SEO Can Help to Convert Customers From Other Channels
SEO shouldn't sit in its own silo.
The reality is that any SaaS SEO strategy will involve heavy investment in content creation.
But this content doesn't just help you to rank for your target keywords. It can be used as part of your social media strategy, email marketing strategy, or even to drive paid traffic.
Promoting your content to earn backlinks to it? That in itself can drive referral traffic.
The right strategy can help you drive and convert customers from other marketing channels, and this should be a key justifying factor for ongoing SEO investment for your platform.
SaaS SEO: It's All About Personas and Problems
If there are two things you need to understand about SaaS SEO (compared to SEO for other types of business) is that it's all about:
Let us explain why.
Knowing your target personas and creating a strategy that puts your platform in front of these people when they search is key to your growth.
After all, target the wrong people, and they'll consume your content but won't drop further into your sales funnel. 
But then let's consider how searchers typically discover software—they're looking for a solution to their problems. They have a need, and they need to meet it.
Maybe they know a software platform exists; maybe they don't. The one thing that your customers will all have in common is that they've got a problem—your job is to tell them that your platform can solve it.
Think about SaaS SEO in terms of 'personas and problems,' and you'll begin to understand what makes a successful strategy that drives traffic from the right people and presents your platform as a solution. 
Optimizing Across the Funnel: A Note on SaaS Keyword Strategy
To really succeed with SaaS SEO, you need to understand how to effectively conduct keyword research to find the search queries that your prospects are using to find software just like yours.
Get your keyword strategy right, and you'll find yourself in a much better position to accelerate growth.
Before we dive into breaking down what a proven path to success looks like, let's consider the different types of keywords that make up the typical SaaS SEO strategy.
We'll use Pipedrive as an example of how different keywords break down across the funnel.
Top of the Funnel Keywords for SaaS
Top-of-the-funnel keywords for SaaS are those where your prospects are searching to find a solution to a problem that they've got.
There's a good chance that they don't know that a software platform like yours exists.
In the case of Pipedrive, a good example of some top-of-the-funnel keywords that they're ranking for are:
sales management process
sales script
sales follow-up email
These searches aren't to find software like Pipedrive, but they're typically being made by people who are actively working in sales. There's a good chance that they're the audience that the platform is targeting and could be useful for.
These keywords typically make up the highest volume of searches and clicks, but they're the least targeted and usually have the lowest conversion rate. But they're designed to drive awareness of your business and position you as a familiar option further down the funnel.
It's typically blog content that will rank for these discovery-phase queries.
Middle of the Funnel Keywords for SaaS
Middle of the funnel keywords for SaaS are those when your prospect knows that a solution exists, but they haven't started exploring their options in depth. This means they're typically searching for keywords that help them to find options that meet their needs.
For Pipedrive, this means keywords like:
Pipeline software
Sales CRM
Pipeline management software
There's now an intent to purchase, but likely not straight away. The prospect is in the process of considering their options, so earning visibility is key here. Typically, it's 'product' or 'feature' landing pages, or similar, that will rank for these queries.
Bottom of the Funnel Keywords for SaaS
Once a prospect reaches the bottom of the funnel, they're making their final decisions.
They know that a solution exists to help solve their problem, and they know who provides these solutions. They just need to make a decision on which best fits their needs.
From a keyword perspective, these searchers know about your product and enter queries with purchase intent.
For Pipedrive, this means keywords like:
Pipedrive pricing
Pipedrive reviews
Pipedrive vs. Salesforce
Pipedrive integrations
It's your final opportunity to convince a prospect that your platform is the one that's best suited to their needs and sign up that new customer.
A 9-Step SaaS SEO Strategy
1. Set Your Goals and KPIs
Setting goals and KPIs is the most important part of any SEO strategy, SaaS or not.
Without knowing what you want to achieve, you're working blind and don't have full visibility that your growth is on the right trajectory.
While it's easy to set a broad goal such as "increase signups as much as possible," we all know that these approaches don't help anyone.
Having a goal gives everyone involved something to aim for and something to work backward from. It allows you to figure out what you need to do to get there.
For SaaS companies, a common SEO goal is something like:
To increase MRR (monthly recurring revenue) by $1 million in 12 months.
Just as important, though, is putting in place solid SEO KPIs to provide you with a regular snapshot of how your SEO campaign progresses.
For SaaS companies, we can't stress how important KPIs are, especially during rapid growth.
Alongside the KPIs you'll be used to reporting on (traffic, impressions, rankings, etc.), you'll also need to be measuring and analyzing against metrics such as MQLs, SQLs, MRR, ARPU, CAC, and more.
Get familiar with these and understand the metrics that show your efforts' true measure, but remember that without goals and KPIs in place, setting a solid strategy becomes much more difficult.
2. Define Your Customer Personas
To drive SEO success for any SaaS business, you need to know exactly who you're targeting so that you can solve their problems and present your platform as a solution.
The more you know and understand your target audience, the more relevant you can be to their needs. You can create content that answers the specific questions that they're asking and know what it takes to push them further down the funnel.
And with this in mind, defining your customer personas should be one of the first things you do when putting together a strategy. It's all about building up a picture of exactly who your marketing should aim to reach.
But where do you start?
The lengthy option is to start from scratch and build up a profile of the people you should be targeting as a step-by-step process. You can learn how to do this in our guide on how to create your buyer persona.
The alternative is to use the insights that you already have around your target personas and create an analysis of your existing customers. After all, if they've signed up as paying customers, it's safe to say you want more like them.
Talk to other internal teams and gather as much data on your existing users as possible; think of sales teams, paid teams, and social teams. Build a picture of different groups of customers who are using your platform right now, determine any that are missing, and understand who the most engaged ones are. 
3. Analyze Your Direct and Indirect Competitors
Ever heard the phrase "keep your friends close and your enemies closer?"
To truly drive success, you need to know your competitors' SEO strategies inside out, as well as how they're driving the bulk of their organic traffic.
That doesn't just mean your direct competitors. You need to dig as deep as you can into your indirect competitors, too, as these are perhaps more important to consider as a SaaS business than pretty much any other sector.
Your direct competitors are those who offer what you do. Granted, their platform might have slightly different features, but it serves the same purpose and helps customers solve the same problems.
Your indirect competitors are those whose product is fundamentally different from yours but help your prospect solve the same problem.
To give an example, let's say you've launched a time-tracking platform that teams can use to account for and bill their time to clients. 
Your direct competitors are other businesses whose core purpose is helping employees to track their time. Think Clockify, My Hours, TMetric or similar.
Your indirect competitors are platforms that an employee could use to track their time, but that it's the main feature. Think platforms like Teamwork, Zoho, Harvest, etc.
Learn as much as you can about how your competitors stack up, what's working and what's not, as well as building up a picture of their wider performance.
Use the Semrush Organic Research Tool to gain insights into your competitors' top organic traffic driving pages:

Their top-performing keywords: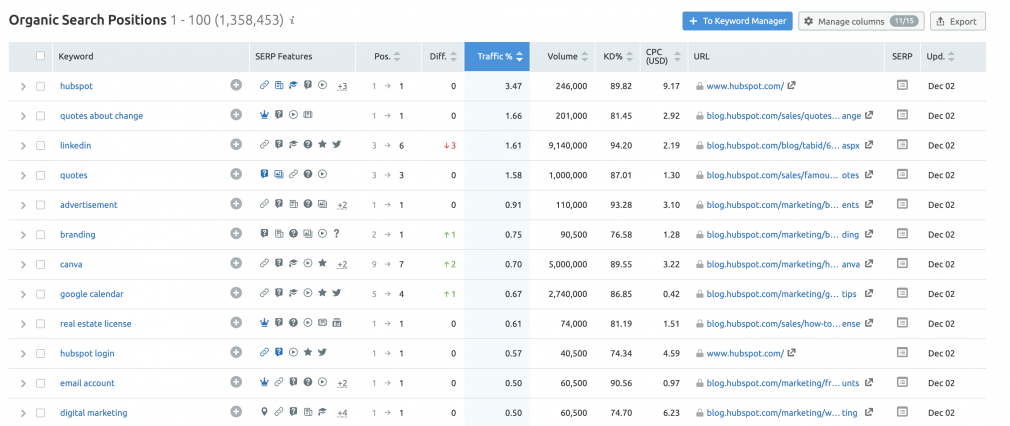 And their estimated organic traffic, the total number of indexed keywords, and the branded vs. non-branded traffic split.

You can then use Backlink Analytics to gain an insight into the strength of their link profile and dig into the sites they've earned links from.
You'll want to know as much as possible about what's driving your competitors' strategies. Then you can feed this insight into your own roadmap.
4. Identify the Problems or Challenges Your Personas Have and Build a Keyword Strategy
Top of the funnel keywords should be the bread and butter of pretty much any SaaS SEO strategy.
When you're able to rank your site for these queries effectively, you'll be in a position to reach much larger audiences than if you were to solely target middle and bottom of the funnel terms.
But what's the recommended way to identify these keyword opportunities?
Start by writing a list of the problems that your platform can help your users solve and the topics that they're turning to the web to answer. Don't limit yourself to a specific number; just keep going until you're unable to add more.
Think:
Questions that are being asked
Challenges and problems that they have
Related topics that share an audience
Once you've got a comprehensive list, turn to the Semrush Keyword Magic Tool to help you to identify those that are being searched for the most, as well as the difficulty of ranking for these keywords (KD%).
Enter a keyword, and you'll also see suggestions for other related queries that you could target.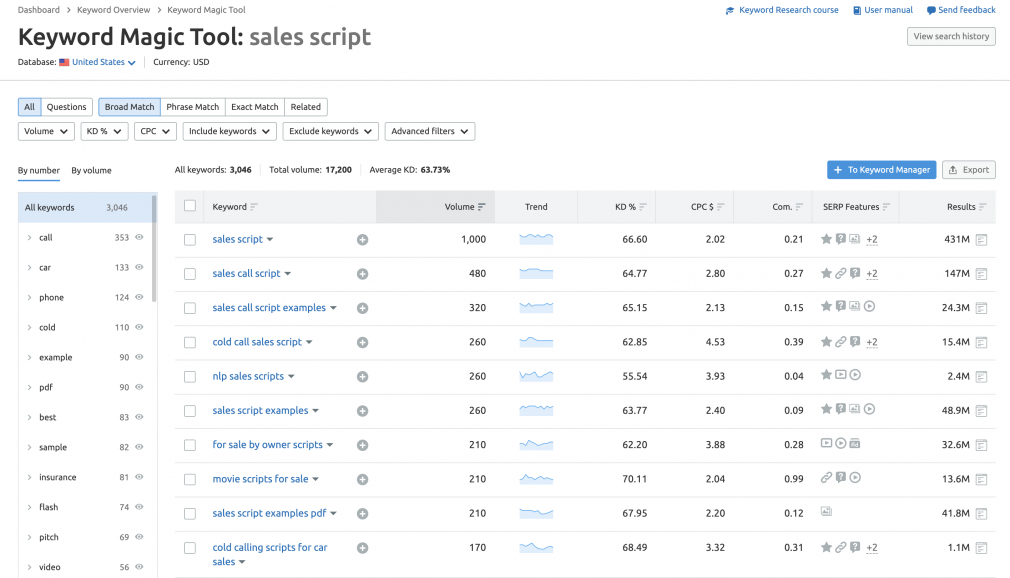 You need to build out a content strategy around these top-of-the-funnel keywords; however, you need to remember that the goal here is to push prospects further into your sales funnel.
Consider the wider topics around your business but don't lose focus of your personas; otherwise, you'll struggle to make this happen. Know your audience and target the keywords that align with their problems and challenges.
5. Define Keywords to Optimize Your Platform's Landing Pages
As you get further down the sales funnel, you need to make sure you're targeting the right keywords for your commercial pages.
Your commercial pages are your product and feature pages; those are the pages that provide insights into what your software offers.
Think of keywords like:
Small business CRM
Free CRM
Real Estate CRM
Open Source CRM
Customer service software
Once you're ranking for these types of queries, you'll be driving traffic that's closer to converting. These searchers are actively looking for a solution like the one that you offer, so you need to make sure you're covering all bases and aren't missing out on ways your personas are searching.
Enter your main features followed by modifiers such as "software" or "platform" into the Semrush Keyword Overview Tool to determine how your audience is searching.
Then use the Keyword Magic tool again to make sure that you've not missed any opportunities (just ignore any suggestions that aren't relevant).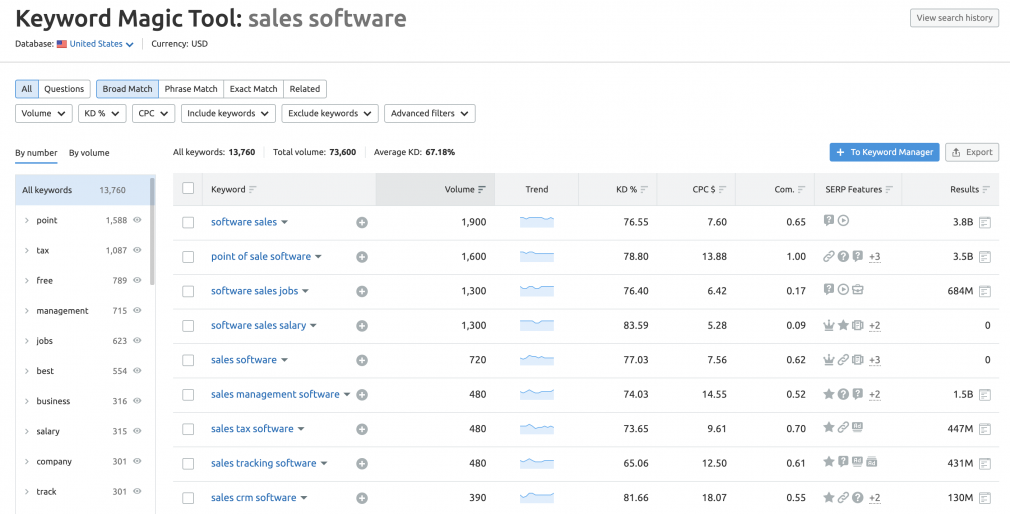 6. Build Out a Comparison Keyword Strategy
Once your prospects get to the bottom of your sales funnel, there's a good chance that they'll be comparing a couple of solutions with one another. Hopefully, one of these is yours!
When it comes to putting together a SaaS SEO strategy, one of the main things you should include in your keyword strategy is comparison queries.
Essentially "[you] vs. [them]."
These are powerful because they're an opportunity to get in front of someone actively about to sign up either to your platform or someone else's. Target these queries and persuade them that you're the best choice.
Here's a great example of Pipedrive's page that compares their CRM with HubSpot's: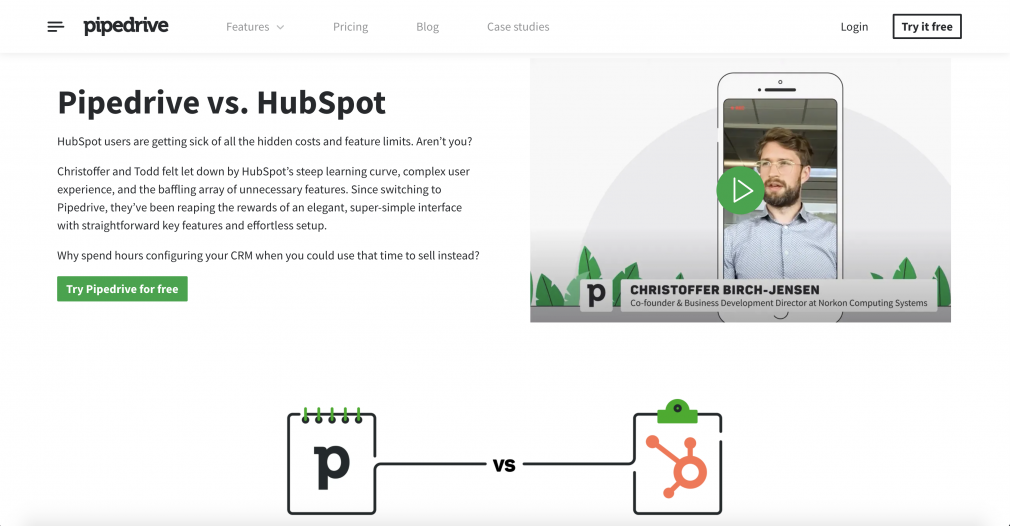 Focus on the reasons why your platform is better and compare yourself with all of your main competitors.
Even if there's low search volume, it's important to capture these lower-funnel searches that can convert. If there's another platform that your users could use instead of yours, create a comparison page. Get in there first before your competitor does. And if they're already targeting these queries, make sure your page is better.
7. Create Better Content Than Your Competitors
SaaS SEO success is deeply ingrained in creating great content.
But if you're going to outrank your competitors, you need to be creating better content than they are. This is true for your blog content and your product content. Every page of your site needs better content than your competitors.
But what does better content mean? It means that it answers the searcher's query better than every other result that's out there. It might mean:
Longer content
Content that goes into a topic in more depth (this isn't the same as just being longer)
Images or video to make a page more engaging
Formatted in a way that's easier to read
Don't fall into the trap of analyzing your competitor's word count and writing 20% more words. That shouldn't be what creating better content is all about.
Start by understanding search intent and make sure you analyze your competitor's pages. It's important to work with an expert to determine what could be done better on all of these pieces of content…
It sounds simple, but marketers create so much content without deep product knowledge. So team up with a specialist and figure out ways to improve content. Don't also be afraid to call on your target audience and ask their opinion on ways to make your content better.
Too many people take the easy option. Instead, you must take the more challenging route. To differentiate yourself, you need feedback from real experts and real users. Then you'll be in a position to use this as a shortcut to success.
8. Don't Overlook Technical and On-Page SEO
Just because successful SaaS SEO strategies are often powered largely by content, that doesn't mean you can ignore the importance of technical and on-page SEO.
Far from it.
In fact, if your site suffers from technical issues or hasn't been properly optimized from an on-page perspective, you'll find that you're held back from your site reaching its full potential.
You can use the Semrush Site Audit Tool to find opportunities to improve your site's technical SEO. Enter your domain, set up, and run your crawl. Once this is complete, you'll be served a detailed list of improvements from across more than 130 different ranking factors.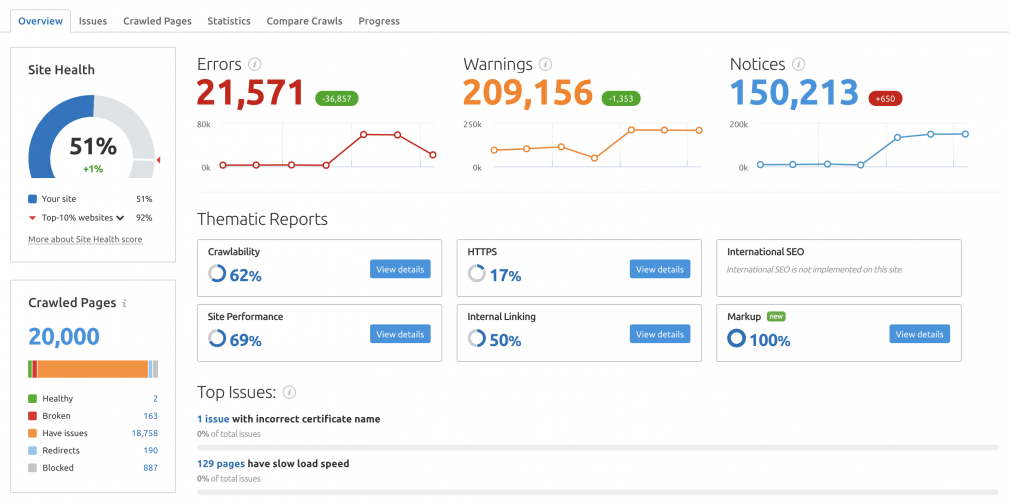 You can also read our guide on how to perform an SEO audit to learn a process to find and fix issues that could be holding your site back.
You can also use the Semrush On Page SEO Checker to get a wealth of optimization ideas to improve the on-page SEO of your webpages.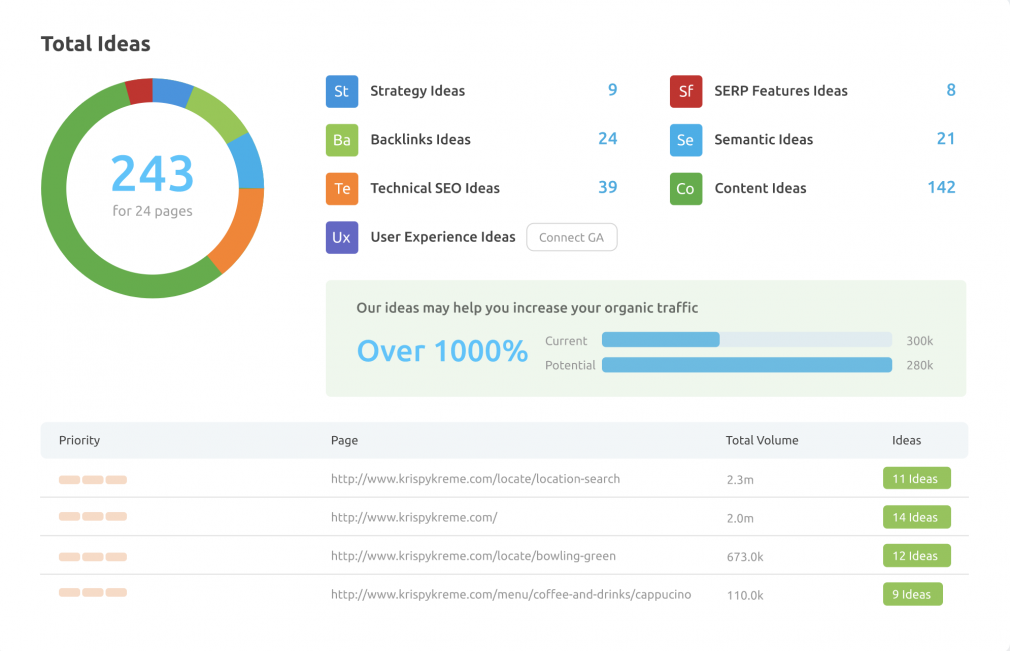 9. Promote Your Content to Earn Backlinks
Without backlinks, your content will struggle to rank. At least for competitive keywords.
To gain backlinks, you need to put together a solid link building strategy that can help you earn relevant links to your content.
But don't forget that links do more than help your site rank on Google. The best link building strategies put you in front of your target customers, drive referral traffic, and position you as an expert.
For SaaS companies, tactics that are effective include:
Digital PR
Resource links building
Unlinked brand mentions
Broken link building
Guest posting (just make sure these links have the rel="nofollow" attribute added)
Start by running your domain through the SEMrush Link Building Tool and choose your keywords and competitors. The tool hunts for link building opportunities for you: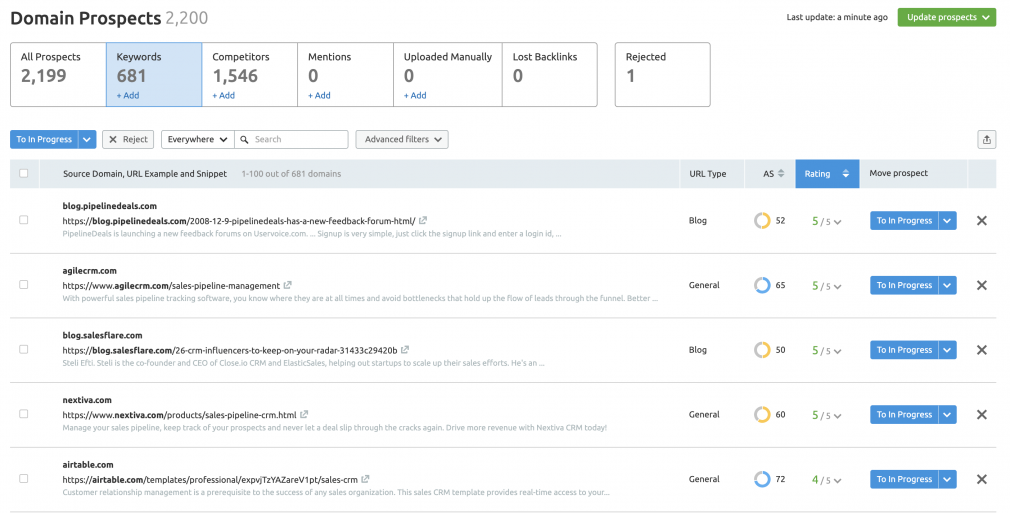 ---
SEO should be a key driver of growth for any SaaS business. The sooner you put a solid strategy in place, the sooner you can begin seeing those CPA's decrease, your organic traffic trend upward, and sign ups increase.