What is SaaS content marketing?
SaaS content marketing is an effective way for SaaS companies to promote their offerings and find the perfect target customers, without having to necessarily invest in costly advertising. By creating engaging, informative content that resonates with your ideal customer base, you can build a loyal following and grow your business. To get started, consider what type of content would best resonate with your target audience and then use it as the foundation of your SaaS content marketing strategy.
From there, take the time to optimize your website according to SEO best practices and create ads that direct your potential customers towards whatever promotion or material you're offering. You might also use email marketing to reach a broader number of consumers by keeping them informed on upcoming promotions or releases. To gain more credibility amongst industry experts and further establish yourself as an authority in your niche, consider looking into sponsorships or partnerships. Finally, make sure you capitalize on social media platforms like Twitter or Facebook and keep up-to-date with industry trends so that you can continue providing fresh and relevant information about your products or services.
What Is Different about SaaS Content Marketing?
Traditional content marketing efforts can be difficult to implement in the Software-as-a-Service (SaaS) industry. While it can produce excellent results like generating leads and increasing conversion rates, it requires a more specialized approach than traditional content marketing. As SaaS services require long-term commitments from customers and tend to involve multiple decision makers, relying solely on short-term strategies is not enough and may not give good returns.
As such, marketers should focus on creating content that frames their products or services as solutions, educates buyers in a way that impacts their decisions, builds relationships with influencers and decision makers alike, and clearly distinguishes the SaaS product from competitors. By understanding the complexity of SaaS businesses and tailoring solutions to each prospect's unique needs, your content marketing efforts will have a greater impact and longer term value. Additionally, SaaS organizations should consider blogging regularly and using visual content such as graphics or videos to better understand complex technology solutions. Utilizing these tactics will help create effective long-term strategies that optimize conversions while fostering a trustworthy reputation among prospects considering Your SaaS solution.
Why is content marketing important for SaaS companies?
Content marketing is especially important for SaaS companies. In today's digital landscape, it has become necessary for companies to create and share content in order to stand out from the competition. Content marketing allows SaaS businesses to reach target audiences, educate them about their offerings, grow professionally, and remain informed about industry trends. Additionally, content serves as a key factor in building customer loyalty and relationships with potential customers.
For example, Bynder is a digital asset management software company that has used content marketing to successfully reach its target market. The company publishes interesting articles on topics such as Archiving & Compliance, Brand Building, Digital Asset Management 101 and more. These informative pieces have helped them establish themselves as thought leaders in the industry while providing their customers with valuable information that can help enhance their skillsets. The content also enables them to stay ahead of the competition by delivering up-to-date information about technology trends and updates in the field of digital asset management—all of which provides value for their customers when making informed decisions about the software they use.
SaaS Content Marketing Statistics  2023
68% of SaaS companies have a developed or advanced content marketing strategy.
around 93% of SaaS companies are finding some degree of success in their content marketing effort
80% of SaaS companies planning to increase their content marketing budgets in 2023
for our survey respondents working in b2b, the top 2 leading success factors in content marketing are Search Engine Optimization SEO (60% of responses) and improving the quality of our content (58%).
high-quality content is the most important driver of organic traffic is , with 72% of respondents citing this.
According to our research, 71% of saas companies that succeed in content marketing run content audits more than twice a year.
The top 3 SaaS content channels are owned channels:
Organic social media (76.8% of responses),
organic search (63%), and
email marketing (59%).
SaaS companies that use content marketing see 35% higher growth rates and 10% better retention rates
Content marketing can yield an ROI of up to700% for SaaS brands .
36% of the world's biggest SaaS brands are using their blogs to share educational content.
before starting a conversation with a salesperson, 52% of B2B SaaS buyers engage with 3-5 content pieces.
Only 41% of B2B marketers have documented content marketing strategies.
buyers are not only leaning even harder on content to educate themselves, but they are also demanding and expecting richer content experiences. In fact, 70% say they rely more on content now than ever before.
LinkedIn users are 20x more likely to share video content.
SaaS market is predicted to grow to a staggering $300 billion by 2023.
The future of marketing custom content is going to be crucial, According to 78% of CMOs.
the cost of content marketing is 67% less and generates 3x times more leads than advertising and other marketing strategies.
76% of marketers believe that content marketing is efficient alone for lead generation, boosting engagement.
content is a trustworthy parameter during a business evaluation, For 97% of the B2B service & product buyers.
93% of B2B marketers and 88% of B2C marketers behold the notion that content marketing is a fundamental strategy for SaaS.
How SaaS Content Marketing Performs
Content Marketing is quickly becoming an essential component of SaaS companies' digital marketing strategies. Our State of Content Marketing global report recently revealed some key insights into the performance of content marketing in the SaaS space.
Out of all the surveyed companies, 65% reported having a fairly developed or advanced content marketing strategy, with 92% stating they were achieving some degree of success with it. This statistic reflects that content marketing can be a powerful tool to help increase awareness and motivate customers to make purchasing decisions. In fact, 75% of SaaS companies are expecting to expand their content marketing budgets in 2022, indicating that many organizations recognize its potential impact on business growth.
SaaS Companies That Use Content Marketing See a Dramatic Rise in ROI
Content marketing is a powerful tool when it comes to scaling the success of Software-as-a-Service (SaaS) companies. With content marketing, SaaS companies can generate awareness and position their products as industry leaders. Research shows that businesses who use content marketing have seen a dramatic return on investment (ROI). In fact, businesses have seen returns of 700 percent on their content marketing investments.
For businesses looking to get ahead in their respective industries, leveraging content marketing can provide tremendous value. Content marketing allows SaaS companies to cultivate relationships with potential customers, showcase their expertise in a given niche and provide valuable educational resources that demonstrate their capabilities. With the right execution, this strategy can lead to sales conversions, customer engagement, and brand loyalty – all of which can result in an impressive ROI for the company. Content marketing is not only providing short-term returns; it's also creating long-term strategies with measurable results. Whether you are a startup or a legacy brand, investing in content marketing will bring invaluable rewards to your business's bottom line.
SaaS Startups
SaaS startups are increasingly leading the way in content marketing strategies that drive growth. For instance, HubSpot and Moz have both used content marketing to propel their businesses from mere startups to international tech giants. Content marketing techniques use unique words, stories, or visuals that grab a customer's attention, helps them learn more about your company and entices them to make a purchase. Content has allowed these two companies to build powerful brands with an ever-growing user base.
Content also allows these brands to collect valuable data about buyer preferences. Information like this can be used to improve products as well as create more effective marketing campaigns that attract leads and customers. Intelligent segmentation of users help drives targeted campaigns of offers, discounts and services which are tailored to the needs of individual buyers. Using these data driven personalised campaigns SaaS startups gain competitive advantage by getting the most out of the customer lifetime value (CLV). This helps SaaS companies acquire and retain customers at lower prices than competitors with less sophisticated content strategies in place. In summary, SaaS startups are using content based marketing strategies to differentiate themselves from traditional businesses allowing them increased scalability opportunities for growth.
Legacy Brands
Legacy brands, such as tech giants from the previous century, can maintain their relevance and remain competitive in a highly saturated market by utilizing content marketing. Creating valuable, engaging content in the form of thought leadership pieces can be especially beneficial to legacy brands who have already established a strong base of existing customers. For example, IBM is a legacy SaaS giant that has successfully kept up with trends and technology changes by creating an immense library of content, some of which is made by regular employees rather than solely through marketing departments. This display of expertise reinforces IBM's stature as a giant within its field and ensures customer loyalty and satisfaction. Further, this level of content demonstrates IBM's commitment to authentic engagement and engagement with its existing customer base, this conveying an air of trustworthiness to potential customers. Content Marketing allows these time-honored brands to reinvent themselves without straying too far from their roots so that they can keep a step ahead of those eager upstarts entering into the market.
SaaS Content Marketing Strategy: SEO-Focused & Pain Point-Driven vs Volume-Driven
At LoudGrowth, we soon noticed that our early content marketing strategy wasn't quite as effective as we had initially hoped. Instead of producing large guides and whitepapers for heavily-promoted social channels, we saw quick successes but then hit a plateau with regards to meaningful conversions. After rummaging through analytics accounts for various clients, we discovered that SEO content targeting bottom of the funnel keywords actually tended to outperform those going after higher volumes.
Furthermore, it became increasingly hard to distribute content effectively while maintaining an ROI. Thus, in order to stay competitive in this ever-changing marketing landscape, we decided to double down on the idea that SEO content targeting key pain points was the most effective form of content marketing specifically geared towards SaaS companies. We focus on driving visitors to conversion pages instead of simply increasing overall volume—allowing us to target better quality leads and create more conversions in the long run.
11 steps to creating your SaaS content marketing strategy
1. Defining your business goals & Metrics
Reaching any business goal can be a complex process, and when it comes to setting attainable goals for content marketing, the same applies. Defining your business goals is the first step in creating a successful content strategy, as it will help you determine where you want to focus your efforts. For a b2b SaaS company (our client), their ultimate goal was to hit $100M in annual recurring revenue (ARR). To put this into action, they must define areas of their content strategy that directly relate to hitting that target; such as focusing on lead generation, building relationships with potential subscribers and establishing themselves as an authority in the industry. It is important to tie measurable OKRs back to the overarching business goal and dive deep into what tactics will help them reach the ultimate end-goal of maximum revenue growth.
Define Target audience
Identifying your target audience is essential in developing an effective marketing campaign. Knowing who you are appealing to helps you create and develop content to better reach those individuals. Creating a checklist of questions can help you further categorize characteristics of your ideal customer. Some important questions include: is your ideal buyer a business or consumer buyer? What is their gender? And what is their age? Understanding the demographics of your target audience allows you to craft campaigns that are relatable, convincing, and motivating to specific audiences.
Furthermore, diving deeper into research about the needs and wants of potential customers will help drive home successful campaigns. Answering questions about trends, obstacles, language preferences, and career paths can be very useful in drilling down details about how best to engage with those customers. However, keep in mind that target audiences can evolve over time so conducting research on an ongoing basis will ensure that your programs remain relevant as customer's needs change.
Identify Pain Points
When it comes to marketing and sales strategy, identifying customer pain points is an essential step. Customer pain points are any issues that impede customers from finding or buying the product and services they need. These could be items such as confusion, risk perception, lack of clarity in expected value, unclear outcomes, unsatisfactory customer experience, and more. By identifying these customer pain points and addressing them in your marketing efforts, you have a better opportunity to convert prospects into loyal customers.
To effectively identify the customer's journey leading up to the purchase decision process and the pain points in each stage of their journey, it helps to map out your market's experience. A customer journey map gives you insight on each step taken by buyers when progressing through your SaaS sales funnel from prospects to customers.
You can use this mapping tool to walk yourself through each step of your market's purchase journey and pinpoint thoughts, feelings and frustrations that could be slowing down the sale process or preventing prospects from converting into customers. With this information at hand, you then have a clearer picture of how best to target potential buyers while properly addressing their needs on their journey towards purchase conclusion.
Idetify Keywords
At each stage of a customer's journey, having the right keywords can make all the differences in meeting their needs. Identifying key words is an important part of understanding customer intent and how they interact with products and services.
Before becoming aware of a specific brand or product, customers may use generic terms such as "how to" while searching for solutions to their problems. This helps them find content related to what they are seeking,so that they can better understand their options. Once they become aware of a brand or product, customers may search for reviews on its features or pricing structure. After customers start utilizing the product, it is important to consider how they may look for set-up instructions or seek out ways to troubleshoot potential problems.
As customers adopt the product more fully and begin seeking ways to maximize its use, specific tips related to its features may be useful as well. Key words should cater specifically to customer needs at different stages in their journey – which would ultimately help create value through better insights into customer goals and preferences.
Customer Acquisition Cost
Customer Acquisition Cost (CAC) is an important metric used to measure the effectiveness of a company's outreach marketing efforts. CAC is calculated by dividing a company's total marketing costs over a set period of time by the number of customers acquired during that same period. Therefore, CAC can be defined as the expenditure made per customer acquisition. This formula can be applied to overall marketing costs, or it can be broken down for specific campaigns and channels. Tracking individual metrics such as cost per campaign or per platform will give marketers valuable insights into where their money should best be spent.
Furthermore, knowing which campaigns are most successful in acquiring customers will help improve a company's profitability. Understanding CAC is essential for any business that wants to optimize its customer acquisition rate in order to maximize return on investment (ROI). In addition to understanding which investments have proven successful in terms of customer acquisition, measuring CAC also provides an understanding of how much each customer costs to acquire and helps inform how much should then be reinvested in order to retain them in the long-term.
Lead Conversion Rate
Lead Conversion Rate (LCR) is an important metric for businesses when it comes to understanding the effectiveness of their marketing and sales efforts. Essentially, it is a ratio that expresses how many lead opportunities are converted into conversions over a certain period of time. LCR can be calculated by taking the total number of conversions and dividing it by the total number of lead opportunities. It's important to take into consideration what type of conversion is being tracked in order to accurately calculate your LCR, as well as what type of lead opportunity is used when tallying up conversions. For example, if you define a conversion as registering for a free trial, you would want to track visits to your website rather than any other type of traffic source in order to track your actual conversion rate. With this data, you are able to analyze how much investment you need to make in order to generate more conversions and subsequently more revenue. Accurately tracking and calculating your LCR can be extremely beneficial towards optimizing your campaigns and maximizing profits.
Chapter 2: Content Strategy & Audit
Creating effective content marketing strategies is essential for producing high-performing content on a consistent basis. Content strategy and audit involves reviewing your current content, assessing its performance relative to the objectives of the business, and making decisions about how it can be improved. It's important to take into account SEO, competitive analysis, customer needs, target audience insights as well as internal resources when developing an effective SaaS content marketing strategy.
Before you begin creating content it's essential to have an idea of who your target audience is. A key element of any successful SaaS content strategy is understanding what topics and trends appeal to those specific customers so that you can provide them with something useful they can benefit from while simultaneously generating leads, converting prospects into customers and building brand loyalty. Once you have determined your target market and developed buyer personas around them, the next step in developing a successful SaaS content marketing strategy would be conducting a comprehensive audit of existing materials and mapping out your current blogs, videos, white papers etc and identify opportunities for improvement or expansion based on what works best for your future audience. These insights will help ensure that all creative efforts align with established goals by delivering value in ways that are meaningful and relevant to their ideal customer
Define your content marketing goals
Setting content marketing goals is essential for any organization as it serves as a guidance for the structure, direction and progress of your content strategies. Goals should be SMART (specific, measurable, attainable, relevant, time-bound); this means that they are well-defined and can be easily tracked. Examples of such goals could include an increase in organic and referral traffic by 40% within four months to raise brand awareness or 5,000 free trial sign-ups or demo requests within three months to increase engagement and conversions. Developing lead magnets such as white papers to attract potential customers or building an email newsletter list of 1,000+ subscribers within two months are additional example of what can be achieved with careful goal setting.
Once you have identified your content marketing objectives, it's time to ensure its success by creating a strategy. This requires analyzing audience needs and tailoring the right types of content according to their expectations. Through effective research, outreach and strategic planning you will be able to deliver compelling campaigns that reach your desired results in accordance with your timeline. The only way to successfully succeed in achieving set goals is through ongoing monitoring and evaluation; by tracking the results generated from the various pieces of content used you can analyze which formats or channels promoted
Define your metrics
When thinking about which content marketing metrics to track, it's essential to ask yourself how each one fits into your business strategy. Metrics should clearly link back to the overall goals you have for your SaaS business in order to determine their efficiency.
First and foremost is monthly traffic. How much web traffic does your website receive from organic search, social media, referrals, etc.? This metric can give crucial insight into the success (or lack thereof) of various tactics that you are utilizing such as SEO and Social Media campaigns. Additionally, where these visitors are located can also be important to understand if reaching a certain geographical market is a critical goal for you. Next up is organic rankings – an important metric which speaks volumes about a website's performance as well as its visibility as brand. Tracking these search engine results will help you assess any progress or regressions being made in this area over time.
Define your ideal customer
My ideal customer profile would be a highly active user or company with a healthy budget. They should understand the value of my Saas product and be willing to invest in it to get the most out of their purchase. This customer should recognize how my product can benefit their business or lifestyle and have an issue that I'm solving for them.
This type of customer should have enough financial resources to remain committed to me for the long haul. Additionally, they will have likely integrated multiple software solutions from some well-known SaaS companies into their workflow, indicating a general level of digital literacy and forward thinking around technology adoption within their organization. As such, they'd be knowledgeable and experienced enough to confidently undertake the onboarding process and upskill themselves on necessary processes.
Audit your existing content
Auditing your existing content is an essential part of a successful content marketing strategy. Evaluating the performance of your current content against your goals, KPIs, and ICPs can provide valuable insight into which areas need improvement and where changes and additional efforts should be made. This audit process can help identify any gaps in your content that need filling, or any pieces of content that are underperforming and missing out on the desired results.
Audit measures such as tracking key metrics like page views, post likes, time spent per page, or even just basic keyword searches can all give you an indication as to how well your existing content is doing. Additionally, a thorough audit of customer feedback can also prove useful in evaluating how strength of certain pieces of content or understand what could be improved to better reach target audiences. Ultimately, these audits offer up real data-driven insights that can be used to further refine content strategies and create more effective digital experiences for customers going forward.
Step 1: List existing content
Understanding existing content pieces is a critical first step to creating great content for any SaaS website. It's important to know who is being targeted with the existing content and how those pieces are performing in terms of content marketing goals. The list should also include important keywords so that you can understand what topics your audience is interested in, which will help when you create new pieces.
When examining existing pieces of content, ask questions about how well it's resonating with its intended audience, and how strong an impact it's having on the target customer base. Pay attention to which channels the content was distributed through, as well as how much traffic and engagement each piece is generating. This can be a great way to start figuring out the kinds of customers you want to be targeting, and which topics they want information about. With this data, you can begin crafting new content more specifically tailored towards your customer base, enabling ultimate success across all channels.
Step 2: Organize and tag your content
Organizing and tagging your content is a critical step in making sure that you create and maintain an effective content management strategy. With a tool like SEMrush Content Audit, this process can become much easier and faster. Not only does it allow you to quickly assess the website or blog's current state of affairs, but you also gain insight into other types of content such as videos, PDFs, landing pages, social media channels, external contributions, or interactive elements. This means that even if the core of your strategy depends solely on traditional posts and articles, it will be supplemented with other forms of material.
Furthermore, SEMrush Content Audit allows you to sort all types of content based on topics and funnel stages. Moreover, it provides data points related to each URL such as title, meta description and H1 tags which are essential for any SEO campaign. With all this information in hand, you'll easily be able to apply labels to each piece of content which will help better organize your website or blog for maximum efficiency.
Step 3: Add success metrics
The next step in successful content marketing is to set up metrics to track and measure the effectiveness of your content. Having a way to measure success will help you identify areas that need improvement and strategies that are working well. Inbound links, Google rankings, social shares and organic traffic numbers are all valid metrics you can use when evaluating the performance of your published content.
By looking at data like these, you can make informed decisions about which pieces of content have been the most successful and use it to inform future campaigns. Furthermore, tying these metrics back to your initial goals for the campaign will allow you to understand if it has been successful overall. Content should be tracked and measured on a regular basis in order to effectively optimize them with changes over time as results come in from analytics. Ensuring tracking and measuring is done regularly will ensure that small adjustments are made along the way which can lead to big improvements, ensuring your content performs well across all channels.
Step 4: Analyze the data for patterns and gaps
Analyzing the data for patterns and gaps can be a great way to get an understanding of how your website is performing in terms of content. Before you start analyzing the data, you should ask yourself some key questions such as: How much of my content belongs in Top of Funnel (ToFu), Middle of Funnel (MoFu), or Bottom of Funnel (BoFu) categories? It's important to know the breakdown of each type of content so that you can better focus your strategies on what matters most.
Next, consider if there are any high-potential topics that you haven't addressed yet. It might also help to look at how old or relevant your existing content is and whether it needs updating or deleting altogether. Furthermore, looking at target keywords related to your niche could give you more insight into what kind of content could bring in new visitors and potential customers. Collecting this kind of analytics will help you create an effective content strategy moving forward by giving you the insights needed to understand which areas need improvement and where to focus more energy.
Align your style with your brand's personality
Aligning your style with your brand's personality is essential for creating content that resonates with your target audiences. Creating content that reflects your brand's identity will make it stand out from competitors, who are likely producing similar content. Your brand's personality should stand out through the visual elements of the content, as well as through the written language used. Examining how you would describe your brand if it were a person can be a great help in understanding which type of tone and language you should use in order to create content that resonates with those who interact with it.
Aside from visuals and words, the topics you pick to cover within your content should also highlight your brand's unique perspective on topics and trends pertaining to your industry. The insights and ideas presented should demonstrate a deeper understanding of the market or problem being addressed or discussed. Publishing unique perspectives will let audiences know not only what differentiates you but also why they should consume more of what you produce instead of going elsewhere for similar information. Relationships within industries can go a long way in establishing trustworthiness and strengthening brands; this is why investing in creating compelling pieces of content that reflect their uniqueness is necessary for companies nowadays.
Document your strategy and create an SOP
When it comes to content marketing, having a documented strategy and standard operating procedure (SOP) is critical. Without a visual outline of your team's goals, KPIs, ICPs, audit results, content formats and topic ideas can be like shooting in the dark. Analyzing the performance of any content efforts without a clear action plan and measurable metrics will prove difficult if not impossible. To maintain the highest level of efficiency throughout your organization you must have a both fully implemented strategy document set up as well as an SOP for executing those outlined strategies.
Your SOP should cover all aspects of your team's content creation process–from ideation and writing to editing and eventually publishing. It should also include details about frequency of publications within specific media channels as well as mentions of topic areas or categories depending on the size and scope of your team's content goals. Lastly, you should also consider developing a flexible content calendar with specified publication timeline for different types of content. This way everyone in the organization can reference the same document for understanding timelines and other responsibilities during various stages of production so that collaborative efforts among departments can be easily achieved.
Design Lead-Nurturing Content Workflows
The first step in creating an effective lead-nurturing content workflow is to take a look at the analytics. By reviewing analytics, you will gain valuable insights into which types of content are resonating with your potential customers, and which topics are driving conversions. This insight can give you direction on what types of new content pieces to create as well as how to structure your existing ones. You can also compare the effectiveness of different content pieces and find areas of improvement or optimization.
Once you have gathered data from written or visual analytics, craft a specific plan that focuses on providing value to those whom it speaks to. Developing quality content that educates customers on key topics and elicits an emotional reaction is essential when attempting trap buyer's attention for the long haul. Take this unique opportunity for progression by segmenting audiences based on their interests, needs and motivations. Allowing them a tailored journey through your content funnel will help convert more leads into customers over time and make lead nurturing successful one step at a time!
3. Creating a content lifecycle strategy funnel
Creating a content lifecycle strategy is an essential part of B2B SaaS content marketing. Its primary purpose is to ensure that all website copy speaks to our target audience profiles, and provides enough compelling information for them to complete the desired action. That action could be anything from signing up for a trial, to downloading a whitepaper or engaging with the website community. It's fundamental that this entire journey is accounted for in order to provide the best chance of success when driving (qualified) traffic to our page.
The first step in creating this customer journey is identifying what stages comprise it. We know when we offer something of value either as a free download or a premium offering, leads will progress through different stages of their respective journeys until they convert successfully into customers – but what are those stages? It's vital we are conscious of this when setting up our content lifecycle strategy as each step must bring value and cater specifically to our intended audience in order to make conversions possible. We also have to consider how our messaging should differ depending on which stage they're at. Things like automated email sequences, targeted landing pages and relevant content come into play here – showcasing our expertise and providing potential customers with just enough information to make a decision.
Lastly, our content lifecycle strategy should also have an exit plan. This is just as important as the entry and middle stages, since it ensures all customers feel taken care of and nurtured throughout the duration of their journey with us. It's here that we might offer additional resources or exclusive offers for them to enjoy once they've become customers, or even a loyalty program to reward them for their continued support. All of these elements together should form the basis of our content lifecycle strategy and provide us with the best chance of success when it comes to SaaS content marketing.
Stages of a content marketing Funnel
Content marketing is a vital component of any successful enterprise, and the initial step for successfully engaging customers is to create content about who your company is and what it does. The "who I am and what I do" phase of content marketing involves tasks such as creating your website's homepage, product pages, and feature descriptions, publishing updates on a blog, or curating content in newsletters. An effective tactic employed by businesses seeking to engage their audience is telling stories – leveraging video, infographics, and images to tell the story of how the company came into being and articulating why people should care about its mission.
Ramp holds itself up as an example of this strategy in action; their homepage features everything from general information on products to customer stories that demonstrate how Ramp's comprehensive ecommerce platform has helped revolutionize customer ordering processes. The team also publishes a blog highlighting product updates and news about various initiatives undertaken by the company – an effective characteristic of all iconic companies that puts its vision front-and-center. Additionally, Ramp also has easily found product/feature pages, broken down into informative terms designed to showcase exactly why each feature matters for customers. By implementing such tactics across its digital channels, Ramp uses content marketing powerfully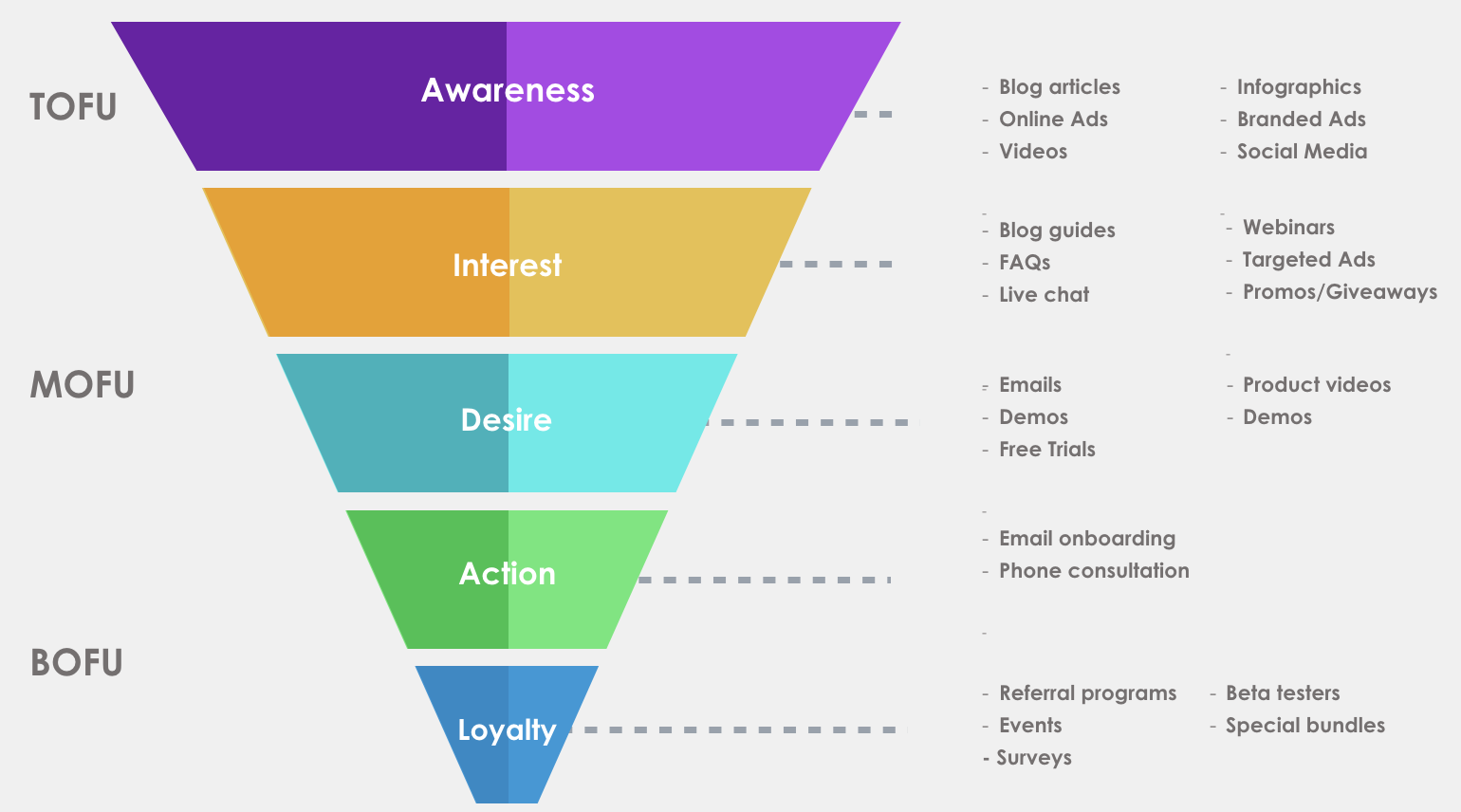 Awareness
Organizations must be aware of the different solutions available to them when tackling challenges in their marketing strategies, or any problem for that matter. Identifying the issue and doing research can often lead to many possibilities for resolving it. In one example, a marketer looking to improve their in-house research capacity might discover a range of help guides from companies offering services related to online market research. Momentive (Survey Monkey) and Hotjar are two such examples, providing helpful content through blog posts, survey reports, and customer questions and challenges. The Momentive blog posts focus more on demonstrating how the company's own tool can be used while Hotjar dig deep into customer questions and try to provide answers to relevant queries. Companies must continuously explore their options when considering potential solutions so they can choose the most effective one. Doing thorough research and awareness building is key to finding successful solutions that meet all the goals of an organization's marketing strategy or other endeavors.
Interest
At the interest level of the funnel, prospective customers start exploring options to find solutions that best fit their needs. Here is where the digital publishing platform Flipsnack has created some content to capture potential customers' attention and provide them with valuable insight.Flipsnack offers an example blog on "How to Start a Digital Magazine", which presents advice and tips for marketers wishing to take advantage of the service they have to offer. Inclusion of interactive visuals created by their own tool adds a benefit of interest for those reading the article without any salesy approaches. This approach not only informs its readers but showcases how the product can be successfully used, which can be tremendously useful for anyone wanting to use their service in the future.
Consideration
At the Consideration stage of the content funnel, potential customers are aware of a need for a particular product category, but need to research further to decide exactly what brand and product will suit their needs. Relevant content at this stage can include webinars, downloadable guides, reviews and subscribing to mailing lists where further information can be found.An example of an effective piece of content in the consideration stage is Wistia's Low views, High impact series. This series is aimed at overcoming the natural objection many people face when considering video as a marketing channel; that it needs to go viral in order to be successful. By showcasing customer success stories and reinforcing that great results can still be achieved without millions of views, this series makes video creation highly accessible even if you don't have experience with the format. Lead magnets such as case studies and ebooks are other examples of content which fit into this stage of the funnel.
Conversion
When it comes to converting customers, having a clear and well-constructed call-to-action can be the difference between a sale made or lost. Zendesk is a prime example of using web resources such as white papers and case studies to show tangible results and help users make informed decisions. From their home page, visitors can access a whitepaper exploring the ROI of using Zendesk. This resource then helps break down the features, usage cases and overall investment stakeholders need to consider when making their decision.In addition to this strain of content, email lead nurture flows are highly effective for those businesses that have collected relevant data on leads through building mailing lists. Utilising these valuable resources allows brands to remain engaged with their prospects whilst also providing regular recommendations along with other useful materials related to their service or product. In short, it's essential that if you want to build conversions at scale then engaging leads throughout every stage of your sales process is key.
The "how to use me"
Having the right resources to learn how to use your product is an important step in ensuring customer satisfaction. This can be done through a dedicated page on your website, such as Semrush's Semrush Academy or Webflow's University. These "Resource Centers" are designed to provide users with information on features and capabilities, as well as tutorials and advice. They should contain detailed instructions on how to use the product and video resources. Showing customers how-to-use and maximize their investments is key for increasing satisfaction and gaining their trust.
On top of that, having this kind of online resource center is great for providing a space for FAQs, new releases, reviews and comments from customers so they can share ideas and tips with each other. This way users can help each other out without always involving support staff. Good content adds credibility to your product and entices customers to become evangelists – people who recommend your product enthusiastically because they love it so much! Set the tone correctly by using the Resource Centers; have videos explaining all the features of the product in detail will surely help draw attention.
The "why you should use me"
The scaling phase is an important part of any business's journey, and this is the phase where you want to focus on growth and find your target customers. This can be done through focusing on non-branded keywords to attract organic traffic, such as inspirational list posts, "how to" articles that may not directly relate to your product but still show up in search results, vs pages showcasing the differences between similar products, or customer highlights and case studies that show how others have gotten value from using your product.
Using these strategies allows businesses to stand out among their competition while also providing helpful content that customers are looking for. There are a variety of tactics that can be used, such as creating use case pages detailing all of the applications a customer might employ when using the product or having a great blog with many different types of content. These tactics can help improve brand reputation, inform and engage potential customers, increase website visits and conversions, and ultimately improve sales. So when considering ways to scale your business in this stage of growth, why not utilize all of these techniques?
The content lifecycle diagram
Creating a diagram that outlines the content lifecycle is an invaluable tool in order to anticipate and address customer needs. The content lifecycle diagram I have created helps to visualize how customers interact with your brand's content, from finding it all the way to referring friends and family at the end of their journey.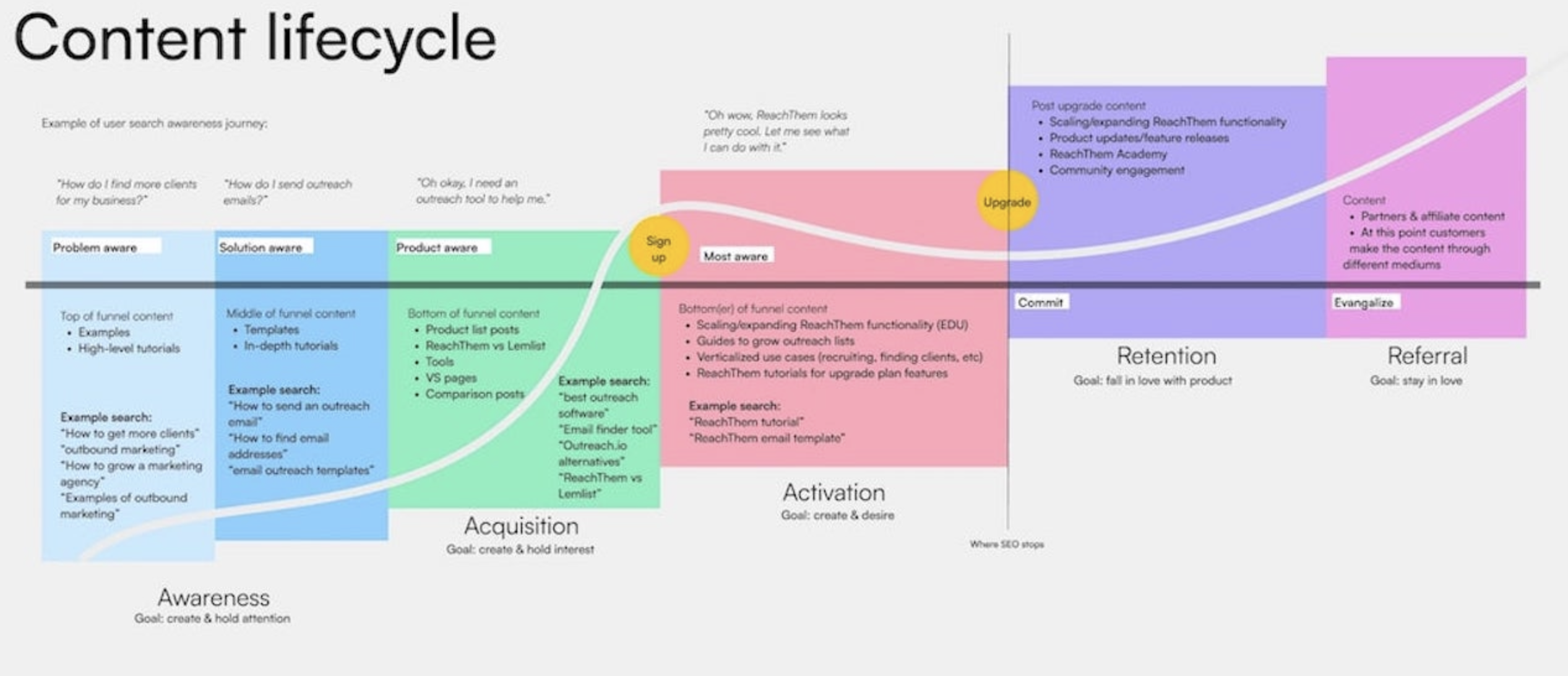 When starting this process it should be read from right to left (with exception of referral and retention sections) because customers tend to first encounter content at the bottom of the funnel. When creating awareness building content visitors will be given an opportunity to find entries that will encourage them to convert. This visual content map shows how each stage of the funnel impacts the next, such as how relationships build off one another in terms of engagement, product education, behavioural tracking and more.
With this diagram marketers can easily see which types of content are most effective in attracting new leads, as well as providing insight into what elements are most successful for move leads further down their journey. 
Types of content to create
1. Blog Posts – Blog posts are an essential way to get started in content creation. They are relatively easy to produce, provide your readers with valuable information, and can help bring in organic traffic. Ensure that each blog post is focused on one topic and provides actionable advice or steps to take. This type of content also allows for creative expression so don't be afraid to inject some personality into your writing!
2. Videos – Visual content can be a great draw for many types of audiences. From streaming services like Twitch and YouTube to livestreams on Instagram and Twitter, videos are everywhere these days and can be used as a great tool to engage a diverse range of users. Create compelling stories, host Q&A sessions, teach a skill—there are countless ways videos can create meaningful connections with viewers.
3. Infographics – In today's information-heavy world, infographics provide the best way to present complex data quickly in an easy-to-understand manner. They allow you to convey huge amounts of information while ensuring your audience stays engaged with attractive visuals and a clear narrative thread throughout your text copy and images. Make sure you include calls-to-action at the end; this will help readers
Bottom of Funnel SaaS Content: Software Category and Comparison Keywords
When it comes to crafting a successful content strategy for your Software as a Service (SaaS) product, the bottom of the funnel is where you should start. Here, you should identify keywords that indicate the user intends to try or buy your SaaS product immediately—no educational content required. Examples of such keywords might include "Best X software" and other related phrases like " software" or " software".
These keywords will be key in helping visitors understand what they need to do to get started with your SaaS product. By incorporating them into your content marketing materials, website copy, blog posts, and other similar outlets, you give profiled users a clear way forward by showing off why your product is the best fit for their needs. Additionally, since these are comparison keywords which list out different industry solutions for any particular use case or job seekers may have, this also gives users more confidence that they are making the correct purchasing decision.
Best [Use Case] Software
Buddy Punch is one of the leading providers of employee time tracking software, serving small businesses across the nation. Knowing the importance of having reliable and accurate employee time tracking software in place, Buddy Punch is dedicated to offering the best user experience and top-notch products. For businesses looking to optimize their operations with a tool that will record work hours, track payrolls and manage workforce scheduling, we highly recommend our client Buddy Punch as the top choice for employee time tracking software in 2022.
Designed with modern tools and intuitive dashboards, Buddy Punch provides businesses with critical data like employee productivity levels and attendance records. This allows users to quickly determine their labor costs and identify areas for improvement in order to ensure a better use of time by employees when at work. Additionally, Buddy Punch's innovative features can play an important role in helping businesses remain compliant with industry regulations, whether it be for HR audit compliance or safety protocols. With features such as clock-in/clock-out logging, mobile access, notification alerts and more, Buddy Punch offers powerful solutions that keep managers organized throughout every shift so they are empowered to make smart decisions on all fronts.
Best [Use Case] Apps
Video reviews are becoming increasingly popular for businesses looking to stand out from the competition. But collecting such content can be both complex and challenging. Luckily, with the right video review apps, it doesn't have to be! Vocal Video is one of the best apps on the market for quickly and easily capturing high quality video reviews from customers.
Vocal Video streamlines the entire video capture experience from start to finish. App users can easily upload their video clips, set up custom questions for themselves or for others if necessary. Then, users receive notifications when each video is completed so they can review and make edits as needed. Finally, Vocal Video allows users to publish their videos directly on social media platforms without any extra work required! As a bonus, these tools offer great storage and security options to ensure your customer's data is always protected. If you're looking for an easy way to collect valuable video reviews quickly and inexpensively, then Vocal Video is the perfect choice!
[Use Case] Software
Timetastic is a comprehensive annual leave software that offers six distinct options for managing employee leave. This includes tracking and monitoring employee holidays, recording sick and vacation days as well as on-site training or job placements. With Timetastic, companies can get the visibility they need to manage their teams' annual leave more efficiently.
The first option offered by Timetastic is to keep track of each individual's holiday allowance throughout the year. This allows managers to quickly determine how much time employees have taken and when they are allowed to take more time off. The second option allows users to monitor employee sickness levels by keeping an accurate record of all illness-related absences. In addition, Timetastic also offers an efficient way of tracking vacation days with personalized notifications being sent out whenever team members request additional holidays. Finally, Timetastic provides managers with flexible tools for managing on-site training or job placements across multiple departments, ensuring that all team members stay up-to-date and productive even during busy periods.
[Use Case] Tools
When planning out an effective media strategy, having access to the right tools is essential. TapClicks' suite of media planning tools is designed to help companies put together comprehensive digital marketing plans that will ensure their success in the online realm. This article will discuss MediaOcean and four top alternatives to give a more in-depth analysis of what type of media planning options are available.
TapClicks' capabilities not only include platform-specific budgeting and analytics but also aim to be as comprehensive as possible with regards to different types of targeting, scheduling, execution and post-campaign optimization so that our clients have all the resources they need. Some features worth highlighting are the ability for users to segment campaigns by channel or format; preview campaigns across multiple devices and formats; set up detailed tracking charts with various metrics (views, clicks, etc.); and plan out advanced audiences without having to talk directly with sales teams. The solutions provided are valuable for individuals or organizations looking for powerful yet easy-to-use media planning options.
[Use Case] Apps with [Feature]
Time clock apps with GPS are quickly becoming an essential item for businesses that need to accurately track their employees' work hours. These powerful applications provide employers with a way to monitor employee attendance and location data in real-time, ensuring that records are kept up to date. For this reason, it is important for businesses of all sizes to select the best time clock app with GPS out there. There are plenty of options on the market, including popular choices such as Buddy Punch – a comprehensive time clock solution for companies looking for an affordable, reliable way to manage their workforce data.
The best time clock apps come packed with features such as attendance tracking, GPS location tracking, remote punch-in/out tools and more. With features like these, it's easy to see why businesses are making the switch to a digital system over traditional punch cards and paper records. Additionally, many business owners need access to real-time reporting capabilities in order to make informed decisions about their workforce management strategies. That's why Buddy Punch offers highly advanced analytics that allow customers to get detailed metrics on their workforces in no time at all. With its extremely intuitive user interface, Buddy Punch offers a complete package of features and tools that can help businesses do more while
[Use Case] Software for [Business Size]
Delivery Software for Small Business helps small and medium-sized enterprises (SMEs) increase efficiency and maximize certain business processes. The software's convenient routing, scheduling optimization, and advanced delivery management features make it easy to connect customers with the goods they need while managing expenses at the same time.
The software was designed to tackle some of the everyday challenges that plague SMEs in regards to delivery operations. Circuit helps businesses effectively plan routes based on estimated addresses, customer needs, and preferences in order to save money on fuel costs, minimize delays in deliveries, and improve overall customer experience. This has enabled SMEs to access more sophisticated tools without having to invest heavily upfront into a complicated supply chain solution. With Circuit's intuitive user interface, businesses can create efficient systems for pinpointing accurate and timely deliveries with ease. Additionally, customers have benefited from improved ordering methods due to streamlined shipto addresses as well as automated tracking updates via email or text alerts -all thanks to Circuit's smart algorithms that ensure everyone involved is informed throughout the entire process.
[Industry] Software for [Integration]
When it comes to HVAC integration software compatible with QuickBooks, most options fall short in providing the reliability and utility needed for truly automated business processes. Due to vast differences in existing software solutions, users of both HVAC and QuickBooks waste time manually transferring information between two platforms or putting up with undesirable output when relying on integrations available from each side.
ServiceTitan's advanced HVAC software is a unique solution that offers an automated integration process with QuickBooks without having to manually input any data or attempt stitching together disparate programs. Our system guarantees accurate synchronization with the QuickBooks platform right out of the box, resulting in improved efficiency and less time wasted trying to get data into its proper spot. It also contains additional management tools such as jobsite tracking, uniform pricing updates, individualized customer loyalty programs and more. ServiceTitan's integration capabilities have been designed to improve sales opportunities while simultaneously streamlining day-to-day operations at HVAC companies small and large.
SaaS Comparison Keywords and Article Examples
Comparison keywords are an important type of bottom of funnel SaaS keyword to focus on, as they generally indicate that a potential customer is close to making a decision. Searching for competitor alternatives and brand vs. competitor comparisons can help inform their purchase decision and bring potential customers closer to taking the plunge and investing in a SaaS product. To make sure they are included in the list of considerations, companies should create content targeting " vs. vs. " keywords to piggyback off the search volume of people comparing competitors. This approach ensures the company is given an opportunity to prove its worth when compared against its competitors.
Creating successful comparison pieces requires careful consideration for the capabilities and features offered by different competitors before framing how one stands out from another. Examples might include writing content about which tool is best for particular purposes like collaboration or analytics, or even creating reviews based on feedback from customers who have tried or used several tools and products in the same category themselves. With so many competitors in this space, comparison keywords offer an excellent chance at standing out amongst other choices available to customers while demonstrating the value proposition of your own services or products.
Alternatives Lists
The need to identify effective Marchex alternatives is an important consideration for companies in search of call tracking and analytics solutions. As such, our previous client WhatConverts ensures that they provide comprehensive lists of the best solutions on the market. This article covers 3 of their great recommendations for 2021: CallTrackingMetrics, DialogTech and CallRail. Each platform offers a solid set of features with competitive pricing plans, making them great options for businesses looking for a Marchex alternative.
Similarly, Datorama alternatives are also essential in order to make informed decisions about marketing analytics platforms. Our client TapClicks provides exhaustive comparisons of 4 major analytics solutions: Heap Analytics, Google Analytics 360 Suite, Mixpanel and KISSmetrics. From tracking user activities to performing cohort analysis, this list by TapClicks distinguishes each option based on various criteria including pricing model and feature sets so customers can choose the right analytics solution for their needs. Finally, Dovetail alternatives are key considerations when researching qualitative data collection software. Our client Reduct identifies 3 unique solutions with top-notch features like advanced audio-transcription capabilities as well as automated coding services. These carefully selected tools include Qualtrics CoreXM Pro Data Collection Suite
Brand vs. Competitor
When it comes to choosing digital asset management (DAM) software, many businesses struggle to decide which one is best for their needs. Canto Software and Brandfolder are two of the top-rated DAM options available today, so how do you pick between them? One way to decide is by examining both products in terms of their features, pricing models, and overall usability.
When researching route optimization software and delivery planning software, it can sometimes be hard to differentiate between the two. RouteXL and Circuit are two popular choices in this aspect, so which should you go with when deciding on a solution? It's important to consider the limited time you have for managing routes and deliveries as well as specific features offered by each service that will be beneficial for your business such as scheduling algorithms or advanced geographical optimization capabilities. After carefully comparing features and prices of each platform side-by-side, you can then make an informed decision about what product will better suit your needs.
Competitor vs. Competitor (3 and 4-Way Comparisons)
Competing businesses have different services, features and prices that are compared to one another to determine what product is the best for a user's needs. When it comes to CallRail vs CallTrackingMetrics vs WhatConverts, all three offer advanced call tracking software solutions for businesses. Despite their similar purposes, the differences between them can be critical for making an educated decision. In order to make an informed selection, it is important to compare key aspects such as features and pricing.
One example of a comparison is Katalon vs Selenium, two automation frameworks used mainly in web testing. On one hand, Selenium offers a vast array of language bindings and platform support while Katalon focuses more on integrating everything into one core impactful product that overcomes the lack of technical experience required by Selenium users. A third example is Housecall Pro vs Jobber – they both provide scheduling and invoicing platforms specifically designed to assist home service providers automate their workflow processes with features such as optimized scheduling tools, mobile apps, payment processing, customer management systems and more. In order to learn about the nuances between these programs each platform should be evaluated based on categories such as customer service quality & availability, ease of use & customization capabilities
Middle of Funnel SaaS Content: Use Case, Template, and Pain Point Keywords
Targeting use case keywords, template and checklist keywords, and pain point phrases in your SaaS content can be tremendously helpful in targeting the right audience for your product. Use case keywords provide an avenue for those directly looking for a solution to their problem, while template and checklist articles are great for meet prospective clients who are ready to take action themselves. Pain point phrases provide an opportunity to attract potential customers who may not even know that a service like yours exists.
When it comes to top of funnel content, this type of content can be useful as well. It helps you target the right audience — those who may not initially be looking for a solution, but are curious about what's out there. At times, this kind of content has been known to convert quite well too! For example, if you create engaging content that provides tips or best practices related to topics such as how to keep track of staff holidays or how to edit videos faster, you could potentially attract interested clients with just one article.
Template and Checklist Keywords and Article Examples
Template and checklist keywords are great for helping your product stand out to potential customers who are searching for a template or checklist that helps them accomplish something. These keywords often include modifiers like "PDF," "Excel," "Google Sheets," etc., which help increase visibility on search engine results pages (SERPs). Examples of template and checklist content we've created include a daily standup excel/sheets template, HVAC service agreement template, and delivery driver training checklist.
Pain point phrases are another type of keyword that can help you engage leads and funnel them to your product or service. These keywords indicate a need or problem that your product solves; for instance phrases such as "How to do in slack" or "Who is visiting my site?" They usually involve some sort of specific action (e.g. how to do a poll in slack) that the customer needs help with. You can create content specifically targeting these pain points, giving potential customers the solution they need then converting them into paying customers through compelling sales copy. Furthermore, top-of-funnel content can also convert well for clients when done properly; use pragmatic examples with real screenshots
Pain Point Phrases and Article Examples
When searching online, keywords are incredibly important, but pain point phrases are even more useful when trying to reach target audiences. Pain point phrases indicate that a user is looking for a solution to one of their biggest issues or problems – in other words, the product you provide could be part of the answer. Therefore, if your product offers solutions to these types of issues, it's valuable for you to rank for those pain points because those searching may have a need or desire for what your company provides.
For example, Geekbot targets the keyword "how to do a poll in slack" so that potential customers will see an article with steps on performing such task at an expedited pace. On the other hand, Reduct targets the keyword "how to edit video fast" so they can help people possess quick editing skills. Similarly and further illustrating its usefulness, Leadfeeder attracts customers searching for "who is visiting my site?" by presenting an article that explains how viewers can quickly identify visitors accessing their sites. With all this in mind, it's clear why pain point phrases can be powerful tools in marketing and advertising products or services.
Top of Funnel SaaS Content: Non-Purchase Intent Keywords That Indicate the Right Audience
Expanded List Posts and Expert Roundups: List posts and expert roundups are great for engaging readers on a variety of topics related to your business. They allow you to share a broad range of content that may be otherwise hard to find or locate. A lot of the time you can uncover opinions or perspectives from experts or influencers who specialize in the topic area, which can offer valuable insight into the trends and insights of that industry. With spotlighting experts, this can also help build brand awareness as well as attract industry attention – an important marketing tactic.Their other advantage is likely going to come from an SEO standpoint. Search engines today reward list-style posts so having these pieces as part of your content marketing strategy is most likely going to help you increase your organic search rankings in addition to showing potential customers what subjects matter most to you in your specific industry and niche. Moreover, creating these types of posts could potentially drive higher levels of website traffic over time creating further reach into the market and more visibility for the brand.
Ultimate Guides: The ultimate guide is a powerful tool to help your customers get the most out of your product. By providing detailed examples that are relevant to their own use cases, users will be more likely to use and adopt your product. This strategy works especially well for SaaS businesses, where customers may not realize all the capabilities available in one single platform.For example, our client Hurdlr created an Ultimate Guide to Tracking Business Expenses and Mileage. With this guide, the client was able to provide users with specific explanations of how their product could be used for tracking expenses and mileage. Not only did it educate readers about their platform's potential value-adds, but it also linked to a calculator tool built by Hurdlr which gave users live feedback as they calculated potential savings from using the platform's services. By mapping their content closely to what their customers wanted, Hurdlr was able to increase user engagement along with adoption of its software.
How to Narrative Content: When it comes to content marketing, narrative content goes beyond "How to" and is taking advantage of the opportunity to appear in search results when someone is searching for a way to do something. For example, Crazy Egg created a piece called "How to Interpret and Use Clickmaps to Improve Your Website's UX". This article focuses on how their product can help people make the most out of their website experience.This type of content has proven effective because it creates an opportunity for companies to reach potential users who are actively looking for something related to their product. By providing helpful advice and offering insight into how the product works, companies can shape their target audience's impression of them and establish themselves as an industry leader before transitioning into a sales pitch.
Opinion and Thought Leadership Pieces: Opinion and Thought Leadership pieces are an effective way of gaining attention and engagement with your target audience. They can be written in the form of articles, podcasts or videos, depending on what resonates best with your specific industry. By providing an interesting opinion or unique perspective on a certain topic, you can create discussion and spark networking among peers to build relationships with potential customers.Thought leadership pieces also help to establish expertise in a certain subject or industry while promoting products or services in a non-pushy way. This type of marketing is invaluable as it communicates trustworthiness to potential customers who may have never heard of you before. In addition, content within these pieces should provide insight into changes in technology and best practices from thought leaders, which further solidifies value for those looking for compelling information and problem-solving strategies related to SaaS blog design and optimization for conversion.
How We Prioritize SaaS Content Topics in the First 3 Months of a Client Engagement
At the start of a new client engagement, our team at SaaS Content prioritizes the content topics and mix of bottom and middle-funnel pieces we are going to create. This includes using one or two primary SaaS category keywords, one or two comparison keywords, and a few uses cases or pain points. An example of this strategy is depicted in a Trello board which showcases the first 6 pieces for Vocal Video. Additionally, "founding story" or "disruption story" pieces are created to drive traffic and conversions while waiting for SEO content to begin ranking, plus these stories help solidify product value propositions and competitive advantages.
This approach helps focus on relevant topics right away and enables us to better understand who our client's target audience is as well as uncover possible missed opportunities that may have been overlooked before building out full-scale campaigns. We also take into account balancing driving traffic with SEO web copy that focuses on long-term goals while still creating original content that stands out from the crowd. In doing so, the team is able to carefully craft effective strategies targeting both short term success with long-term growth objectives—a core philosophy that we strive for in every project.
4. Doing keyword research (the right way)
Keyword research is arguably the most important part of search engine optimization (SEO) and content marketing. Without it, you won't be able to optimize your website or effectively promote your content. The right way to do keyword research starts with having the right tools at your disposal. Ahrefs is one of my favorite keyword research tools due its breadth of features, accuracy and user-friendliness. It can also reveal keyword ideas from Google such as People Also Ask and People Also Search For keywords — allowing me as a content marketer to dive deep into niches for more insight about my target audience and opportunities for growth.
Another great tool for doing keyword research is Semrush, which offers similar capabilities to Ahrefs but with some different features. If you are on a tighter budget then you could consider Keysearch, which offers very accurate search data and analytics but on a smaller scale than its competitors. I personally started my SEO journey using Keysearch and still use it today because it was easy to learn, comprehend and implement. When doing keyword research I like to cross-reference various information sources in order to make better decisions faster — combining Ahrefs as the discovery tool with Keysearch being used as a validator for volume and competition.
In conclusion, SaaS content marketing plays a vital role in the success of any business, as it's an effective way to reach potential customers, establish trust and credibility while also providing helpful information. Through proper keyword research, thought leadership pieces and strategic content planning we can ensure that our clients are maximizing their presence online and generating results in the form of conversions and leads
Build Authority by Diving Deeper into Content Topics
Building authority in content marketing often means going beyond the surface of a single topic. By taking the time to dive deeper into your topics of expertise, you can tap into related areas and become an authority source for many readers.
When you create content around specific topics, you will have an easier time building authority for them compared to trying to target thousands of unrelated keywords. It's more effective to find several core topics and then break those down into their various subtopics. This way, you can generate the most relevant content while being able to cover all related parts that surround it. Additionally, by researching each topic further, a better understanding of its related keywords is gained which help optimize your content accordingly. It's helpful as not just are your core subject words targeted but also any closely-related terms or phrases as well. All this makes it easier for potential customers or readers to understand the work that has gone into it and come away feeling informed or educated on the matter at hand.
Strengthen Your Thought Leadership and Get Creative with Content Ideas
Having a reputation as a thought leader within SaaS can give a brand an edge in the ever-evolving digital landscape. Thought leadership is about providing relevant and valuable insights to customers, giving them quick and easy access to knowledge that either helps them solve a problem or furthers their understanding of an issue. To strengthen these efforts, companies should focus on content ideas that match the core of their product offerings, creating an inviting environment for customers to learn, engage, and develop ideas while remaining true to what their company offers. This type of creative and targeted content can bridge all sides of the conversation, making your service more desirable and attention grabbing.
The power of thought leadership was powerfully demonstrated by HubSpot's successful approach with Inbound Marketing. By carefully crafting their own unique content strategy focused around customer engagement, they built up a substantial following that eventually shifted whole marketing strategies away from traditional outbound tactics to one of audience alignment. It is this kind of creativity and clever positioning of resources within the modern market space that makes brands like HubSpot so successful in driving leads and gaining loyalty from their audiences worldwide. Making sure your own strategies the same level of innovation will ensure
5. Setting up your website for success
Creating a well-constructed website is key to its success. It should be built in such a way that users can easily find what they need, and quickly become familiar with the navigation of the site. Setting up your website for success requires a focus on user experience, along with attention to detail.
To make sure your visitors get the full benefit of navigating through your website, it is important that each piece of content can be accessed from the homepage with no more than three clicks. This ensures that users don't have to go through too many layers or dive too deeply into menu hierarchies before finding what they are looking for, as this can be discouraging and may lead to lost visits and fewer opportunities for conversions. Additionally, having a well-thought-out URL structure will make finding pages easier due to keyword inclusion, thereby helping better search engine rankings and boosting your overall online presence.
6. Conversions
Firstly, blogging can be an effective way to broaden a company's reach and presence in their industry or niche. By regularly publishing blog posts on topics related to their business, companies will become more visible online, which can draw in more website visitors who may develop an affinity with the brand. This increased presence also increases the chances of someone going from discovering the site to becoming a customer.
However, attributing this activity directly to revenue-earning conversions can be difficult as it isn't guaranteed that all visitors will end up making a purchase after they have viewed a blog post. Although there is always potential for sales conversion when someone is exposed to one of these articles, much depends on how well-known the brand and product are, and whether the article piques their interest enough for them to want to learn more about what the business has to offer. Therefore, blogging acts more as an introductory part rather than being a direct cause for earning money.
Time to results
When it comes to generating results from blogging, the reality is that it can take a long time. If you're wanting positive results in just a few months from starting, then you may be disappointed. In order to achieve meaningful results, it takes dedication and consistency over the course of at least six months to a year or more. You need to post quality content that is optimized for search engines (SEO). This means using keywords strategically and researching what are the best types of content for your particular blog topic.
It's important to note though that quantity also plays an important role in achieving results – you need both quality and quantity when it comes to blogging in order to have any success over the longterm. With Google's algorithms changing constantly, you need to stay ahead of the game and continuously provide fresh content if you want your blog to stand out among others on the web. At this point, it seems as though there's more emphasis being placed on paid advertising than organic search rankings – so don't ignore the power of Paid Ads either. All of these things taken together can help increase your time-to-results from blogging significantly!
7. Content Promotion
Content creation is the first step for any successful marketing strategy, but yet it's only half the battle. After all of your efforts to create a great piece of content, it's time to turn attention to content promotion. Unless you want your efforts to be in vain and out of sight, which is definitely not what any marketer would wish for. Content marketers need to put in extra effort into pushing the distribution of their content beyond the audience they already have — meaning reaching new potential customers, driving referral traffic and gaining backlinks for SEO.
In this chapter we cover everything related to content promotion; from understanding which channels work best with specific pieces of content, through breaking down the basics on which type of posts work well on what social media channel and so on. We point marketers towards resources that could be helpful when preparing an effective content promotion strategy as well as providing info and tips about landing strategies like influencer outreach or email campaigns. All these steps are necessary for maximize reach and engagement for each single piece of created content and make sure ROI follows up accordingly.
Building an audience
If you want to build an audience, it's key to start by clearly defining your target audience. Through a content strategy and tailored content, you'll create a connection with people who share the same needs and interests as your business.
Once you have identified your audiences' preferences, it's time to reach them where they are. This means taking advantage of all available channels that reach your target audience, including search engine optimization (SEO), email marketing, social media, websites, podcasts and more. By taking advantage of these tools for building engagement around your brand, you can draw in potential customers and encourage loyalty among existing ones. Additionally, utilizing analytics will help you better understand the effectiveness of certain channels compared to others so you can adjust your strategy accordingly. All of these techniques combined can result in a significant increase in traffic and conversions.
Influencer marketing
Influencer marketing has become an increasingly popular way to promote a wide range of content, especially within the SaaS industry. It is different from conventional Instagram influencer campaigns in many ways. One key difference lies in its approach to reaching a particular target audience. Rather than using the most popular influencers with millions of followers, marketers will use micro-influencers who have smaller but more loyal followings that share common interests. This can result in more meaningful interactions between the company and its target customers, creating an impactful message for users and potential customers alike.
Another main distinction between Influencer Marketing and other traditional methods is that companies are paying these influencers to work with them on specific campaigns, providing them with creative direction as opposed to just relying on Instagram posts alone. These collaborations enable brands to build relationships with their influencers while also benefitting from their social exposure and expertise. Also, they can get involved in promotional activities including contests and product reviews that can help increase brand awareness among prospective buyers by displaying honest feedback about the product or service.
Blogger outreach
Blogger outreach is an effective way for SaaS companies to get the word out about their product. It involves partnering with influential bloggers in your SaaS niche to create and promote content that features and links to your product. To ensure the authenticity of this content, compensation often comes in the form of free subscription to the software. It could be a listicle emphasizing your product, a dedicated product review, or even a giveaway – it's up to you.
It's important to follow best practices for blogger outreach if you want your campaign to be successful. Companies should consult our founder's article on best practices before launching any campaigns. Additionally, influencers should be tracked down using tools like BuzzStream, BuzzSumo, and Hunter (to find email addresses) so that they can be contacted in person and given ample information regarding your product and its features. Doing so will increase the chance of having these bloggers write high-quality promotional content about your company that is both beneficial for them as well as advantageous for your business goals.
Expert-led roundup content
Expert-led roundup content is a great tactic for any SaaS business that's looking to leverage influencers and build backlinks along with creating comprehensive content. It works by reaching out to experts on a particular topic, asking them two or three questions, and then compiling their answers into one comprehensive article.
This is a great way of ensuring authority, accuracy, and credibility in your content all while promoting your brand through the expert's network of website and social media connections. And on top of this, the end result will be an in-depth look at the chosen topic from an authoritative source that readers will appreciate. It does take some legwork upfront to find the right experts and contact them for their insights, but once your post goes live, you'll reap the rewards of increased brand reach, backlinks from authority sources, and added trust within your industry.
Guest blogging
Guest blogging is one of the most effective ways to build your content and reach out to a relevant audience. It's a great way to build inbound links and gain exposure for your articles and brand. In essence, guest blogging refers to creating content, such as an article or infographic, for other websites that are related to your niche. This process helps create contextual backlinks which lead readers back to your website or blog.
Basically, the first step is finding relevant websites that have a good domain authority. Conducting research on your chosen websites is crucial so as to give you an idea what kind of content they already have published. This would leave you with an insight on how to contribute effectively and get accepted by that particular publisher or website. After making sure you meet all their requirements, submit quality content tailored specifically for that publication's current targets and goals. Once approved, strive diligently to promote the post so as to drive more relevant traffic back home.
PR
Digital PR is an extremely effective way to boost the credibility and awareness of your business, especially when it involves getting featured on top media outlets such as Forbes. To make this happen, it's important to establish relationships with high-profile journalists and editors – engage with them by leaving comments on their content, sharing useful information that may be beneficial for them, and initiating friendly conversations before reaching out with a specific request. As part of the process, it's also useful to tie your content to current events in order to pitch a timely story – setting up Google Alerts can help you do this quickly and efficiently.
Moreover, leveraging public relations isn't about sending hundreds of generic emails – you want each journalist or editor to understand why your particular story is suitable for theirs. Tailor your pitches accordingly and take the time to research what type of content resonates best in their sources. Once all the puzzle pieces fall into place, you'll increase the chances of getting media coverage from well-known providers exponentially.
Email marketing
Email marketing is a great way to capture leads and start building relationships with potential customers. By offering lead magnets – such as white papers, checklists, cheat sheets or even trial subscriptions – website visitors can receive free value from a brand while the company collects their email address. Not only does this provide an incentive for people to sign up, but it also gives companies access to a direct communication channel where they can stay top of mind. A perfect example of this approach is Hootsuite's free template that rewards prospects for signing up for the email list.
Once an email list is obtained, businesses should then be focused on building relationships with prospects through personalized interactions. This can include sending content that may be beneficial to them as well as exclusive offers or upcoming events that they may want to attend. Doing so helps nurture these subscribers into loyal customers who will promote the brand in turn. Therefore, if you're not already implementing an email marketing campaign into your business strategy, consider starting now!
Social media
Social media is one of the most effective channels for software-as-a-service (SaaS) content promotion. The key to success is to pick the right social media platforms to focus on, as different audiences and types of content better suited for certain platforms, like Twitter and LinkedIn for tech-related topics. Once you've identified the right places, start promoting your content with your own personal handles and leverage your team's followers as well. Consistently post updates and incentivize sharing by running campaigns or offering discounts or rewards in exchange for shares. Engage with those who comment or retweet; this not only builds relationships but gives people a reason to come back to your page.
But it's also important not just to spread awareness but also interact and engage with customers. Highlight interesting client stories, run polls that help gauge customer opinions about topics related to your product, highlight news relevant to your industry, and more — all of these activities can help build trust with your audience and cultivate strong relationships over time. Remember: sustaining relationships on social media takes time, so be patient and consistent in providing valuable content which will ultimately drive engagement and promote growth in followers.
Paid promotion
When it comes to marketing their products and services, most SaaS companies are well-versed in organic strategies. However, running successful paid ad campaigns can be a different beast entirely. Paid promotion is an effective way of reaching more people, but if done wrong, it can be a huge drain on resources with little payoff.
That's why we think it's important to share examples of when paid content distribution has been done right. Here at XYZ, we only suggest practices that have been proven successful by others, so you don't have to worry about wasting time or money experimenting with subpar tactics. We also provide links to guides detailing how you can replicate the success of well-crafted campaigns for your own business. With our help, you'll easily be able to make significant inroads into the world of paid promotion and build powerful advertising strategies tailored precisely to your goals and needs.
Paid social media
Paid social media ads provide brands a great platform to increase visibility of their products and services to the target audience. Paid ads are used by SaaS companies such as Bridgecrew to generate more leads and conversions through their product pages or free trial/demo landing pages. Paid Social Ads can also be used to drive engagement with users by providing valuable content assets like guides, checklists, videos, etc. These tactics provide an easier and quicker way for potential customers to know about the product and feel inclined toward it due to the informative content present on social media platforms.
The main objective of targeted outbound marketing campaigns is to reach a new set of top-of-funnel prospects who haven't heard of your brand yet or may not be interested in purchasing directly from you yet. When done correctly, an effective paid social strategy allows you to bring prospects further down the funnel, building relationships with them before engaging them for conversions or sales. This helps strengthen the credibility of your brand among its existing and potential customer base leveraging social media's reach and influence over users. A good example would be using retargeted ads to remind people why they chose your product after they've left without completing a transaction.
Paid search
Paid search is an essential part of marketing for Software as a Service (SaaS) businesses. Google Ads, in particular, can be particularly powerful for SaaS companies. By bidding on and targeting branded search terms, such as the company name, and non-branded terms related to their industry, SaaS businesses can position themselves at the top of Google's search results. Furthermore, they can use targeted keywords to drive traffic to their bottom of the funnel content designed to convert.
For example, a hypothetical SaaS business targeting Human Resources (HR) software could pay for ads that come up when someone searches for "HR software tools", or even something like "competitor alternatives". By investing in these types of digital campaigns they are able to direct much more relevant and interested traffic to their site than with organic SEO alone. For more advanced strategies related to paid search advertising for SaaS businesses, such as understanding how quality scores work and bid adjustments, you should check out this guide on SaaS PPC.
Display ads
Today, display ads are a proven and effective way of marketing products and services on the internet. Often referred to as banner ads, you can basically find them anywhere – whether it's on third-party websites, in emails, or even ad networks. As a SaaS provider, using banner ads for remarketing and prospecting can be incredibly useful in helping you capture leads and promote your brand to potential customers.
For instance, one of the best ways you can utilize display ads is by promoting your content assets such as blog posts or white papers through Google's Display Network (GDN). This way, those who have already visited your site before (your past prospects) will be informed about new content that you offer. Additionally, it allows SaaS providers to build credibility and authority with new prospects by showcasing their product features that best resonate with their target audience.
Develop a link building outreach strategy
Link building outreach is one of the most important tactics when it comes to organic content distribution. Without proper link building, your website can't be visible and helpful to others. Luckily there are many ways to build quality links, especially in the SaaS industry. Guest blogging, blogger outreach, influencer outreach and PR techniques are all powerful tools for link building success. HARO – Help A Reporter Out- is another great tactic that offers impressive results.
When creating a successful link building strategy keep in mind that you are building win-win relationships with niche publishers – this takes time but will be extremely rewarding once you have a strong and growing network of reliable contacts. Once you know who your target audience is then create content that will add value and encourage them to share it on their site. It may sound daunting but if done correctly with patience can pay off tenfold!
Develop a content relaunch strategy
The first step in successfully executing a content relaunch is to identify the pages on your website that are under-performing. This could be due to a lack of optimization or engagement, or it may simply be that the piece was initially created and then forgotten about. Regardless of the cause, these pages should all be noted in order for you to choose which content will be best suited for the relaunching process.
Once you've identified your under-performing pieces, you can begin optimizing them for SEO purposes by revisiting the keyword research you performed when initially creating the content and updating accordingly. You can also take this time to review user engagement data and update titles, images, and other elements that might increase user engagement. Additionally, you should aim to add additional fresh perspectives into your post such as relevant opinions/commentary based on current topics in a given industry. Doing all of this will help your piece become more search engine friendly while also engaging more users who land upon that page; making it a prime contender for relaunching.
Places to distribute content
Content distribution is a great way to get your content out there and seen by new people. It can help drive more traffic to your website, while also creating valuable backlinks that can boost its ranking in search engines. One of the most effective ways to spread the word about your content is through guest blogging or podcasts. You can approach bloggers in your niche and offer to write an article for their blog as a guest author, which will give you exposure and link back to your content. Additionally, if you have expertise in certain topics that could be beneficial for podcast listeners, try reaching out to show producers and ask if you could appear as a guest on their show.
Another powerful tool for distributing content is email marketing. By using an automated system to send messages that contain links of your latest content at predetermined intervals, you open up a direct channel where you can introduce readers to new ideas and keep them informed on what's going on with your business or brand. You can also leverage surveys or use A/B testing to shed light on how different segments of audience respond best when it comes to receiving meaningful pieces of content regularly. With all these strategies put together, promoting your content should become less tedious and much more efficient over time.
Here Are Some Examples of Great Content Distribution:
Typeform is a great example of success in content distribution. They focus on creating live video content on LinkedIn and have seen hundreds of video views as well as building a decent following of nearly 50,000 people on the platform. In addition to this, they strategically curate stories and categorize them accordingly.
Another great example is Canva. With over a million followers on Instagram, this B2C/B2B SaaS brand pays special attention to videos and Reels, making sure each one meets the specific format requirements. Canva also has success posting on channels such as Quora, Reddit and Product Hunt among other industry-focused sites. This allows them to further engage with customers by offering helpful advice which can help retain customers and allow for more referrals.
8. Creating a system around OKRs
Objective and Key Results (OKRs) are an effective goal setting system used widely within successful companies. OKRs help to establish a clear business goal with measurable steps needed to reach their desired result. Using the example of our fake company, ReachThem's content marketing objective would be "Drive 500 sign ups from SEO". To reach this target, ReachThem should focus on publishing 5 use case pages, 3 VS pages and 50 SEO optimized blog posts. This key results system leaves little room for misinterpretations and helps hold team members and managers accountable with clear milestones along the way.
ReachThem should assign tasks to all members involved in content marketing to ensure that the desired outcome is achieved or exceeded within a timely manner. Setting up mid-quarter checkpoints is also recommended as it will quickly inform staff if they are on track or if improvements need to be made to their progress. A final review of results at the end of the quarter will provide insight into what worked well and what could be improved for future quarters. Understanding what activities worked can give you an indication of where you should be focusing your efforts next quarter as you strive towards new OKR goals.
9. ROI and tracking
Gaining clarity on the ROI of content marketing can be a tricky process. In order to assess whether or not your content is actually working, you will need to track it and measure its effectiveness. There are a few different methods that you can use to track this, such as the use of tracking codes, cookie laws, and using analytics programs like Mixpanel and Amplitude to derive data from the content on your website.
However, these processes aren't completely foolproof. For example, cookie laws can vary from country to country and Apple has started disallowing third party tracking within company devices. This makes it increasingly difficult for businesses to get an accurate picture on how well their content is working. Ultimately though, with careful tracking of metrics like revenue, sign-ups and subscriptions we can get a clearer idea about how effective our content is for growing our business.
What should you measure?
When it comes to content marketing, it is important to know what metrics should be measured to ensure success. To start off, you should measure the overall performance of your content marketing based on the goals set out. These goals may include things like lead generation, awareness of your brand and products, increased website visits or sales. Once you have an idea of how your content is doing in general, it's time to get more specific with what you measure.
For example, if you are looking for increased website visits or leads generated then track visitor data such as clicks, bounce rate and page views; if you are interested in increasing brand recognition then consider tracking engagement through social media activity including likes, comments and shares; if you have a goal that ties into sales conversion then measure ROI by analyzing online purchase history or use A/B testing to see how effective a certain piece of content has been. No matter what your end goal is for a piece of content the most important thing to remember is that each business is different and so its vital that you determine which metrics best monitor its effectiveness before committing any amount of time or resources towards tracking them.
Brand awareness
When it comes to creating brand awareness, content plays a huge role in attracting the attention of prospects. Content that is engaging and shareable helps draw in new website visitors from organic and referral sources, resulting in increased pageviews and unique pageviews. It can also lead to an increase in organic page rankings and impressions, as well as reach and shares on social media platforms. Measuring the effectiveness of these metrics can provide insights into how effective the content is at driving brand awareness.
Managing content effectively is essential for success when it comes to driving brand awareness. This means creating content that speaks directly to your target audience, optimizing for keywords to increase visibility, and spreading across channels such as websites, blogs, and social media platforms. A successful marketing strategy will include a combination of these tactics as well as continual monitoring of key performance indicators such as pageviews and website visits. With an understanding of these metrics you can adjust your strategy accordingly to ensure maximum brand exposure.
Engagement
Engagement is an important measure for any brand, as it helps gauge how many people are actively interacting with their content. It can be tracked through a variety of different metrics to get a clear view of what works and which areas could use improvement. For example, onsite blog posts and articles can have comments, shares, or internal link clicks tracked. Social media posts can also be used to gain insight into engagement by tracking reactions (like or support), shares, comments, retweets, and link clicks that result from each post. Furthermore, average time on page and pages per session are great metrics for investigating deeper customer interaction with the website or app. With all these engagement metrics combined brands can make sure they're engaging their customers in the most effective way possible to maximize sales and achieve their business goals.
Lead generation
Lead generation is an important part of a successful marketing campaign. It allows businesses to capture leads and have a better understanding of who their target audience is. By focusing on specific metrics such as lead magnet downloads, email newsletter opt-ins, contact form fills, and Twitter/LinkedIn follows, businesses can measure how effective their content and marketing efforts are in terms of gathering user data for future campaigns.
Using social media analytics tools to measure and analyze social media metrics can provide valuable insight into which strategies are proving successful, so that teams can tailor their content accordingly. Free or paid platforms provide data on metrics such as engagement rate, shareability score, reach rate and more. This will ultimately help maximize conversion rates while minimizing costs associated with ineffective strategies.
Conversions and sales
As a SaaS business, it is essential to be able to accurately measure your lead generation, conversions, and sales. Having the right metrics can be integral to helping you understand whether you are meeting your goals or if there is a need for adjustment. For this reason, it's important to choose an appropriate attribution model in Google Analytics and set up specific Goals that you want to track. Conversion metrics like free trial or free plan sign-ups, demo requests and scheduled sales calls can help gauge how successful your efforts are at converting leads into customers.
Sales would then refer to those who convert from their free trial or upgrade from a free plan at the end of their trial period. This also allows you to track user behavior throughout their customer journey so that you can adjust any changes that may be necessary for more success in the future. With the right metrics tracked in Google Analytics and properly utilized, businesses on SaaS platforms will have all that they need for accurate and detailed insights into their conversion rate performance over time.
Customer retention/loyalty
When it comes to customer retention and loyalty, it is essential to measure the success of a business's content strategy. This can be done by assessing the performance of renewed customers, expansion or contraction of accounts and most importantly the customer churn rate. The customer lifetime value (CLV) is also an important metric needed to help measure how successful you are in retaining customers.
Using subscription analytics tools such as Baremetrics or ChartMogul can give you insights into how your SaaS business is performing in terms of these metrics while tracking your BoFu and beyond the funnel content performance. This is because these metrics are closely linked to your end of funnel content efforts and help you evaluate whether your content efforts are helping to convert visitors into loyal customers. By having this understanding, you will be able to refine or improve your strategies when necessary.
Measure Your Content Marketing ROI
Measuring the return on investment of your content efforts is essential for any successful inbound strategy. Therefore, it's important to have a clear understanding of the level and type of metrics you need to assess in order to accurately measure your content performance. We have an incredible guide written by one of our very own content leads which will help you understand how to properly measure your SaaS content marketing ROI. The guide covers various formulas and KPIs that can be useful when analyzing data, as well as additional tips, resources and case studies. Having a handle on what type of metric should be measured and how, will assist you in deriving more accurate measurements. This is paramount for making educated decisions about where best to devote time and money into what content strategy components are working best for your business objectives.
10. Scaling your content team
When it comes to scaling your content team, in-house teams will always be better than outsourced teams. This is simply because an in-house team has a much better understanding of your company's objectives and goals by being there within the walls of your company. They will also typically have more time and resources dedicated to the task at hand than if you outsource the work. In addition, their knowledge and expertise will increase over time due to their consistent interaction with other departments and individuals in the organization working towards the same objective.
In-house teams also understand the importance of developing content that resonates with your target audience as well as creating content that ties into your overall marketing strategy. Having someone internally who can develop this kind of content allows you to focus on what's really important – connecting emotionally with consumers while gaining visibility for your brand or product. It's truly a win-win situation. With an experienced in-house team, you can scale up quickly and be ready for whatever challenges come down the line when it comes to producing quality content for potential customers and clients.
Hiring for content
When it comes to hiring for content, it is important to start from the top. Make sure you have at least one content marketing manager in-house that can drive and execute your company's overall strategy. They will be the ones most responsible for producing and publishing quality content on your channels, so make sure you find the right candidate with great leadership and writing skills. Ideally, this position would also include a copywriter or editor who can help create content constructively and quickly publish it on your CMS.
If you want to test out freelancers first before troubleshooting any issues regarding payment or deadlines, look into finding just one freelance writer. There are plenty of writing job posting sites available online where employers usually post their requirements such as Content Writing Jobs, ProBlogger, Upwork, etc. On these sites, look through a number of profiles to narrow down three possible candidates that seem fit for what you're looking for and give each candidate the same exact topic to assess their writing capabilities. This way you won't have to go through any trial jitters when hiring your first batch of writers.
Outsource to a SaaS specialized agency
Outsourcing to a Saas specialized agency is an efficient way of scaling up content creation and promotion within a business. It eliminates the need to invest time and energy into carefully vetting, hiring, training, and managing new members of your team. Partnering with an experienced agency allows you access to a range of strategists, writers, editors, designers and link builders who have experience in delivering successful content campaigns for clients.
By opting for a monthly retainer with an agency that specializes in content marketing for SaaS businesses, you are able to make use of their established processes and expertise without having to take on any extra personnel. This freedom also allows you greater focus on other important areas of your business without having to worry about the details involved in developing successful content strategies. It's important however to note that finding the right agency can be quite difficult; but luckily you're already here!
SaaS Content Marketing Tools
Content marketing is rapidly becoming the most effective way to reach potential customers and retain existing ones. In order to maximize the effectiveness of content marketing campaigns, taking advantage of powerful tools and reliable teams are essential for success.
The final chapter of this book introduces a few more essential tools for content production related to software as a service (SaaS). By utilizing such tools during the planning and execution stages, you can increase your chances of achieving successful results with every campaign. These tools can help track progress with metrics and reporting, cultivate rich multimedia content such as videos and podcasts, automate data-driven workflows, drive traffic sources using keywords, and optimize search engine performance. Some examples include promoting posts on social media platforms like Twitter or Instagram, editing blog posts for SEO, building online communities through chatbots, streaming live events on Facebook or YouTube, tracking customer relationships in CRM systems, and creating email campaigns for targeted outreach initiatives.
With the right team support along with all the necessary SaaS content marketing tools in hand, businesses now have greater ability to achieve their desired objectives efficiently. Not only that but these resources also reduce time spent on mundane tasks while increasing overall productivity from start to finish. Investing in these resources will give your business a competitive edge that will last for years to come.
Frase
Frase is an innovative AI-powered content research, writing, and optimization tool that's perfect for keeping up with the ever-changing landscape of content creation and optimization. It helps teams to quickly source high-quality information and content briefs, generate controlled outputs such as introductions, copywriting formulas, FAQs and headings, compare their results to their top competitors in the SERPs, identify untapped keywords and flag pages that need refreshing. All this in a fraction of the time it would take manually conducting these operations.
Frase simplifies many elements of content creation and increases efficiency exponentially by taking care of tedious manual tasks such as keyword research and optimizing drafts at lightning speed. It also features intuitive tools that allow teams to compare their output against their competition's performance on SERPs with ease, allowing them to close any gaps they may have missed with manual processes. In addition, Frase includes AI-generated templates for quickly producing content formatted and optimized for various mediums like blogs, emails or product descriptions – all tailored exactly to user specifications. Thanks to its comprehensive functionality Frase is an ideal solution for businesses looking for reliable ways of accelerating the process from researching ideas to publishing quality content faster than ever before.
Mailshake
TL;DR
6 Examples Of Successful SaaS Content Marketing
Content marketing is a powerful way for SaaS companies to build relationships and trust amongst their customers. It is used to distribute relevant and informative content related to their products or services, thereby educating potential prospects and delighting existing customers. Content marketing helps engage potential buyers and supports the sales team in lead generation.
Successful SaaS content marketing requires a thorough understanding of customer needs and preferences. Knowing what sort of content resonates best with the target audience is key, as is on-going promotion of your content throughout the buyer's journey. For example, effective utilization of multimedia such as videos, podcasts, interactive infographics, etc can contribute greatly towards establishing thought leadership. Additionally, an effective amplification strategy across social media channels that involves both organic and paid promotion is necessary to ensure your messages reach the right people at the right time. Research-driven topics are also a great way to increase relevance as well as SEO value for long term benefit. It's also important to constantly refine your content based on customer feedback in order to produce quality material that really works for its intended purpose.
Examples of successful SaaS content marketing tactics include leveraging customer success stories into blog posts with real life use cases; creating short yet interesting explain er videos about your product or services; utilizing SEO best practices for the content you publish; curating customer reviews and case studies to demonstrate how customers benefit from using your products; leveraging influencers to promote content or special offers through social media; and running webinars or live streaming sessions as an interactive way to keep customers engaged.
By investing in the right tools and resources, businesses can ensure their SaaS content marketing efforts are successful. Frase is an AI-powered research, writing and optimization tool that simplifies many elements of content creation and increases efficiency exponentially. Mailshake is a great tool for creating automated drip campaigns that help promote your content across multiple channels at scale.
1. Slack Slack is an incredibly powerful SaaS solution for businesses who need a comprehensive system that can integrate with other apps and services. It provides an easy to use platform where users can communicate and collaborate on projects quickly and securely. As one of the leading content marketing resources, Slack has become synonymous with effective long form content, helping businesses drive traffic and improve their SEO framework. Slack's helpful How-to guides provide users with a variety of tips and strategies for setting up their workspace, promoting collaboration among teams, improving accessibility, obtaining insights and analytics, plus much more!These informative blogs are extremely useful in aiding businesses understand the products they are utilizing and have even become a go-to source for understanding various features of the platform. Other features like e-books rooted in top-funnel content from Slack help to strengthen brand recognition by featuring expert knowledge as well as daily case studies provided by large enterprises using this powerful communication tool. With it's effectiveness in mind, it's no wonder why businesses continue to turn to Slack for reliable long form content marketing goals!
2. Monday.com Monday.com is a leading project management software platform, and its content marketing efforts are excellent examples of how videos can be effectively used for content marketing. Videos made by Monday.com offer the viewer easy-to-digest information in an engaging format that allows them to get the most out of what they've seen. With rich visual elements, they can present their content in a way that is interactive, memorable, and which has great potential to capture the attention of prospects. Monday.com also produces a variety of instructional YouTube videos which give users creative ideas on how to use their platform and increase organic reach.Along with providing valuable information via video tutorials and lectures, Monday.com makes sure that the most up-to-date product features are explained throughout their instructional videos so that people understand how each update will make using it easier for them day in and day out. Furthermore, they ensure that their content is comprehensive enough to provide viewers with an understanding of every aspect related to their product no matter what level user you are with including troubleshooting solutions for any issues you might have encountered along the way. Through these Content Marketing tactics, Monday.com has created one of the most successful software platforms available today in terms of helping businesses achieve their goals.
6. Adobe Adobe has long been a leader in the world of content marketing, and the company has recently taken things to a whole new level with the creation of their online magazine/publication CMO.com. The purpose of this venture is to better engage with their target customers by providing them with valuable information and resources that enable them to make informed decisions. Plus, users can also collaborate and discuss different topics within the publication as well as find help from other members if they get stuck.The success of Adobe's social media group is due in large part to their commitment to quality content and insightful marketing channels. Through CMO.com, they have been able to tap into a community that wants access to relevant information when it comes to making important decisions in their businesses or personal lives. Their efforts have clearly paid off, because more people are engaging with Adobe via this publication than ever before – proving that investing in a different form of publication definitely pays off.
2. Databox's sharp tying of content + product to scale : Databox is an impressive example of how smartly tying content and product can help scale a business. They are proud of their KPI tracking tool, which is why they rank for relevant keywords to make sure potential customers know about its existence. But in addition to ranking, they also utilise SaaS content marketing to get the word out about their product. Their strategy involves creating content that targets buyers at every stage of their customer journey — from top, middle, to bottom of the funnel. Additionally, they have gone one step further by directly illustrating the capabilities of their software using iframes in blog posts.One remarkable example is a post about emerging traffic sources for the upcoming year, with an "editor's note" linking readers to a free web analytics template. This template continues to be one of Databox's major selling points and serves as a powerful promotional tool through customer stories and case studies around it. Ultimately, this sharp tying of content + product allows Databox to effectively attract more leads while highlighting the functionality of their software — two birds with one stone!
6. Ahrefs' focus on content quality over quantity: Ahrefs is an industry leader in content marketing, renowned for its quality and respected by competitors. It has been instrumental in pushing the boundaries of SEO through its Ahrefs tool which helps to identify technical discrepancies in webpages, rank tracking and more. But equally as important to its success has been Ahrefs' emphasis on content quality over quantity. Every piece they publish is meticulously researched and crafted — no wonder it's one of the most popular SEO tools available today.The quality of their content always shines through with its high share numbers, frequent comments and strong engagement on social media platforms. Each post goes viral with at least 200 shares each week, regardless of the topic or media format used. Comments from readers attest to the usefulness of their written work, proving that users truly rely on them for advice and recommendations. It's worth mentioning that these metrics are more than vanity number boosters; they are a reflection of trust that comes from authentic engagement with the brand's audience. All this speaks volumes about how well respected Ahrefs is within its target market.
Other SaaS Content Strategy Topics: Customer Research, Content Writing, Content Promotion, and Measuring Performance
Knowing your customers' pain points is an essential step in developing a successful content strategy for any SaaS company. Through research and customer interviews, understanding the needs of your target market allows you to create relevant and engaging content that can help address their problems. Knowing exactly what questions your audience has, as well as how they go about searching for solutions, can be used to pick out keywords that are most likely to generate leads. It can also help you brainstorm ideas for blog posts, videos, and other educational materials that can work to build trust with visitors and ultimately contribute to converting them into paying customers.
Content writing involves creating content using the researched keywords in order for it to rank higher in search engine rankings. Good content writing should also involve developing captivating headlines and page titles that fit naturally within the content while still remaining informative and helpful so readers will stick around longer. After writing content pieces, it is important to invest energy into promoting them so that they reach intended audiences on social media sites and other platforms. Finally, performance metrics such as organic web traffic should be examined regularly so progress can be tracked against objectives such as generating leads over time or improving engagement on blog posts.
Customer Research
Creating content that attracts customers is key in any B2B SaaS marketer's strategy. However, there is often a disconnect between the topics producers write about and what would actually appeal to their target audience. To solve this problem, content strategists have developed a concept called "Customer-Content Fit" which helps ensure companies are producing content that will be relevant and/or helpful to their target customer.
Another way to create appealing blog posts that convert is by utilizing effective content ideation tactics. This involves focusing not just on call-to-action (CTA) placements, but rather on the ideas behind blog posts alone. While research tools like Ahrefs, Moz, or SEMrush can help researchers find high volume keywords for post headings, it's important to look beyond these tools for more effective ideas. Techniques such as gathering feedback from people in the company or Adwords account holders can give writers fresh perspectives reflecting current trends and interests among potential customers. Additionally, online communities and email marketing campaigns could also provide valuable insights into creating winning post ideas and topics.
Content Writing
SEO content writing is an essential part of marketing for any Saas company, and crafting engaging and valuable content with effective SEO practices can be a challenge. Whether you need to create content that drives leads or ranks in organic search, utilizing the right strategies can help you maximize the effectiveness of your efforts. A 5-Step Process You Can Follow provides our process for achieving these goals with ease. This step-by-step guide teaches SaaS marketers how to restructure their web pages to meet optimal parameters for organic search success, along with important optimization strategies such as keyword research, metadata optimization, formatting tips and more.
The Specificity Strategy: How to Turn Generic Posts into Stand Out Content advises readers on how to take generic posts and make them stand out from their competitors. By taking extra steps to provide readers with unique insights or perspectives, companies can go beyond simply writing blog posts about topics that are already popular. Using techniques such as providing unexpected reference points or data points, weaving in stories from real customers or offerings giveaways that only enhance the rarity of the post can make it more memorable and impactful. Additionally, Originality Nuggets help break up typical online marketing messaging which ultimately creates a positive reader experience while making content more effective at driving conversions.
Content Promotion
Once the content has been written, it's time to promote it. When done effectively, content promotion can amplify the reach of posts and help companies establish a presence within their industry.
Using social media platforms such as Twitter, Facebook, LinkedIn and Instagram are great for promoting SaaS content marketing. These networks can be used to share blog posts, webinars, whitepapers and other content pieces. Additionally, social media influencers can be utilized to further extend the reach of content by sharing it with their followers.
Another effective way to promote SaaS content marketing is through email marketing. Email campaigns are an efficient way to reach a large number of customers quickly and easily. Companies should focus on creating engaging emails that have a clear call-to-action for customers to follow. Additionally, using personalized emails (such as addressing the customer by name) can make content appear more relevant and valuable.
Finally, pay-per-click (PPC) campaigns are another great way to promote SaaS content marketing. By targeting specific keywords and audiences, companies can strategically place their content in front of potential customers and increase the chances of conversions.
Want to work with us or learn how to implement our SaaS content strategy?
We are passionate about working with motivated and talented people who want to join our team or learn more about our SaaS content strategy. Our SaaS content strategy focuses on delivering the most value from available data and technology, and creating content that is both informative and consumable. We work with stakeholders from various departments to ensure the maximum impact for key objectives. The outcomes of each project are thoroughly assessed, analyzed, and documented for continuous improvement going forward.
We believe in being open to hearing feedback along the way; it helps us stay informed and grow as a company. That's why we're encouraging any questions or comments you may have related to our process. You can share them in the comments below, or contact one of our team members directly! We look forward to hearing your thoughts and developing engaging strategies together.
Conclusion
Content marketing is key for any successful SaaS business, but creating content that will have an impact and drive conversions is a challenge. However, by utilizing effective content ideation tactics, SEO content writing strategies and promotion techniques, companies can ensure their content stands out from the competition and drives leads. By following these tips, companies can maximize their content marketing efforts and have success with their SaaS marketing.
content types, content marketing plan, SEO strategies, blog content, content marketing agencies, content marketing process, depth content, leadership content, consistent content, customer service teams, potential client, marketing funnel, distribution strategy, Product-led content, types of keywords, keyword selection, funnel posts, vanity metrics, biggest determinant, Detailed Comparison, community content promotion, middle of funnel content, ROI from content marketing, funnel keyword opportunities, pain point phrase keywords, software category keywords, traffic via SEO, conversion goal, conversion funnel