Semrush and Ahrefs are amazing tools that can help you build your website's SEO so that it can rank higher in the SERPs and get more organic traffic. These tools are all-in-one SEO tools that can help you achieve all your SEO goals right from building new backlinks to on-page and technical SEO. This is the reason why these tools are also market leaders in SEO tools.
Semrush
The first tool that we'll look at is Semrush. This tool is one of the finest tools out there in the market and it's not just an SEO tool but is indeed an all-round tool for website growth. It offers five toolkits from which you can not only build your SEO but also your social media and content marketing strategies. The five toolkits are:
Semrush offers SEO Toolkit, Content Marketing Toolkit, Advertising Toolkit, Social Media Toolkit, and Competitive Research Toolkit.
You can read: Semrush Review
Ahrefs
When it comes to Ahrefs, the tool is pretty similar to Semrush. It offers pretty much everything that Semrush offers. However, it doesn't have much to provide apart from SEO. So, it's more of an all-round SEO tool rather than an all-round marketing tool like Semrush. Let's see some of the tools that it has to offer.
But which tool is the better one among them? For this, we need to compare their features and get an idea of which tool offers better features and value for money.
So, without waiting any further, let's look at the major features offered by both tools – Semrush and Ahrefs.
Semrush vs Ahrefs: Which is best for Keyword Research?
Keyword Research by Semrush
Semrush has 20B keywords database for Google (more than other tools) and four keyword research tools, they are:
Keyword Overview
Keyword Magic Tool
Keyword Manager
Organic Traffic Insights
Keyword Overview
If you want to know more about your targeted keywords, you should try using the Keyword Overview tool. This keyword data includes its search volume, SERP analysis, related keywords, the different SERP features (such as featured snippets, People Also Ask, etc.), bulk analysis, estimated traffic, and so much more. You can enter the keyword and the country to get the organic search results here.
Keyword Magic Tool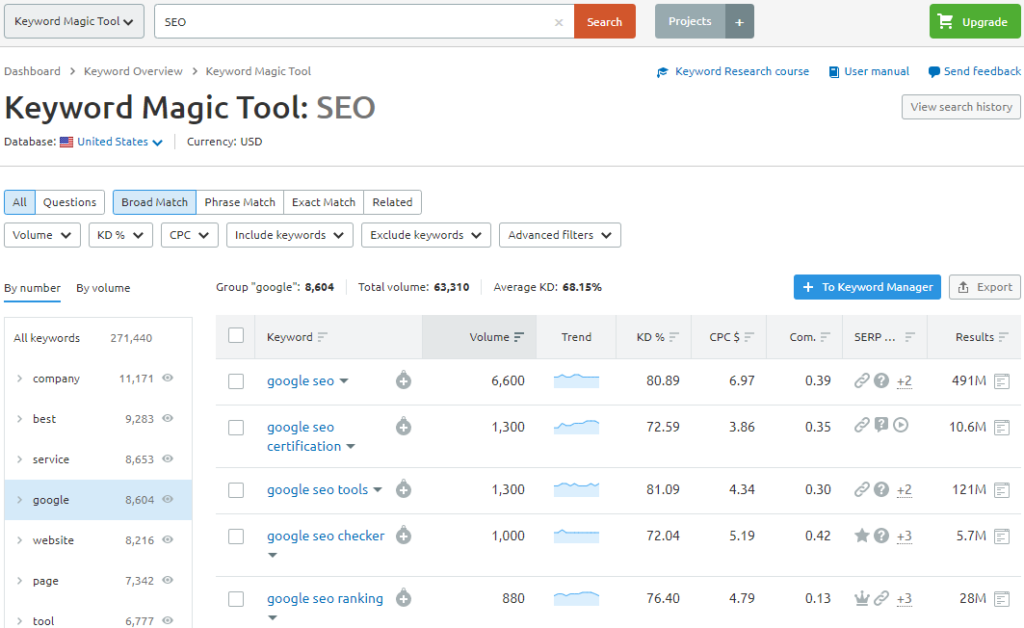 Semrush has this is essentially a keyword research tool. It does the magic by finding keywords that you can consider using for your campaigns. All you have to do is enter a primary keyword and the tool will then provide keyword suggestions that are relevant to it. Some of the parameters you can see include the search volume, difficulty, and more right there so that you can figure out which keyword to choose for your content marketing campaigns. It's also possible to select the different types of matches here.
Keyword Manager
You may not use all the keywords after researching them. To help you keep all the useful keywords saved, Semrush provides this tool called the Keyword Manager. Its keyword database helps you collect good keywords and save them so that you can use them at a later stage for your content.
The process of adding these tools is made pretty simple by Semrush. All you need to do is click on the plus icon next to keywords on Semrush and the tool will add the keyword to your list. Then, you can download this list as an Excel or CSV file
Organic Traffic Insights
Do you want to know the organic search traffic of your website? The organic traffic insights tool is perfect for this reason. It's sort of like a combination of Google Search Console, Google Analytics, and Semrush. The merging of these three sets of databases gives you a detailed insight into the organic search traffic of your website and using this tool you can figure out how well you're performing currently. With this tool, you can also uncover "not-provided" keywords from Google Analytics.
Keyword Research by Ahrefs
Ahrefs has a database called Keyword Index. This index has 9.5 billion keywords for Google.
Keyword Explorer
The Keyword Magic tool of Semrush and Ahrefs Keyword Explorer are similar. This tool gives you a lot of new keywords from which you can find the ones that are the most important for your brand. All you have to do for this is enter a seed keyword and then the platform will come up with the list of relevant keyword ideas. From these ideas, you can see the one that fits the best for your brand and use it. The best part about this tool is that it allows you to select the search engine as well.
Organic Keywords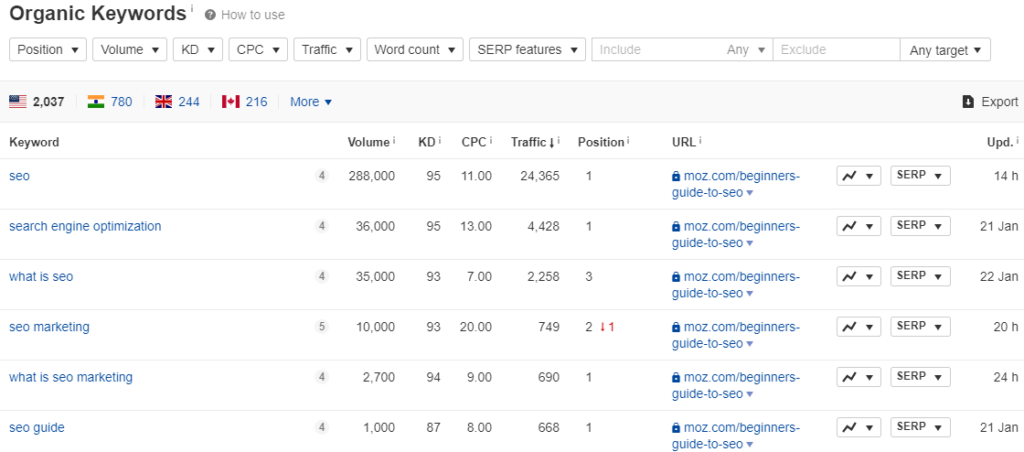 Ahrefs has great competitive intelligence features. This particular tool is proof of that. Using it, you can see the keywords for which a website is ranking online. When you enter the domain of the website, the platform will find out all these keywords and show them up. This can help you identify new topics and keywords to write about with ease. You can seamlessly outrank your competition this way.
Conclusion: Semrush wins over Ahrefs for Keyword Research
Semrush has a bigger keywords database, where data is more accurate and updated regularly. So, Semrush is stronger than Ahrefs from the keyword research perspective.
Semrush vs Ahrefs – which is better for Backlink Analysis?
Semrush backlink features
Semrush has a database of 37.2T backlinks which is regularly updated. To build backlinks and analyze them, Semrush provides a variety of tools. The workflow suggested by Semrush includes all stages from monitoring to analytics and outreach. These are the major ones in off-page SEO.
Semrush has made a major update to its backlink analytics tool. Now Semrush tracks and shows backlinks much faster than any other SEO tool. I've personally experienced it multiple times. Semrush tracked our newly created backlinks in just a few hours but for the same links, Ahrefs took more than a week to find those links.
Backlink Analytics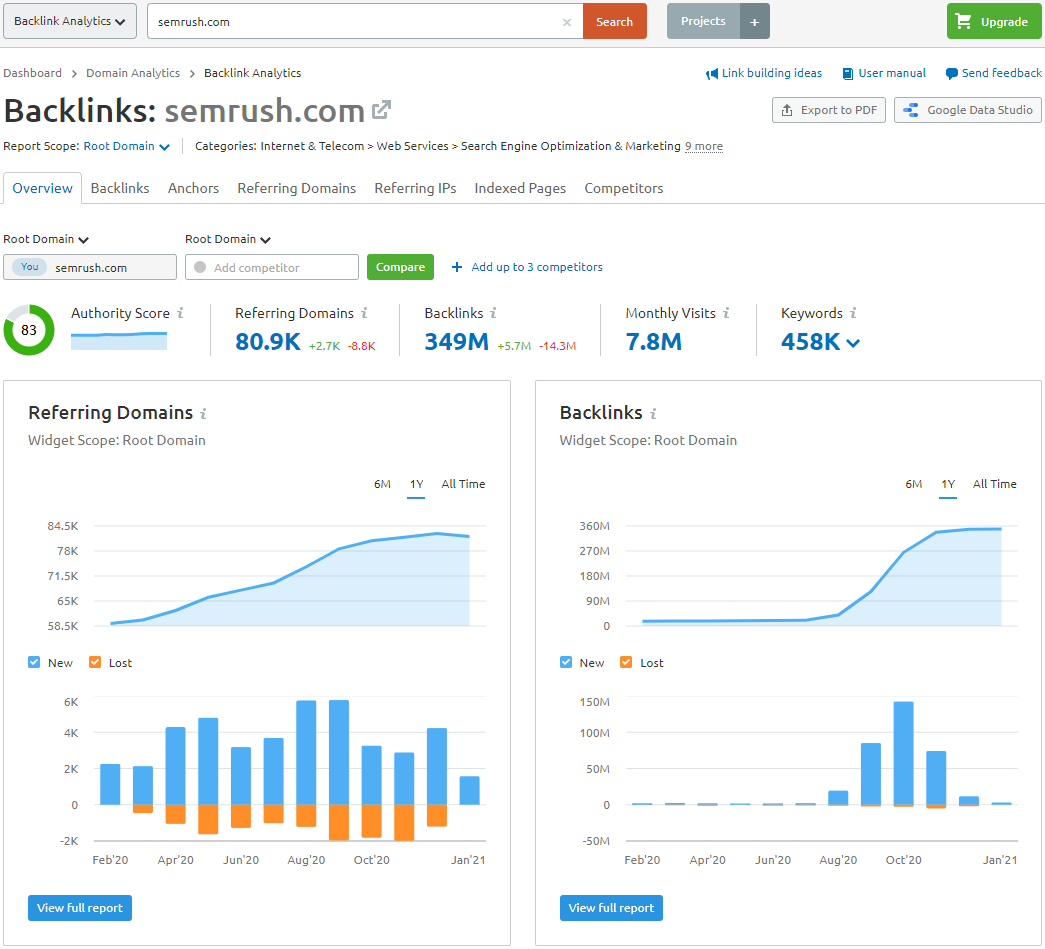 To analyze the backlinks of any website on the internet, you can use the backlink analytics tool offered by Semrush. This backlink analysis tool works smoothly and all you have to do is enter the website's name and it'll bring out the entire backlink profile of the website. You can look at the domains linking to it and then reach out to them so you can build backlinks for your website.
Backlink Audit
You can use the Backlink Audit tool to find out the link profile of your website. Using this tool, you can figure out who's linking to you and the quality of those domains. Accordingly, you can choose to keep, disavow, or remove those backlinks. There are 50+ markers of link profile toxicity in the tool, and also integration with GSC/GA. This can help you maintain a good link profile for the search engines.
Backlink Gap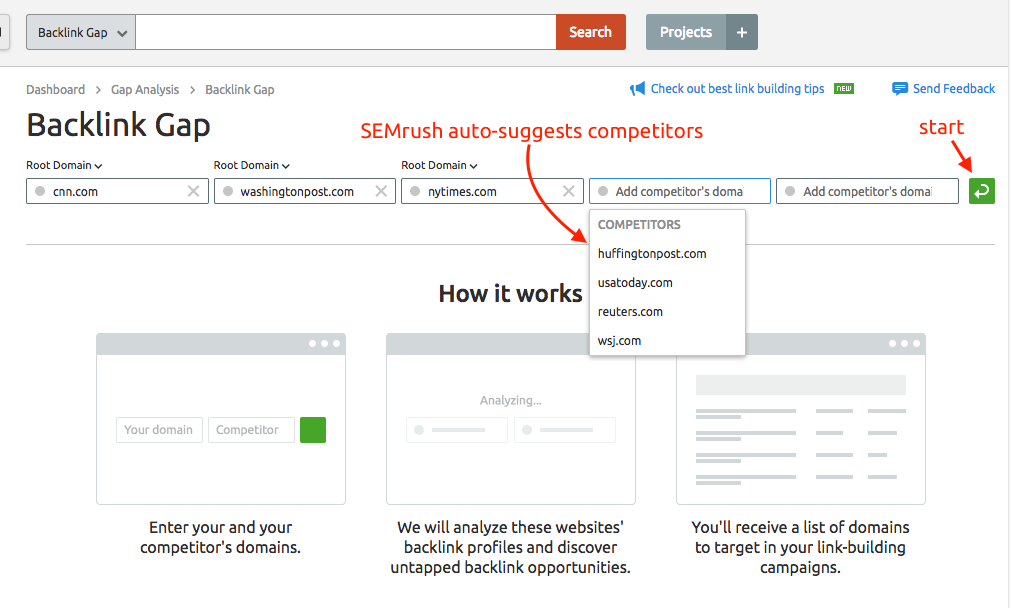 Semrush offers a great tool in the name of the Backlink Gap tool. What this tool does is that it lets you compare the backlink profile of multiple domains. You can see which websites are linking to your competitors and accordingly reach out to them so you can get backlinks from them and outrank your competition. This is an easy way of finding new link building opportunities too. It's possible to add up to 5 websites in the comparison here.
Link Building Tool
If you wish to build new backlinks for your website, then you should look no further than the Link Building Tool offered by Semrush. This tool lets you find new link-building opportunities in a matter of minutes. All you have to do is enter the keywords that you wish to go after and add in the domains of your competitors. The tool will find all the potential websites you can reach out to for link building. Moreover, you can start the link building process and contact these websites directly from Semrush.
Bulk Backlink Analysis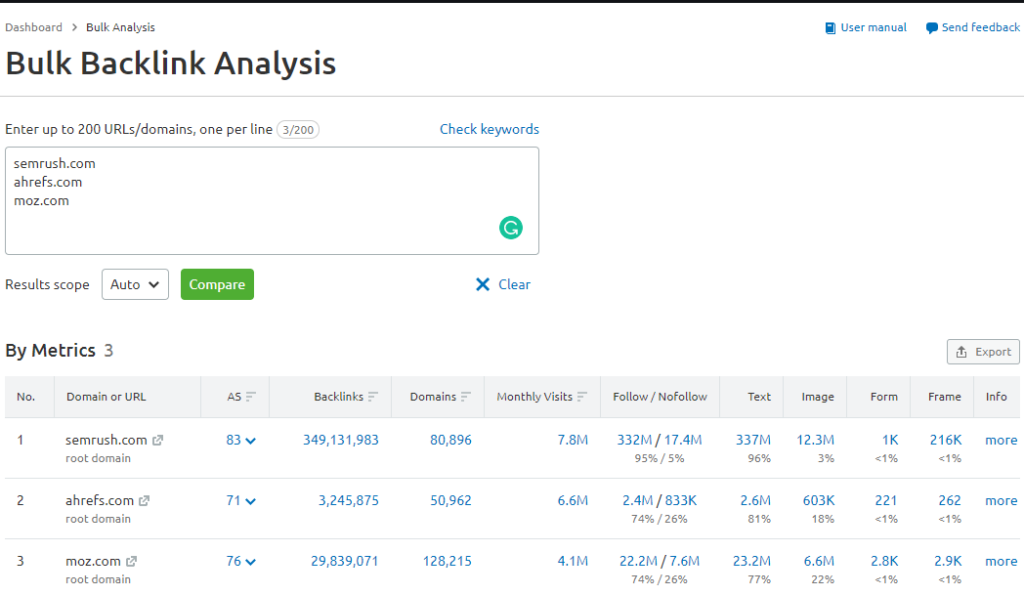 One of the best ways of seeing where you stand in comparison to your market is by checking the Bulk analysis tool. Using this tool, you can see the backlink profiles of up to 200 domains, subdomains, or URLs all at once. This means that you can monitor the bulk of your market right there and accordingly take decisions that can help you make a stronger link building profile and grow your rankings in the SERPs.
Ahrefs backlink features
Ahrefs has a database of 2.7T backlinks which is updated every 15 to 30 minutes. Using this backlink data, Ahrefs calculates Ahrefs Rank, Domain Rating, and URL rating.
Site Explorer – Ahrefs
The Ahrefs site explorer is yet another competitive intelligence tool that lets you look at the backlink profiles of websites on the internet. You can see which domains are linking to which website using this tool. This way, you can get a detailed snapshot of your competitors' backlink profile and easily reach out to those linking to them to get more backlinks. This can assist you in outranking your competition.
Also Read: Google Penalties: How to Recover From Any Google Penalty
Semrush vs Ahrefs – which is best for Technical SEO?
Semrush Site Audit Tool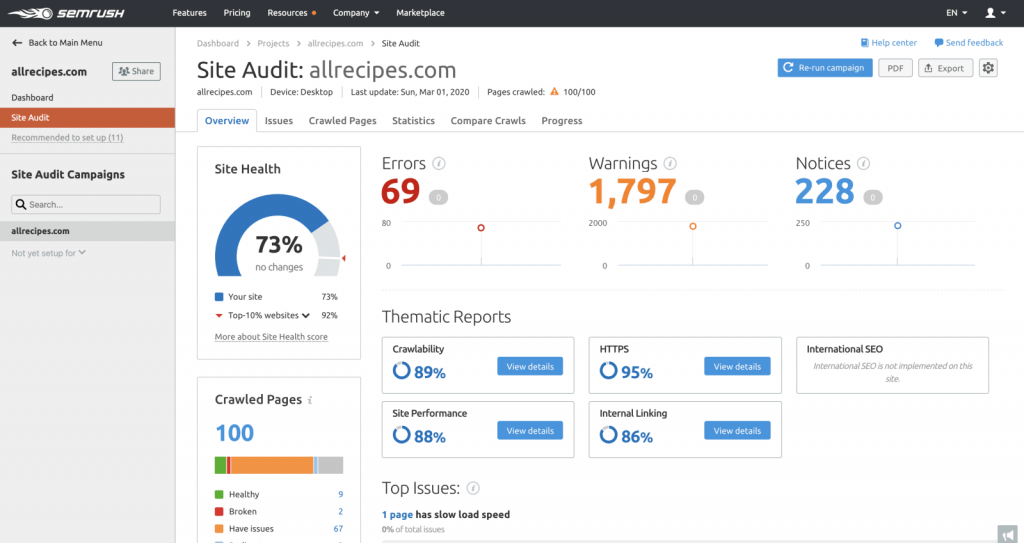 The technical health of your website is of the utmost importance. Semrush offers the Technical SEO Audit tool to help you keep track of this health and improve it. They have their own crawlers that will crawl your website to find technical errors for AMP, HTTPS, complex Site Health, advanced hreflangs, performance, and structured data checks. This Site Audit feature can spot these errors and report them to you so you can then figure out the severity of these errors and accordingly act on them by adding them as tasks on Trello or Zapier as Semrush provides that integration in the tool itself.
Ahrefs Site Audit
The Site Audit tool by Ahrefs comes with outstanding features that include reports for technical issues such as crawl, internal pages, indexability, links, redirects, on-page, social tags, duplicate content, localization, performance, images, JavaScript, CSS, and external pages.
The health score helps you understand how many of your internal pages have errors. The lesser, the better. When you click on any issue to learn about it, Ahrefs provides you how to fix them. Once you know the solution, Ahrefs takes you to the issues. Filters available on the issue detail page are awesome because they help you open the pages with the respective issues by selecting them. This way, you end up clearing one issue for all the pages together.
Conclusion – Semrush vs Ahrefs – Site Audit
Chart explanation is the best part of Semrush Site Audit. It brings comparisons, making it easy for beginners, intermediate, and expert professionals to get on with their SEO strategy ASAP.
In Ahrefs, it's difficult for a newbie marketer to understand some tech charts at first glance, but for expert professionals, Ahrefs site audit works wonderfully.
Also Read: SEO Trends 2023
Semrush vs Ahrefs – which is best for On-page SEO?
Semrush On-page SEO
The On-page SEO Checker is a brilliant On-page SEO Tool. The overview page showcases all the issues and even the top pages that need to be prioritized first for optimization.
The Optimization tab within the tool enables you to add/delete landing pages and import pages from your Google Search Console. The tool shares page-wise on-page optimization tips as per its set priority. Everything from strategy, content, technical issues, backlinks to user experience (UX) ideas are available on this tab.
For each landing page, the Semrush On-Page SEO tool provides you the 'top 10 benchmarking' feature. It helps you check content length, referring domains, video usage, keyword usage, ordered list, markups, and readability compared with the top 10 pages on Google SERPs.
Ahrefs On-page SEO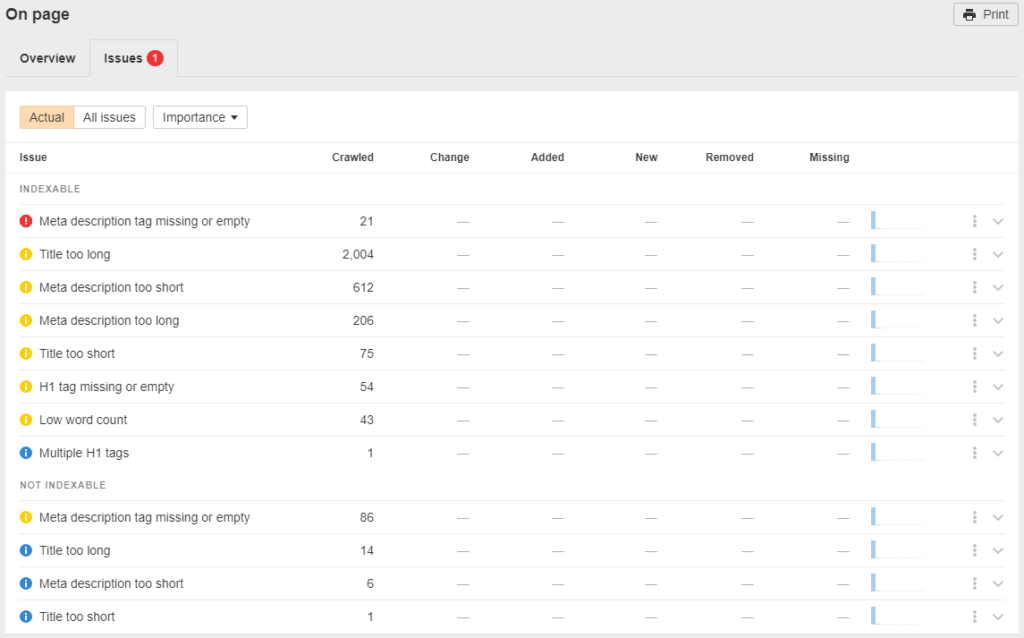 For the verified website owners/managers, Ahrefs provides On-page SEO tips from its Site Audit tool. In the On-Page section of the Site Audit tool, Ahrefs showcases issues related to title tags, meta description tags, and H1 tags. Other on-page SEO aspects such as content, localization, and images have separate sections.
The duplicate content section gives a glance of what portion of your page has duplicate content, whether it's content, title, meta description, or H1 tag. Localization brings out issues with Hreflang tags. The Images section collects issues related to its crawl, redirects, return status, HTTP status code distribution, protocols distribution, subtype, ALT attributes, file size, load time, etc.
Conclusion – Semrush wins over Ahrefs for On-page SEO
Unlike Ahrefs, Semrush provides a separate On Page and Technical SEO section. Ahrefs provides On-page SEO suggestions under its Site Audit tool. Considering the user and SEO-friendliness, Semrush is better than Ahrefs for On-page SEO.
Also Read: Best SEO Techniques to Double Your Organic Traffic
Semrush vs Ahrefs – which is best for Competitive Analysis?
Semrush Competitor Analysis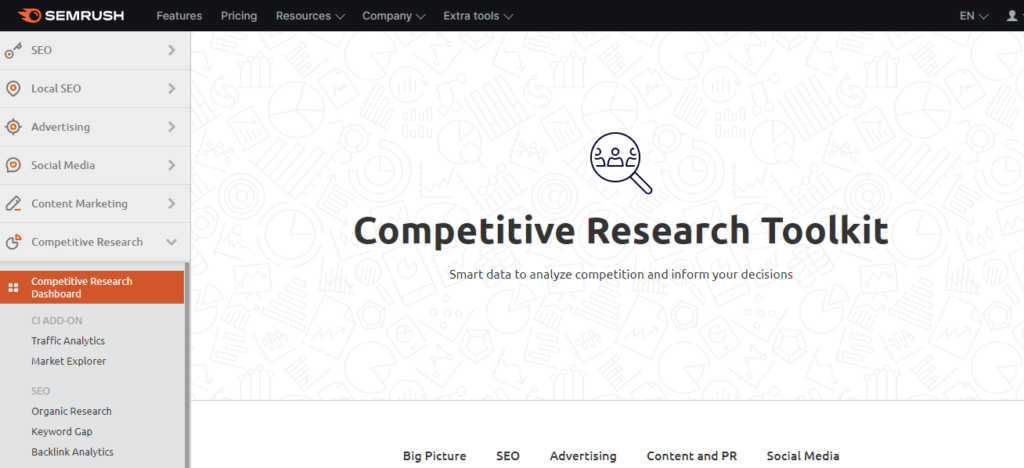 Semrush provides on-page SEO detail and backlink data in its SEO section, and it provides the same for the competitor analysis section. This Competitive Research tool helps you research your competitors based on their SEO, Advertising, content and PR, and Social Media. You can identify the gaps in the keywords and backlinks that helps you prepare your strategy to beat competition easily and quickly.
The two new features added to this competitive research tool are Traffic Analytics and Market Explorer. Traffic Analytics covers audience insights, traffic journeys, top pages, geo-distribution, subdomains, and bulk analysis. Market Explorer includes a market overview with Growth Quadrant comparing 6 organic competitors, domain vs market dynamics, geo-distribution, market traffic, and in-market audience interests, age, and gender.
Ahrefs Competitive Analysis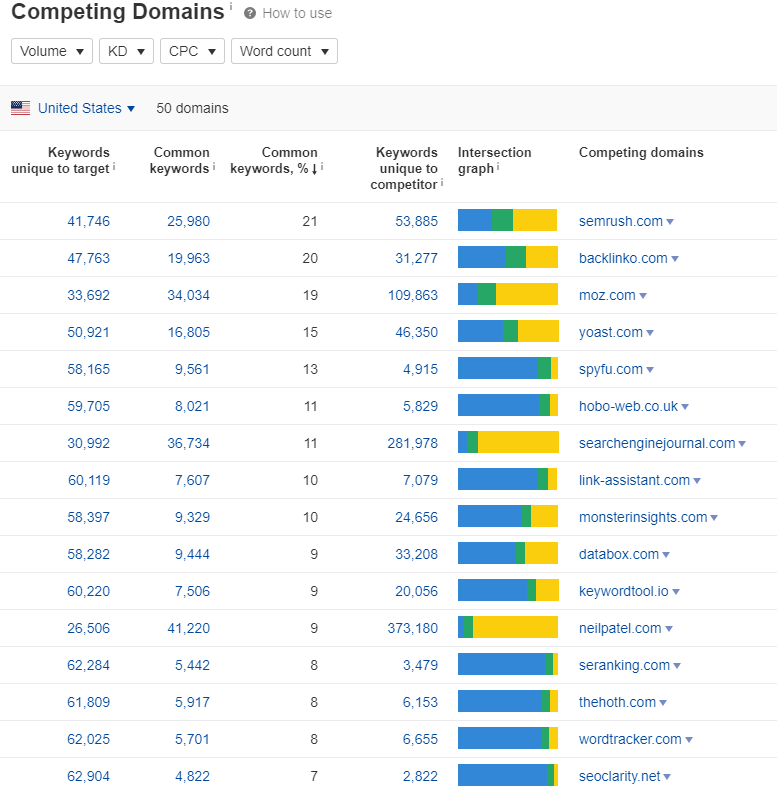 When it comes to competitive analysis, Ahrefs has Site Explorer, Domain Comparison, and Link Intersect. Site Explorer works the same way for competitive analysis the way it works for your site analysis.
Domain Comparison lets you check your backlinks profiles with four of your competitors' side by side. You can make easy comparisons and prepare your strategy accordingly. Link Intersect checks which site links to your competitors but not you.
Conclusion – Ahrefs wins over Semrush for SEO Competitive Analysis
Semrush has two new features that help you see where your competitors stand in the market and plan your complete digital marketing strategy accordingly. Ahrefs lets you do a thorough competitive analysis for on-page as well as off-page SEO. Hence, Ahrefs is the best SEO tool for competitive analysis.
Semrush vs Ahrefs – which is best for Content Marketing?
Semrush Content Marketing Toolkit
The content marketing toolkit offered by Semrush covers the entire workflow of creating high-quality content: from creating a brief to performance analytics. Topic Research tool lets you find new topics to write about and analyze a potential topic even on a local level.
You can also create a content marketing plan and write your article using its SEO writing assistant and SEO Content Template tools. The toolkit can even help you monitor the content performance.
This SEO tool also performs content audits to check your content as per the competing content on the SERPs for targeted keywords and suggests the required changes. So, you can revise and optimize it to improve the impact even further.
Ahrefs – Content Explorer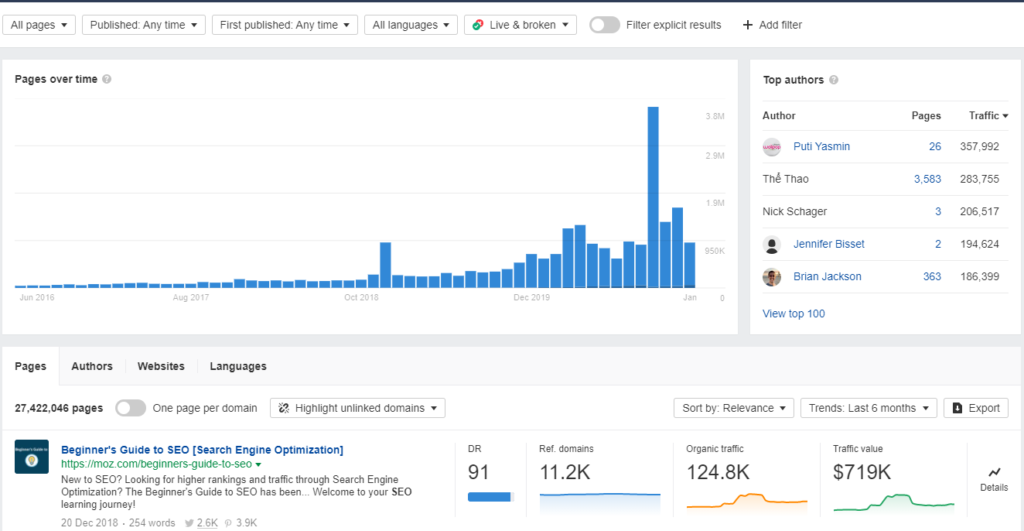 This tool is the one that lets content marketers find great content topics for writing. Using the content explorer, you can see who's writing about what. Based on the content topics that people are writing on, you can find the ones that are relevant to your brand. If you find them interesting, you can create content on them and get natural backlinks if people like it.
Content Gap feature by Ahrefs shows you keywords that your competitors rank for and you don't.
Conclusion – Semrush wins over Ahrefs for Content Marketing
Ahrefs doesn't perform the content gap analysis or doesn't provide any content audit data on its own here. Semrush, on the other hand, offers detailed content data such as whether the content requires rewriting or removal, updates, and quick review after connecting it with your Google Analytics and Search Console.
Semrush vs Ahrefs – which is best for Local SEO?
Semrush comes with a separate toolkit for Local SEO that helps you analyze websites for its local SEO presence. You can manage your listings, track your local positions, audit your site as per local organic search metrics, and optimize your site for On-Page Local SEO with a perfect checklist.
Ahrefs doesn't provide anything specific to local SEO. With the existing Ahrefs toolkit, SEOs need to analyze the data and come up with their strategy.
Ahrefs Vs Semrush Conclusion:
Semrush is better than Ahrefs for Local SEO.
Semrush vs Ahrefs – which is best for PPC Advertising?
PPC Advertising Toolkit by Semrush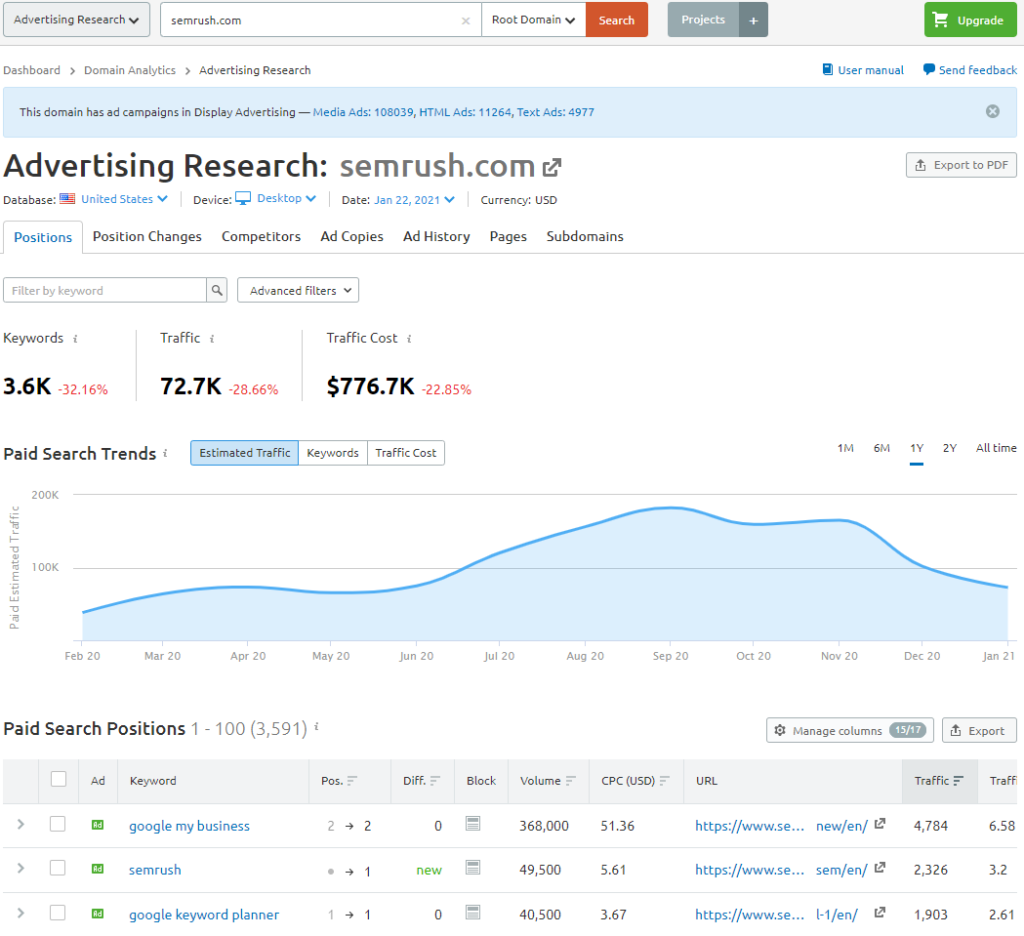 Semrush has a great advertising toolkit for all those marketers who want to leverage PPC advertising campaigns to promote their brand. You can find new keywords to target, see the CPC in different locations, build your ad, and even do the PLA research right in the tool.
The PPC Advertising Toolkit by Semrush offers an Ad Copies report that allows you to check the headlines, CTAs, targeted keywords, and landing pages that your competitors are using. You can order a quick PDF from different tools and customize your reporting to your clients.
This way, you'll be well set to launch your PPC campaigns and succeed in them.
PPC Keywords by Ahrefs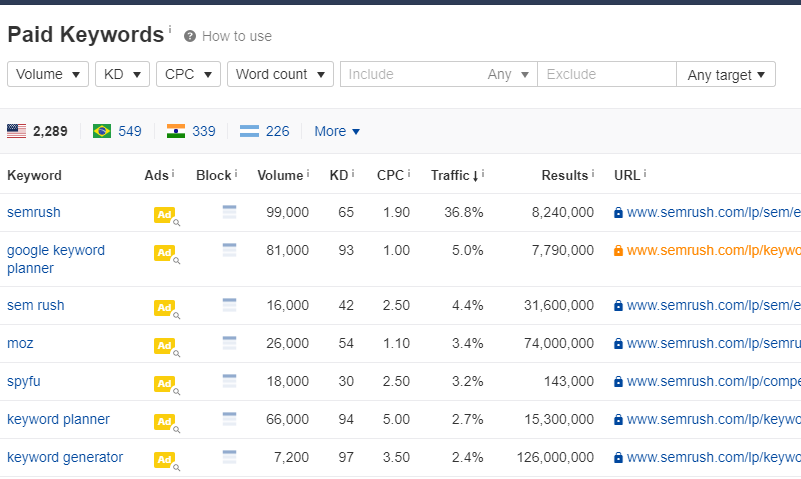 Ahrefs brings insightful data in their PPC keywords report. The keywords are shown based on targeted locations. Everything from the search volume, keyword difficulty, traffic to results on the SERPs are available in this paid search report. You can also see the top ads and landing pages, generating the highest results in the paid campaigns.
Conclusion – Semrush wins over Ahrefs for Advertising
Ahrefs allows you to do all the planning for PPC advertising. At the same time, Semrush empowers you to select the keywords, targeted locations, add keywords, create ad groups, and start implementing your paid advertising campaigns.
Choose Ahrefs only when you want to do the competitive analysis for paid advertising, and choose Semrush when you want to implement, review, and optimize your campaigns.
Semrush vs Ahrefs – which is best for Rank Tracking?
Rank Tracking Tools by Semrush

You need to know where you stand after putting all the effort to grow your rankings in the SERPs. But this can be a difficult task manually. The Rank Tracking tool offered by Semrush helps you track the average position of your keywords on a day-to-day basis. You can keep an eye on your tracked keywords and accordingly modify your strategy to improve your search engine ranking. You just need to select the keywords and the tool will perform keyword position tracking daily.
Semrush Position Tracking tool covers lots of SERP features, including local 3-pack, and supports lots of languages. Also, mobile data is available to all users by default. There are advanced reporting functionalities in this tool, including GDS connector for PT data.
Rank Tracker by Ahrefs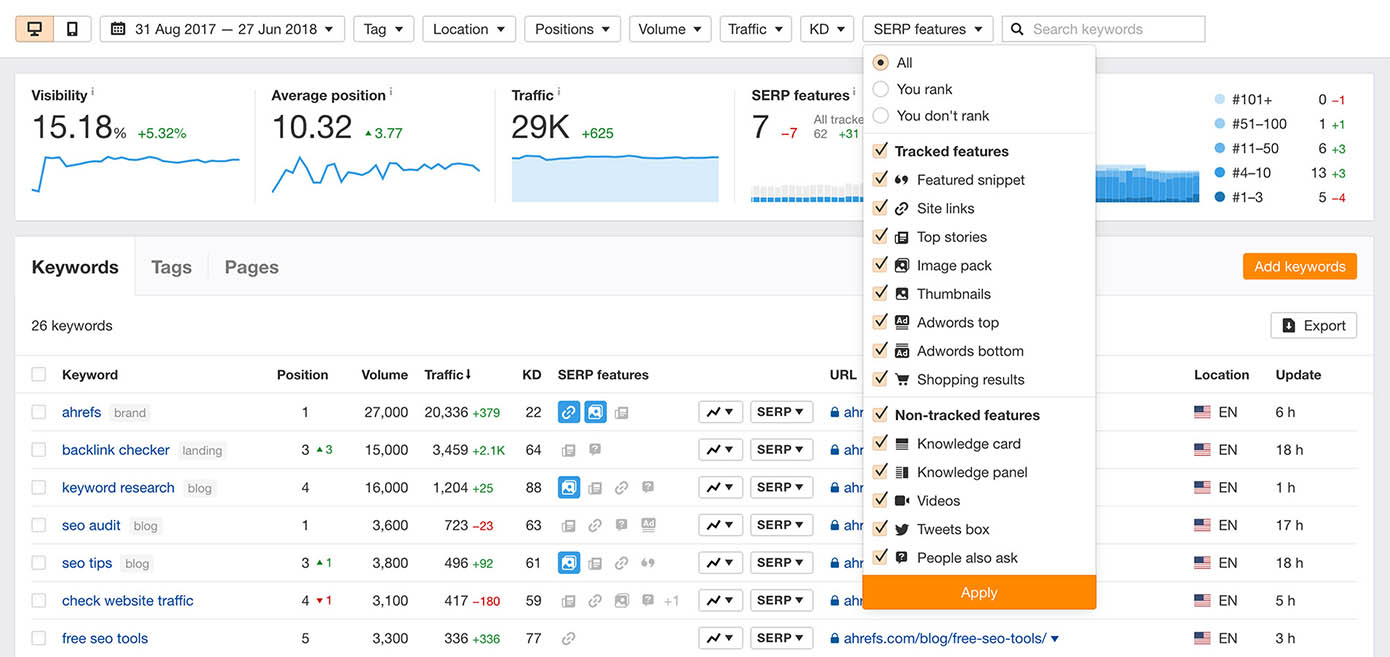 Ahrefs has a rank tracker just like Semrush. You can use this tool to figure out which keywords you rank for on a regular basis. You can just select a few relevant keywords for your brand and then enter these in the tool. It'll then track them daily and update the rankings. Based on the rankings, you can take action to improve your SEO and increase your ranks.
Conclusion – Both Semrush & Ahrefs are great rank tracking tools
When it comes to position tracking tools, both of them do a great job. It depends on the SEO to choose its preferred one here.
Additional Features Include – Semrush and Ahrefs
Semrush
As Semrush is an all-in-one marketing tool, it has more than just SEO. It consists of other tools such as,
Social Media Toolkit
It allows you to link your social media profiles, create & schedule your posts, track their performance, and plan Facebook and Instagram ad campaign
Client Manager
It's a CRM that helps you manage all of your client data in one place
Reporting
It helps you create, customize, and schedule your reports
Lead Generation
It helps SEO agencies convert more clients by providing their customers an opportunity to audit their site on your site itself
Marketing Calendar

It helps you plan your marketing campaigns, collaborate with your team members, analyze performance, and manage them all in one place
Ahrefs
As Ahrefs is an SEO-only tool, it provides the following additional and unique features,
Alerts
It helps you create alerts when your verified sites get new or lose keywords, backlinks, and mentions.
SEO Toolbar
It's a free SEO browser extension by Ahrefs for Chrome and Firefox that provides insightful SEO data about the websites and pages you visit
SEO WordPress Plugin
Ahrefs provides a plugin for your WordPress website to help you perform content audits, monitor your backlinks, and grow organic traffic
Ahrefs API
It's an API integration that helps you to either Ahrefs backlink data in your in-house application or makes it a clone of it to provide it to your customers
Semrush vs Ahrefs – which is best as per Pricing and Value?
Semrush
Semrush offers an exclusive 30-days Pro plan free trial for LoudGrowth users, and then one can go for the following pricing plans by Semrush:
Pro: $119.95 per month
Guru: $229.95 per month
Business: $449.95 per month
Semrush provides a 17% discount when you pay annually. When you want to add additional users to your subscription, Semrush charges,
$45 per month per 'Pro' user
$80 per month per 'Guru' user
$100 per month per 'Business' user
Semrush provides the following number of projects according to your subscription,
5 projects per month per 'Pro' user
15 projects per month per 'Guru' user
40 projects per month per 'Business' user
If you want to add an extra project, you need to pay $45-$100 as per your pricing plan.
When it comes to providing PDF reports, Semrush provides,
5 Scheduled PDF reports for 'Pro' user
20 Scheduled PDF reports for 'Guru' user
50 Scheduled PDF reports for 'Business' user
Ahrefs
Ahrefs doesn't offer any trial, you can go for the following subscription.
Lite: $99 per month
Standard: $179 per month
Advanced: $399 per month
Agency: $999 per month
Ahrefs gives you two months free when you pay annually. When you want to add additional users to your subscription, Ahrefs charges $30 per seat irrespective of the plan you choose.
You can add projects at $10 per project irrespective of the subscription you choose.
You get a different number of reports per week for each toolkit within Ahrefs-
| | | | | |
| --- | --- | --- | --- | --- |
| Reports for? | Lite | Standard | Advanced | Agency |
| Content Explorer | 350 | 700 | 3,500 | 17,500 |
| Keyword Explorer | 175 | 700 | 1,400 | 7,000 |
Conclusion – Semrush vs Ahrefs pricing depends on your requirements & budget
| | | |
| --- | --- | --- |
| Tools / Functionalities | Semrush | Ahrefs |
| Keyword Research | Value for Money | Expensive |
| Backlink Analysis | Value for Money | Value for Money |
| Site Audit | Value for Money | Expensive |
| On-page SEO | Value for Money | Expensive |
| Local SEO | Value for Money | Expensive |
| Competitive Analysis | Expensive | Value for Money |
| Rank Tracking | Value for Money | Value for Money |
| Paid Advertising | Value for Money | Expensive |
| Social Media Marketing | Value for Money | N/A |
| Content Marketing | Value for Money | Expensive |
| Per Extra Seat Cost | Expensive | Value for Money |
| Per Extra Project | Expensive | Value for Money |
| Reports | Value for Money | Expensive |
If you want to win the SEO as well as the overall marketing game, Semrush is value for money. If you are already a PRO, looking to take the help of an SEO tool to create strategies proven by data, Ahrefs can be a good option.
But my recommendation will be to go with Semrush rather than Ahrefs. Semrush is easy to use and giving you more features. With Semrush, you can do almost everything that Ahrefs offers but there are lots of things that you can't do by using Ahrefs. Semrush costs you almost the same as Ahrefs when you pay annually.
Semrush Vs Ahrefs – Polls
A recent poll on Linkedin says more people voted for Semrush than Ahrefs-
Semrush Vs Ahrefs – Popularity
Semrush is more popular than Ahrefs according to Google trends report (worldwide). More people search for Semrush on Google than Ahrefs.
FAQs
Which Tool Is Good For Bloggers and SMBs?
Semrush is the best tool than Ahrefs if you're a blogger, Small business owner, SEO consultant, or SEO/marketing agency.
Which Tool Is Good for Big Brands and Enterprises?
For Enterprise SEO or larger teams & websites, definitely you should choose Semrush than Ahrefs.
Do I Need to Buy Any Other SEO Tools if I buy Semrush or Ahrefs?
If you buy semrush then probably there is no need to buy any other SEO tool because it is a suite of multiple tools.
But if you buy Ahrefs then there can be a need to buy any other SEO tool like Content optimization tool to create optimized content.
Can I get Semrush Coupon for Discount & Free Trial?
Final Thoughts
Semrush and Ahrefs are market leaders when it comes to SEO research and competitive research. Both tools are perfect for the purpose. However, SEMrush is the clear winner between the two because it offers a lot of tools that aren't just limited to SEO but also help you with content marketing and social media. This means it offers better value for money to the users.
However, if you're looking for a tool that is solely meant to be used for SEO, then you could choose either as Ahrefs is equally good in terms of the SEO research and competitive research that it offers.
Have you tried any of these tools before? If so, let us know your experience in the comments.