Web hosting packages optimized for WordPress translate to faster speeds, better performance, and more robust security. Things like backups, server updates, and other backend hosting requirements are all handled by your managed provider.
If you want a superior web hosting experience, managed WordPress hosting is the ultimate solution.
The Best Managed WordPress Hosting
EasyWP.
Namecheap is one of the leading domain and hosting service providers on the internet. EasyWP is their latest managed WordPress hosting service, something that has been missing from their collection.
After diving into the platform, they seem to be living up to their name.
EasyWP offers a one-click WP setup, and you do not have to deal with the control panel and complicated configurations. By using it, you will save money, time, and have a better user experience. The cloud servers are modern and can handle heavy visitor counts.
They sell services in three different tiers, which are the EasyWP Starter, EasyWP Turbo, and EasyWP Supersonic. The starter plan is the most cost-effective, and it gives you 10GB storage and can handle up to 50k followers every month.
One pays $1 for the first amount and then follow up with $3.88 monthly. The Turbo plan costs $34.88 when billed yearly and $2, followed by $7.88 monthly. It comes with 50 GB of storage and can handle 200 k visitors per month.
The supersonic plan comes with 100 GB storage and can handle 500k visitors per month. You pay $11.88 monthly after an initial price of $3 and $49.88 if you pay for the whole year: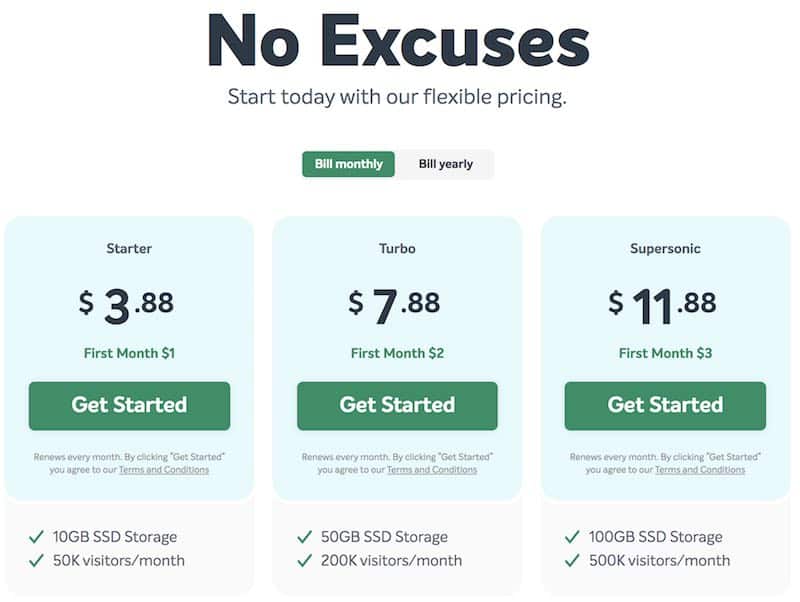 To get started, you log in with your Namecheap account or create a new one. Then pick a website name you own or create a new one: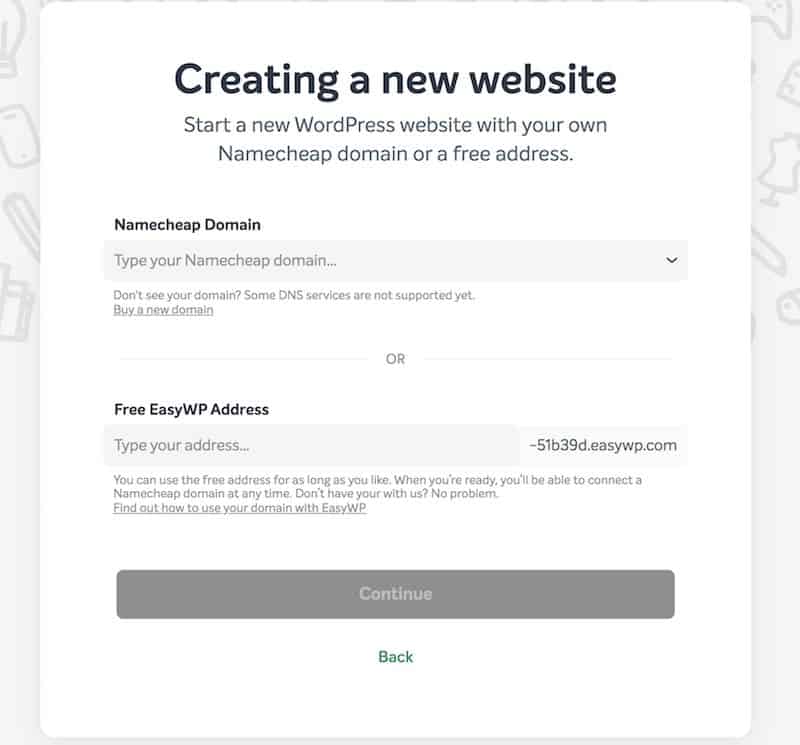 Next, you click continue and launch your site. There are also a few advanced options you can choose from like the theme you're using, but it's genuinely one-click. I got my WordPress site up in under 30 seconds: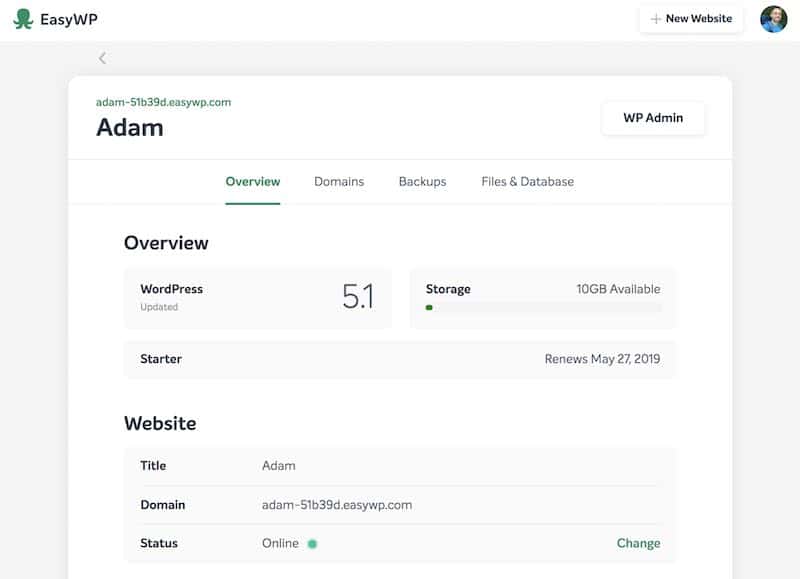 You will get a temporary domain for free and sFTP files access. Lastly, it has a single dashboard that can be used to manage all your sites.
Additionally, you can use the Easy WP Optimizer WordPress plugin to optimize, backup, and restore your database quickly inside of WordPress if you choose to do so.
Try EasyWP today.
Namecheap.
Many Hosting Options and EasyWP ($2.88/month)
Namecheap is a company founded in 2000 that manages over 10 million domains. They offer a lot of different options, with domain registration, different hosting options like shared, reseller, dedicated, VPS, and WordPress hosting starting at $2.88/month.
They have a new service called EasyWP, which makes it super fast to set up a WordPress site with prices starting at $3.88 per month. I tested it out myself and had a website set up in under two minutes.
With all of their main packages, they offer free backups, free website migration, 24/7 support, and a 14-day money-back guarantee.
Their shared hosting plan is slightly more expensive than other cheap options on the list, but with the link below, you can get 50% off for your first year and get started for $15.44 per year.
WP Engine.
Best Professional and Enterprise Hosting ($31.50/month)
WP Engine is a managed hosting company based in my town of Austin, TX. They primarily focus on speed, security, and scalability. Their Managed hosting is specifically built for WordPress sites and comes at a higher price. It's not precisely hosting, but dedicated services to keep your WordPress site live.
Site speed is where WP Engine excels.
While other providers may include customized servers, you can still get bogged down by installing a lot of WordPress plugins. But with WP Engine, they have a network of servers with more aggressive caching than other providers. You're not allowed to install other caching plugins in WordPress because their caching is so personalized.
WP Engine provides daily backups of your files so you can keep your peace of mind. They also have reliable customer service and high-end custom plans for the enterprise. However, if your needs aren't as advanced, you have to weigh the pros and cons.
Their startup plan starts at $31.50/month and includes 25k visits/month, 50GB of bandwidth, CDN and SSLs, and robust performance tools. Each program comes with a content delivery network (CDN) for faster load times and staging environments so you can test things out before going live with changes.
If you are looking for one of the best premium managed web hosting companies, give WP Engine a test run and get 10% off your first payment.
How to Save:
Plan: Startup at $31.50/month
Term: Monthly
Total cost at checkout: $31.50
Savings: $3.50
Cloudways.
Best Managed Hosting for Experienced Users ($10/month)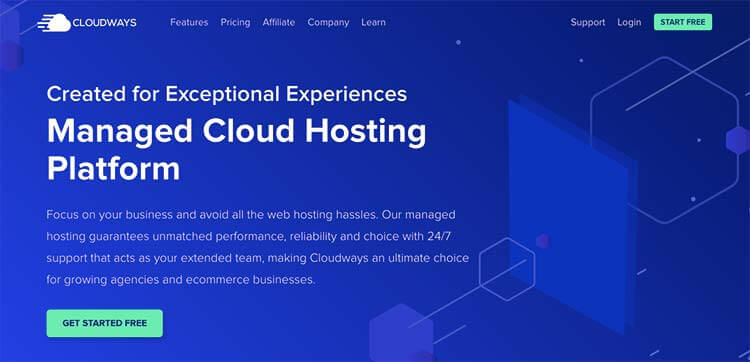 As their name suggests, Cloudways uses a scalable cloud platform built for speed and simplicity. Unlike shared web hosting, cloud servers give you more dedicated resources, which can help with speed and stability.
It's a robust hosting service for web developers, as it allows PHP developers to deploy containerized applications and other advanced features. Besides, to support PHP7, Cloudways supports many other high-performance technologies like HTTP/2, Nginx, and Redis.
All Cloudways customers can add cloud servers to their accounts at any time. You can also set up a virtual cloud server in under a minute. WordPress is the most popular content management system (CMS) used with Cloudways (not surprising), followed by Drupal, and Magento.
Pricing is tiered based on the server specs you choose and the cloud provider. It starts as low as $10/month, and there is a free 3-day trial. It seems like a short trial, but it gives you enough time to dive into the platform and test its functionality.
And if you're looking for security, they provide SSL certificates with domain mapping.
If you're an experienced developer and want more control over your website, Cloudways is a good option.
Kinsta.
Best Premium WordPress Hosting with Migration Support: ($25/mo)
Kinsta launched in 2013 with the single goal of creating the best WordPress platform in the world. Their primary focus is working with WordPress experts to create hosting with speed, security, and stability that sets the industry standard.
They have a powerful and easy-to-use dashboard where you can view multiple sites at once, analytics reports, manage users, and see your resource usage: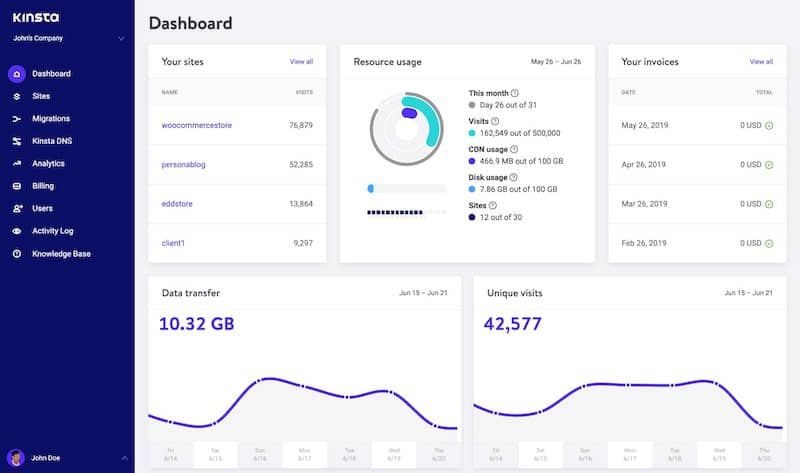 Kinsta's Starter Plan is $30 per month ($25 if paid annually) and comes with 1 WordPress install, 20,000 site visits, free SSL and CDN, and 5 GB of disk space.
If you are a more substantial business and need to scale your hosting as you grow, they have a tier of 10 different plans. These increase your number of websites, SSD storage, and monthly visitors.
All plans come with free unlimited migrations from several different hosts, automatic daily backups, manual backup points, 24/7 support, and their white-labeled cache plugin.
Once you select their $60 per month Pro Plan, you get extra hosting features including their free "White Glove Migrations." These features allow you to fill out a form, and their team of engineers will set up your site for you.
Overall if you're serious about your WordPress speed and security, Kinsta is a strong pick. If you're an agency developer that wants to host multiple client sites and scale as you grow, Kinsta is a great option.
Here's How to Save:
Plan: Starter (Annual) at $25/month
Term: 12 months
Total cost at checkout: $300
Savings: $60
Check: Kinsta vs Wp Engine