Shopify SEO is the talk of the industry and online business owners. They know doing business on Shopify is hassle-free, but to make your Shopify store rank altogether needs a different approach.
The guide is for Shopify store owners who want to grow their traffic with SEO without spending a lot of money. I'll share some easy Shopify SEO strategies to help your site rank higher on search engines.
12 Shopify SEO Tips on Budget
The best thing about SEO is, it works for everyone. No matter you're a big brand or a new business, it works for both. Even with the right set of tactics and implementation you can compete and outrank the big brands. And here are the proven SEO techniques that need no to low budget but can boost your Shopify store traffic and sales
1. Find And Fix Coverage Issues
There is no meaning in any SEO strategy or tactic if Google is not crawling and indexing your website. This is the basic concept of search engines and SEO. 
SEO makes a website more accessible to search engines like Google. The more Google will crawl and understand your website means better the rankings. That's why you should understand how Google crawls your website.
For that, open the "Coverage Report" in your Google Search Console (GSC). If you find any errors (red) or warnings (yellow) then check its details to know the reason(s). Try to solve those issues and submit the URLs for Validation.
There are three stages of the indexing process;
Discovery; How Google finds pages on your website.
Crawling of your website pages
Indexing of your website.
The report helps you understand if Google properly crawls your website or at which stage is Google struggling. For example, many times, I found "soft 404" errors on Shopify sites. There could be many reasons for this, the most common reason I have noticed is either external JavaScript libraries or large media files, and this can be solved by optimizing your website's page load time. 
By understanding how Google is crawling your website, you can find the areas of improvement to help Google by making your website more crawlable. As a result of that, you'll get better rankings.
But if you're finding unnecessary pages under the "indexed" report then you should stop those pages from getting indexed on Google by using a No-index tag or robots.txt file. It will help you to avoid wasting your crawl budget and improve your website SEO.
2. Use Google Search Console To Find the Right Keyword Opportunities
The best method to find and optimize for easy keyword opportunities is to use the Google Search Console data. Google Search Console is your goldmine, you can find a lot of valuable information out of it. Looking at Google Search Console, you can find opportunistic keywords that are not even available in paid SEO tools. The good thing about Google Search Console is, it's totally free. You don't need to pay anything to get such valuable data. The only thing you need to do is spare some time to learn the basics of Google Search Console.
With GSC, you can find;
Striking distance keywords (ranking on the second page) that you can easily rank by optimizing the meta title & description and other on-page elements.
long-tail keyword variations for your product pages. You can optimize your product pages for those long-term variations by adding them to your pages. It is one of the best ways to instantly boost your Shopify store traffic and sales.
Competing multiple pages for the same keyword makes it difficult for Google to prefer the right page to rank for the targeted keyword. For that, you can find the competing pages and update the on-page elements and metadata for the pages that you don't want to rank for the targeted keyword.
Also, you can find new keywords to create new content for your Shopify store. You should check your queries in your performance report to get new ideas. To find keywords about a specific topic, choose the relevant pages and check the queries. The keywords getting impressions consistently could be the best and easiest to rank. 
For example, I had a client selling photography products. After reviewing the Google Console, I found some comparison queries that were getting good impressions on a daily basis and could be useful for the business. So we created new comparison blog posts for those terms. This gave an instant kick to the traffic on the blog posts leading visitors to the product pages.
3. Optimize Anchor Links For More Traffic
Anchor links are also known as Jump links. It is one of the easiest and smartest methods to boost your website rankings and sales. I have used this tactic many times and increased revenues multiple times for Shopify websites.
An anchor link is a link on the same page that helps users to directly visit (reach) the section on the page. Google shows these anchor links on SERP as live links. Anchor links help you to provide more details to users on SERP and boost your SEO rankings.
Here is an example from Nordstrom;

When you strategically create jump links by optimizing them for money-making keywords then it helps you rank higher on Google and get more CTR and sales. Recently I optimized anchor links for a Shopify store and its revenue increased by five times in just a few days.
For example, on a page selling t-shirts, We can use anchor links like "half sleeve t-shirts" "round neck t-shirts" and others.

You find the right keywords or terms (having transactional intent)  to plan & optimize the anchor links for your Shopify product pages. Also, you can optimize your blog post content by using anchor links to get more traffic to your website.
4. Clear Website Architecture
Website architecture means how pages are organized and prioritized on your website. It is a crucial part of your Shopify site.
A well-planned Shopify site architecture;
Improves your website SEO.
Provides a better user experience.
Helps Google to understand your website and pages.
Makes your website easily accessible to users.
Website navigation, breadcrumbs, URL structure, and sitemaps help Google understand your website structure.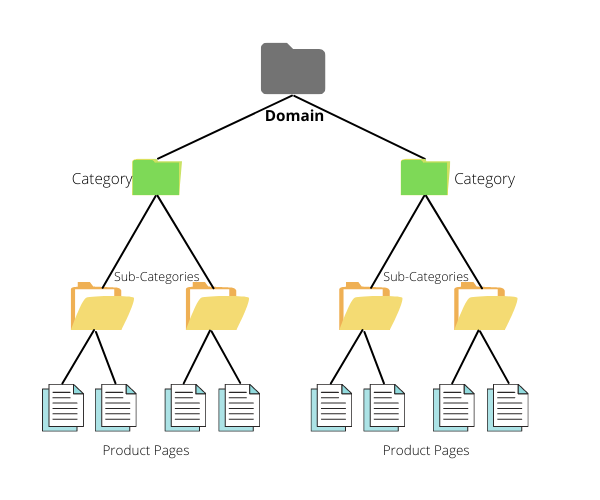 Here are some of the Shopify SEO tips for better website architecture:
Set up proper navigation and hierarchy
With the following navigation, your user can reach its destination within three clicks, and that's recommended as it speeds up the process of making your audience get their targeted page.
For category pages: Homepage > Category Pages
For sub-category pages: Homepage > Category Pages > Sub-category Pages
For product pages: Homepage > Category Pages > Sub-category Pages > Product Pages
For blogs: Homepage > Blog Category > Blog Post Page
Ensure all of these middle pages are linked directly from the homepage for better navigation.
Make sure your URLs look logical to both users and search engines
To make your website URLs look logically structured, don't use any characters apart from the following:
Words that describe your products
Hyphens (-) to divide those words
Suppose you add spaces, numbers, or special characters. In that case, it'll confuse users and search engines on what you mean by this and impact your user experience, ultimately poor results of SEO.
Organize your structure backed by keywords
When you do keyword clustering, it will help you understand which keywords can go within which categories. In this way, you can identify which sub-categories can be put under which other categories, and so on.
5. Work On Category Pages First
While thinking about eCommerce SEO, most SEOs start focusing on the homepage and then product pages. But the most important thing from an SEO point of view is the category page. Products can go out of stock, but not categories.
So, always optimize your category pages for the most generalized keywords. By doing this, if any of your products go out of stock, it doesn't impact the user experience and rankings.
For example, if someone searches for "bathroom accessories," they're looking for nothing specific but all accessories overall. In such a case, you should optimize your category page for the following reasons:
The competition is too high for a product page to rank.
The people searching for all accessories overall would not feel satisfied with just one product page.
No user satisfaction and poor experience would impact your Shopify SEO results big time.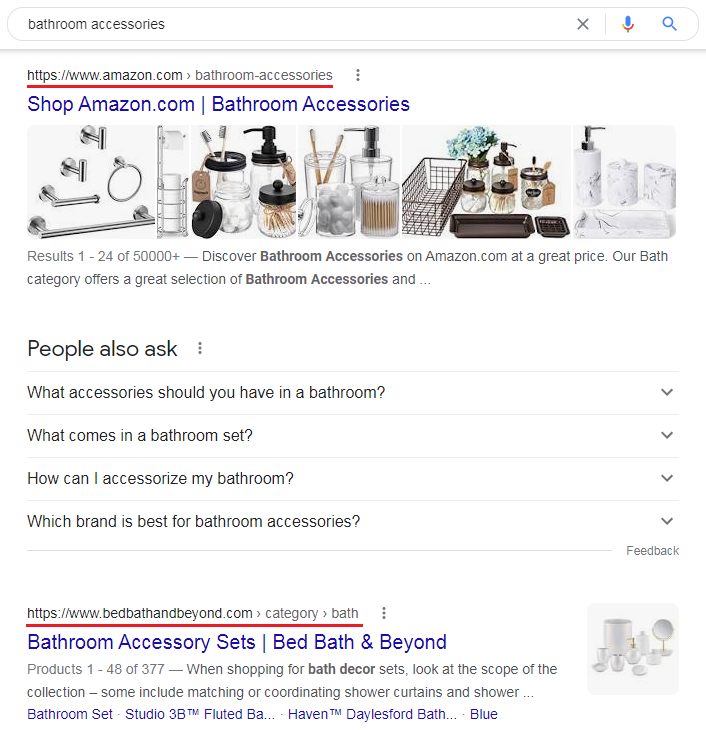 See even the URLs of the above example mean that these are the category pages ranking for such general keywords.
6. Videos Are Your Best Friends
One of the easiest ways to grow your eCommerce business website is to use Videos. People prefer to consume video content than any other form. And for eCommerce businesses, Videos are the fuel.

These days creating videos is not expensive. You can use your smartphone to record and use any free editing tool like iMovie or Clipchamp to edit your videos.
You should start a YouTube channel to publish those videos. YouTube has huge potential and works best for eCommerce businesses. You just need to be consistent and try to give value to your audience through your video content. One of my connections is using YouTube to promote his hair extension store. He has only 10k subscribers on his store but generates six-figure sales each month only from YouTube and all organic no ads. 
You need to optimize your videos for YouTube and Google search by following the video seo best practices. Also, You can embed videos on your Shopify store blog posts.
Almost on every social media platform videos have more reach. The Best thing is that you can publish the same video on multiple platforms like Facebook, Instagram IGTV, and others. That gives you more reach and exposure. 
Another and simplest way is to create reels. Reels are the short form of videos (30 seconds) and almost every platform has reel features. It is a quick, engaging, and low-cost strategy to promote your business.
Reels are less competitive and give crazy reach. It is the right time to use it if you're serious about your business. You can publish it on TikTok, Youtube, Instagram, Twitter, and Snapchat.
It will help you to reach more people and build a community around your business. That ultimately will boost your SEO, branded searches, and sales.
7. Get Targeted Traffic With Web Stories
Web Stories are the new full-screen content format and Google supports them across Google Discover and Search. It has a huge reach and potential to generate targeted traffic But almost no competition, especially for eCommerce businesses. 
I'm using it for my clients and getting impressive results. They are getting thousands of users and customers from Google web stories each month.
Source: StorifyMe
You can create web stories for;
your blog posts like How-tos and roundups
product detail pages, categories, collections, or bundles.
Customer engagements (Reviews and quizzes)
Customer Feedback surveys
It is also not difficult to create web stories for your Shopify store. You can use an app like StorifyMe to create web stories for your store. It comes with a free plan that is enough to just start.
8. Create Sales Pages
There are multiple occasions in a year like Black Friday Sale, New Year Sale, Halloween Sale, Independence Day sale, etc. when eCommerce businesses run sales, offers, and discounts. Targeting these sales is one of the best ways to generate sales and revenue in bulk. Many of my clients generate millions of dollars during each sales season and only through SEO.
This is the potential of season sales and SEO!
But it could be possible only when you do it in the right way.
The biggest mistake Many eCommerce businesses make is, they don't create separate pages for season sales. But if they create then only for that year. So as a result of that, every year they start from scratch and struggle to get top positions on Google.
To avoid that, You should create separate pages for each sale that you want to target like Black Friday Sale, Cyber Monday Sale, Christmas Sale, Halloween Sale, and others. Use an evergreen URL for each page like /black-friday-sale/ and don't mention the year in the URL.
So you can use that page every year and reduce your SEO efforts to get top positions on Google for those pages.
Also, You should reach out to your industry journalists, and bloggers to mention you in their deals roundup posts. It will help you to get some powerful links (to stay on top) as well as sales.
Pro Tip: It is the right time to start working on your sales campaigns to get success. You'll have enough time to rank your sales pages on Google.
9. Proper Internal Linking
Internal linking significantly impacts Shopify SEO, but people still ignore it. Honestly, the time and effort attached to it are comparatively less, and hence, it's a low-cost Shopify SEO technique.
A well-implemented Internal linking strategy can boost your website SEO and user experience and reduce your off-page SEO efforts. You can rank your striking keywords on the first page of Google by linking them to relevant places on your website.
Also, it is a good practice to interlink your most important (money-making) pages to the homepage; like product pages category pages, and other pages that could be useful for users like refund policy, knowledge base, and others.
But if you have an enterprise website with thousands of products and pages, you should use HTML sitemaps. It is a scalable method that helps search engines and users to find your pages.
Source: AliExpress
You can create multiple sitemaps according to categories, topics, or based on any other criteria like 'popular products "low price products." Then you can link it in the navigation or the footer of your website.
10. Adding a Schema Markup
Schema is a standardized machine-learning format that helps Google understand a webpage better, and as a result, your webpage gets rich snippets on Google.
Having a rich snippet can boost your CTR multiple times. Shoppers are highly visual and want to see and check before the purchase. And having a rich snippet helps you to stand out from the crowd.
Here are some important schema types that you should use;
Business Schema provides more information about your business like address, working hours, and others.
Product Schema; For product pages (to provide more information about your products like brand, images, price, availability, etc.)
Review Schema; to help Google to understand product reviews and ratings.
How To Schema; For How-To guides.
FAQ schema: For FAQ page or section
Breadcrumb list; to provide information about the hierarchy of your website pages.
Video Schema; for videos and live streams.
You can use multiple schema types on a webpage.
There are two ways to implement it on your Shopify store;
You can use a Shopify app like Yoast SEO or Schema Plus. (easy and recommended)
You can do it manually. If you're an experienced developer or SEO, you can go with this method. For that, you have to get the code snippet from the Google Developer Website and add it correctly to your website's HTML code.
You can check your website or webpage on Google Data Testing Tool to ensure that you've correctly implemented the markup on your site.
11. Optimize Your Shopify Store Performance
If your Shopify store cannot load within 3 seconds, you'll not just lose customer interest but even sales.
Use the Page Speed Insights tool to identify what needs to be done on your website to improve the performance of your Shopify store.
Check out the red issues first, and then pick up the yellow points to pass your Core Web Vitals assessment.
Check out the Core Web Vitals score for mobile as well using the same tool-
Also, check if it also passes this mobile-friendliness test-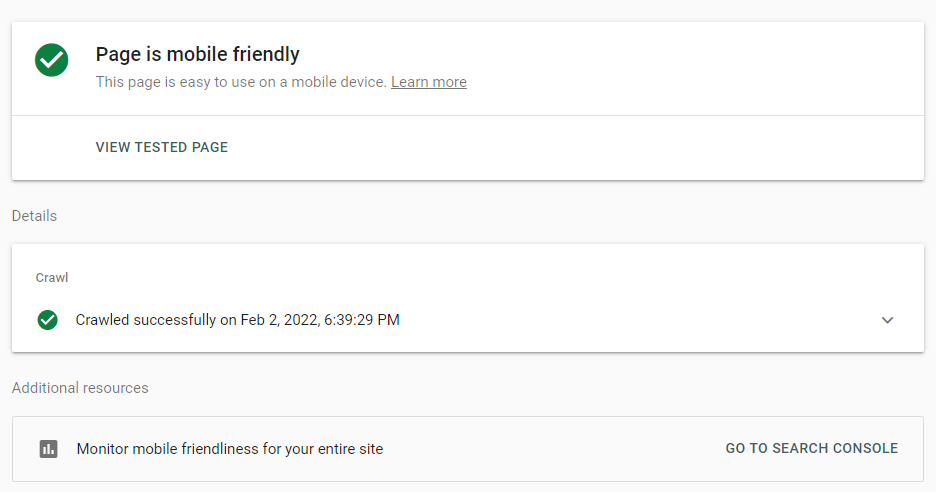 If you get a green like this, your product page works perfectly fine on mobile.
Also, you should ensure that your website follows the best mobile design practices;
Typography should be easy to read. Use a simple font family and a recommended font size of 18px-24px (depending on font types).
Off-canvas mobile menu.
Make it easy to get back to the Homepage.
Avoid popups
Keep your search bar visible.
Allow users to purchase as a guest.
Make your Contact number, email, and address linkable.
Product images must be expandable.
Keep your user in one browser window.
Remove the unnecessary elements for mobile.
12. Get Help From Others
Getting help from others can help you create buzz and grow your business.
Here are the people whom you can get help from to boost your Shopify SEO results:
Involve influencers who can review your products and give you mentions in their blogs, videos, Instagram Reels/TikTok, and more. Such mentions can drive you instant followers, website traffic, and sales.
Build a strong rapport with journalists who cover your industry to write a story about your business or feature/mention you or your business in their articles.
Bring backlinks from manufacturers, vendors, marketplaces, and other websites to make your Shopify store powerful enough for SEO.
Collaborate with other businesses that are not in your direct competition.
Launch offers or discounts for customers to inspire them to buy from you again and share video testimonials to increase repeat purchases and more customers from word-of-mouth publicity.
If you become successful in making customers your sales-people, you're probably the next big brand. Also, your customer acquisition cost will reduce drastically.
Take Your Shopify SEO To The Next Level
You don't need a big budget to grow your Shopify store's traffic and sales with SEO. You just need to be creative and find the opportunities and consistency to get results with SEO. these low-cost Shopify SEO tactics will help you grow your website traffic and sales in a few weeks.
Try now and let us know how these tips help you save some costs on Shopify SEO.